A hair transplant can seem like a big decision for something that often just a result of ageing. Male pattern baldness can be a huge knock in confidence for many men and some feel it does impact their lifestyle and careers. A hair transplant is becoming less of a secret procedure these days with many celebrities undergoing it.
Here at The Private Clinic, we favour the FUE Hair Transplant procedure technique which involves removing healthy hair follicles from a donor area on the back of the scalp and transplanting them into areas of the scalp that are balding or thinning.
When it comes to choosing a clinic and surgeon for Hair Transplant surgery there are a lot of considerations and options to take note off. We believe that one of the most effective ways of knowing what to expect from the procedure is to take a look at before and after photos of previous patients. These should be available to view on the website of the clinic or surgeon you are considering and they are usually shown during a consultation to allow the surgeon to talk through them with you too.
Our FUE Hair Transplant before and after photos
See below for the results of our FUE Hair Transplant surgeons at The Private Clinic.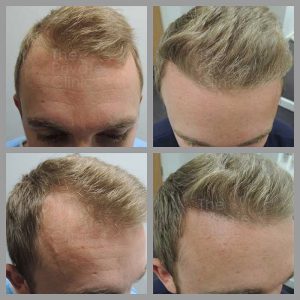 "I am delighted with my new hair growth and I am much more confident. I was avoiding many social situations before as I was constantly worried by my hair loss. The procedure has now given me my confidence back."
"The team have been superb. The surgery was practically painless and I am very happy with my new hairline, all the team were constantly ensuring I was ok and were very professional. The aftercare I have received has been great and I've had phone call already to check how I am."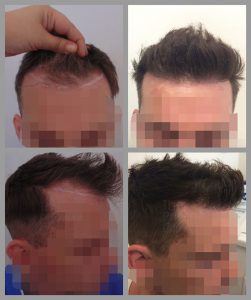 This 38 year old patient came to see us after noticing hair loss over the course of 18 months. He felt he was receding more on one side than it was the other and was feeling concerned as there was a potential family history of hair loss as his older brother had also suffered with it.
Our hair transplant surgeons performed an FUE Hair Transplant procedure to the patient's hairline of around 2000 hairs.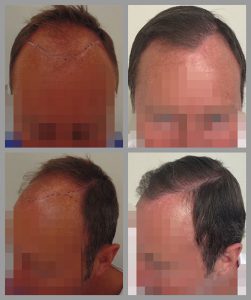 This 56 year old patient has been experiencing a receding hairline for the past 10 years and has a history of hair loss from his mum's side of the family. He wanted to feel more confident about his hairline so came to see us seeking treatment.
An FUE Hair Transplant was performed to the patient's hairline and temples and was around 3500 hairs. He was very happy with the results and said he felt a younger man again!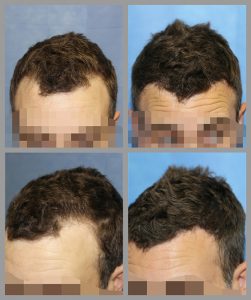 This 36-year-old patient came to see us about an FUE Hair Transplant procedure after experiencing hair loss for 6 years. The patient had his temples treated which has made a huge difference in the appearance of his hairline.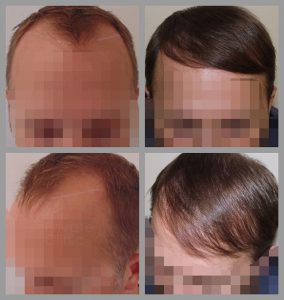 This 37-year-old patient came to inquire about hair transplant procedures after having tried the regaine medication to reduce his hair loss. He had male pattern baldness in the hairline and the crown of his scalp. He went ahead with an FUE Hair Transplant procedure to improve his hairline and after being pleased with his results, a year later undertook another procedure to focus on his crown.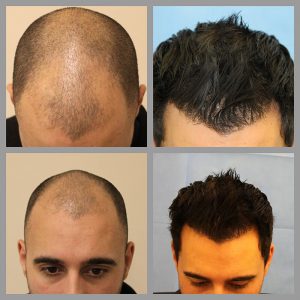 This patient was concerned about the frontal region of his scalp and was experiencing a receding and thinning hairline. He had 2307 grafts which gave him a restored hairline and fuller density of hair at the front of his head.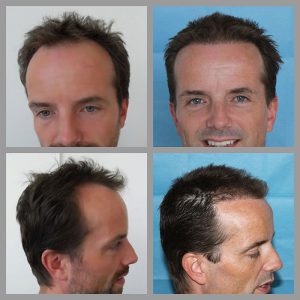 Concerned about his hairline this patient came to find out how a FUE Hair Transplant could help him. He had 1112 grafts into his hairline, temples and front area of his scalp to help improve the density of his hair and restore his former hairline.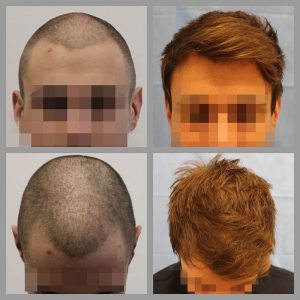 This young patient was concerned about his premature receding hairline which is a typical sign of male pattern baldness. He had a small FUE Hair Transplant procedure to the front of his scalp using 811 grafts. This not only restored his hairline but gave him more density in front too.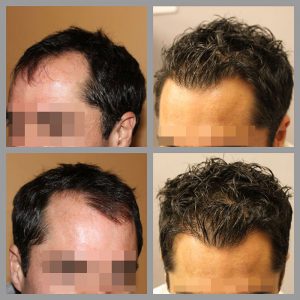 This patient came to visit us at The Private Clinic not happy with the appearance of his temples. Receding hair in this area is very common for those suffering from male pattern baldness. He wanted to restore his hairline back to how it previously was and did this by having an FUE Hair Transplant procedure with 1207 grafts with some being used around the back of the head to improve the appearance of thinning that male pattern baldness has caused in this area too.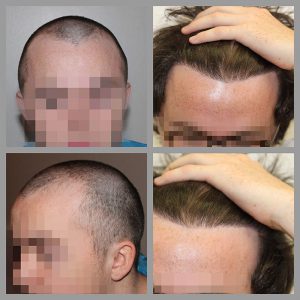 This patient never thought he would be able to wear his hair long again after suffering from a premature receding hairline as a result of male pattern baldness. After undergoing a FUE Hair Transplant procedure with 1021 he returned to us a year later with an impressive head of hair and a new hairline that he was over the moon about.
To see more before and after photos of our hair transplant patients click here.
Why choose The Private Clinic?
You will be treated by highly experienced Doctors. Our Hair Transplant surgeons are specialised in FUE (Follicular Unit Extraction) and treat hundreds of patients every year.
FUE is a minimally invasive treatment (meaning there is no cutting of a strip), and carried out under local anaesthetic – many patients either watch TV, or even fall asleep during the procedure.
You won't require any stitches after your treatment. This means that the recovery time is also reduced when compared to the Strip surgery (FUT).
We use the finest instruments, resulting in as minimal trauma to your scalp as possible.
Thanks to our advanced skills and techniques, our team ensure that the donor area looks intact after the hair transplant procedure and you can keep your hair really short if you prefer without any obvious scarring.
Following treatment, there will be no linear scarring across the back of your head as seen with the strip method (FUT) – you'll be free to wear your hair long or short.
We choose the best follicular unit (a group of hairs); this ensures that only the strongest, healthiest grafts are used for your hair transplant procedure.
Your results will look natural, with denser packing – the hair is implanted in the direction that matches your hair growth, and because we select healthy follicular units, the treated area will look densely filled.
Our surgeons are the only surgeons in the UK offering the Unshaven Hair Transplant (U-FUE) (the long-hair hair transplant), to those who prefer not to shave beforehand. At your consultation, we will be able to advise you on whether an unshaven procedure is suitable for you.
See our Hair Transplant videos 
View more hair transplant before and after results
Read our extensive hair transplant FAQs
Hear from previous hair transplant patients in our patient stories and videos
Find out more information in our hair transplant blogs
Scars resulting from injuries or previous surgeries can also be corrected. This could be a previous bad hair transplant or we can cover linear scars caused by FUT hair transplants. See the example below;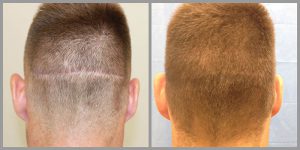 The Private Clinic has a network of UK clinics and has been established for 35 years with a strong reputation for quality care, see our Trust Pilot 5 star rating here.
Our specialist hair transplant surgeons –
We have clinics nationwide in London Harley Street, Birmingham, Leeds, Manchester and Northampton where our surgeons are able to offer the most advanced, minimally invasive Hair Transplant techniques available today.
For more information or to book a consultation with our expert Hair Transplant surgeons please call us on 0333 920 2471 or use our hair transplant online contact form.