Dr Luca de Fazio Hair Transplant Results
HAIR LOSS & HAIR TRANSPLANTS
Home » Dr Luca de Fazio Hair Transplant Results
Dr Luca De Fazio is an established hair transplant surgeon and one of the leaders in the field of hair loss surgery. Dr De Fazio has performed over 6000 hair transplant procedures since starting his career and has implemented a new rotating micro scalpel called Bulbix as well as an Implanter Bulbix into his working practice that would allow hair transplants to reach the same bulbar depth as the donor area.
Dr De Fazio has also developed his own surgical technique that allows the transplant of single hair follicles with results that exceeded existing standard hair transplant procedures. He is often involved in complicated hair loss cases and patients often travel from afar for his expertise in hair restoration surgery.
Find out more about Dr Luca De Fazio here.
Dr Luca De Fazio offers the following procedures.
Dr Luca De Fazio's Hair Transplant Surgery results
Below we will showcase before and after photos from Dr Luca De Fazio. See all our FUE Hair Transplant photos please click here.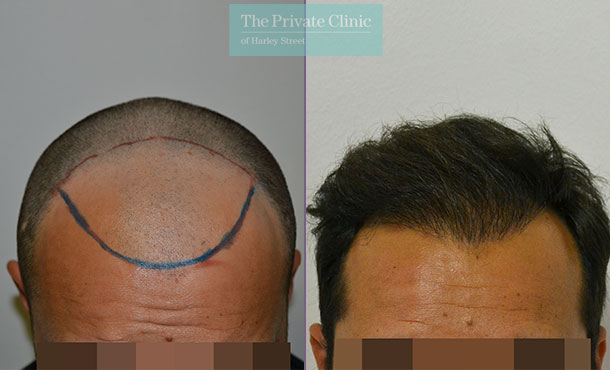 FUE Hair Transplant to the hair line and frontal region.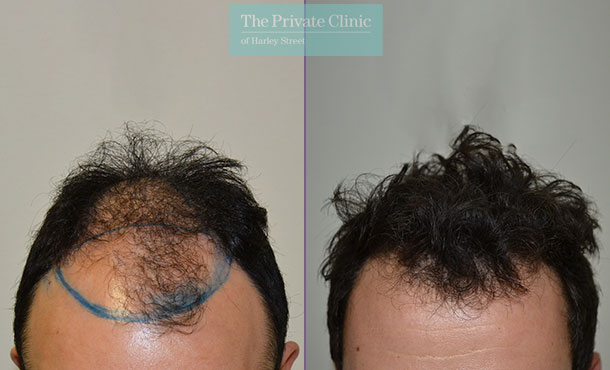 FUE Hair Transplant to the hair line and frontal region.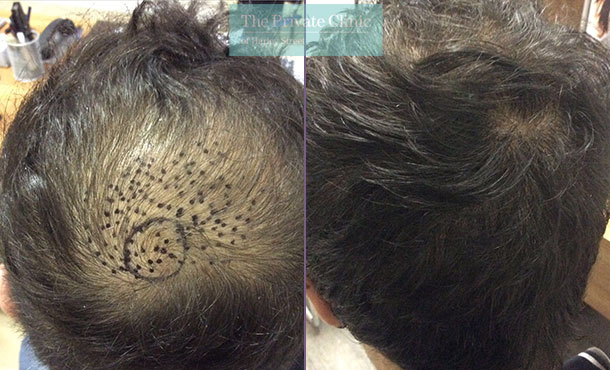 FUE Hair Transplant to the crown.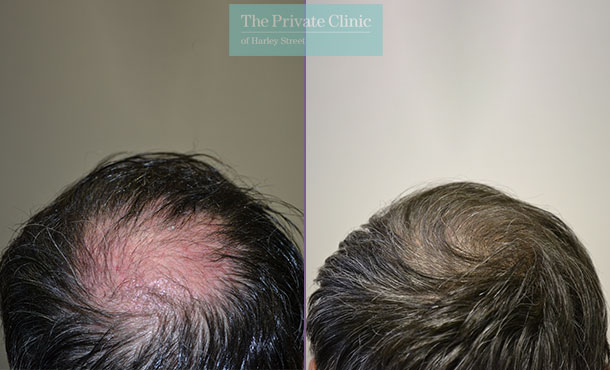 FUE Hair Transplant to the crown.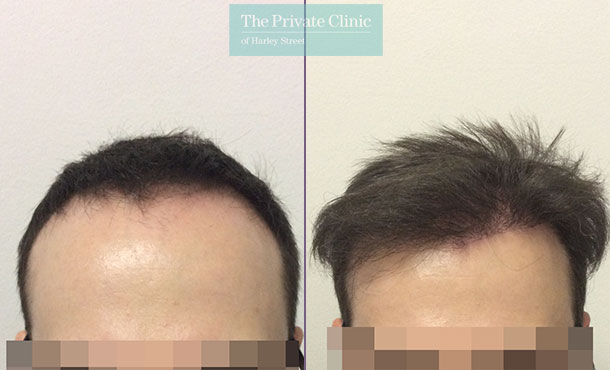 FUE Hair Transplant to the crown.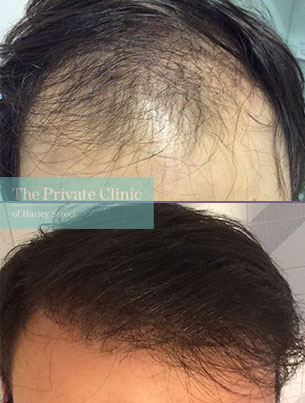 FUE Hair Transplant to the hairline and frontal region.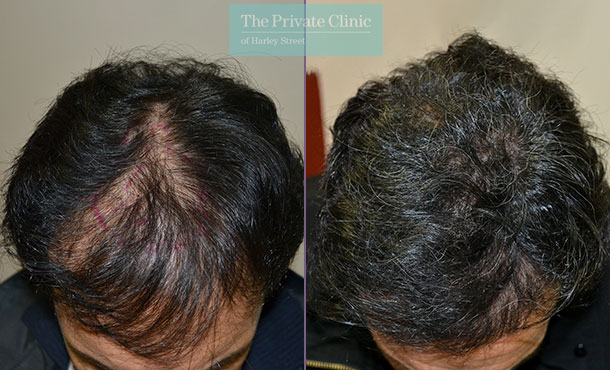 FUE Hair Transplant to the crown and frontal region.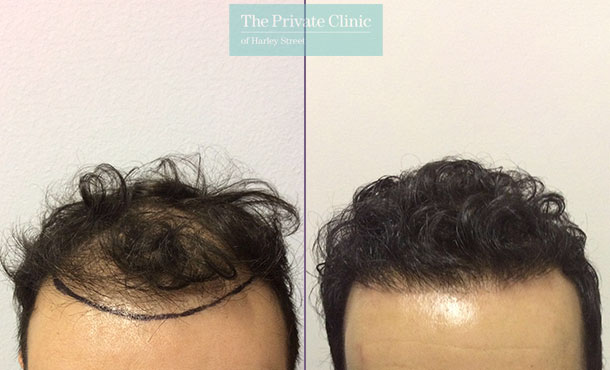 FUE Hair Transplant to the hairline and frontal region.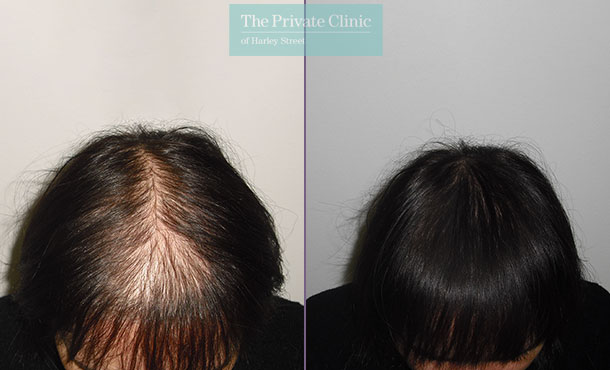 Female FUE Hair Transplant patient treating the crown and frontal region.
To see more before and after photos of our hair transplant patients click here.
Why choose The Private Clinic for FUE Hair Transplant?
You will be treated by highly experienced Doctors. Our Hair Transplant surgeons are specialised in FUE (Follicular Unit Extraction) and treat hundreds of patients every year.
FUE is a minimally invasive treatment (meaning there is no cutting of a strip), and carried out under local anaesthetic – many patients either watch TV, or even fall asleep during the procedure.
You won't require any stitches after your treatment. This means that the recovery time is also reduced when compared to the Strip surgery (FUT). Find out more about hair transplant recovery here.
We use the finest instruments, resulting in as minimal trauma to your scalp as possible.
Thanks to our advanced skills and techniques, our team ensure that the donor area looks intact after the hair transplant procedure and you can keep your hair really short if you prefer without any obvious scarring.
Following treatment, there will be no linear scarring across the back of your head as seen with the strip method (FUT) – you'll be free to wear your hair long or short.
We choose the best follicular unit (a group of hairs); this ensures that only the strongest, healthiest grafts are used for your hair transplant procedure.
Your results will look natural, with denser packing – the hair is implanted in the direction that matches your hair growth, and because we select healthy follicular units, the treated area will look densely filled.
Our surgeons are the only surgeons in the UK offering the Unshaven Hair Transplant (U-FUE) (the long-hair hair transplant), to those who prefer not to shave beforehand. At your consultation, we will be able to advise you on whether an unshaven procedure is suitable for you.
Scars resulting from injuries or previous surgeries can also be corrected. This could be a previous bad hair transplant or we can cover linear scars caused by FUT hair transplants.
See our Hair Transplant videos 
View more hair transplant before and after results
Read our extensive hair transplant FAQs
Hear from previous hair transplant patients in our patient stories and videos
Find out more information in our hair transplant blogs
Dr Luca De Fazio consults from our clinics in London Harley Street and Birmingham.
For more information or to book a consultation with Dr Luca De Fazio please call us on 0333 920 2471 or use our hair transplant online contact form.