Dermatology Near Me, London Harley Street
DERMATOLOGY
Home » Dermatology Near Me, London Harley Street
Often patients visit a dermatologist thinking that they have a certain skin condition when they actually have a completely different issue. It is quite easy to self-diagnose, however, you can be running the risks of treating the wrong condition. This is why visiting a dermatologist to help identify the issue is very important.
Dermatologists are doctors who specialise in skin, hair and nails. Dermatologists can help identify and treat several skin conditions such as acne, rosacea or eczema. They also carry out skin analysis, treat facial veins, treat moles and perform antiaging treatments such as Botox or fillers to help delay the ageing process.
If you are considering going to a cosmetic dermatologist or are looking into skin treatments, this blog is for you. We will be covering all the dermatological treatments available at The Private Clinic.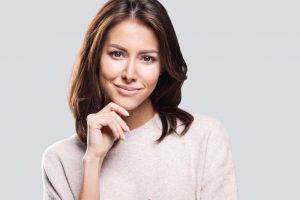 At The Private Clinic, we offer treatments to treat an extensive array of skin conditions including:
Acne:  Is a skin condition that affects many, both men and women. It is a skin condition that is frequently linked to teenagers; however, adults in their mid-twenties or women during the menopause can also develop acne.
The best treatments to target the bacteria that cause the development of cysts or skin inflammation are:

Acne Scars: Acne scarring is a residual problem associated with acne. Even though your acne can be treated, as a consequence the skin can get damaged, left uneven and can have discolouration. There are several treatments available to even out the skin tone and smooth the skin helping reduce or remove acne scars.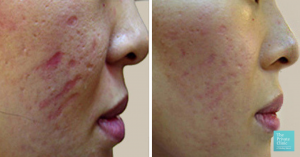 The best option is to come in and speak to our dermatologist who can advise on the best action for you.
Skin Tags, Warts and Verrucas.
Skin tags are skin growths attached to different areas of the skin by a stalk. Skin tags, tend to be flesh-coloured and are small (1 or 2mm) smooth and usually develop around the armpit, neck, chest or groin region.
Warts are similar to skin tags, but have an irregular texture and lie flat on the skin. Warts are contagious can spread across the body quite easily if they are not treated on time. The treatment for warts can be cryotherapy; however, excision or curettage will be the best option for larger warts that cannot be treated with cryotherapy.
Verrucas (or verrucae) are a form of warts that appear on the sole of the foot and are often transferred from places where people walk barefoot. Even though they are harmless they are very contagious so they should be treated and avoid walking barefoot is a must to stop others from catching them. The treatment for verrucas can be any of the aforementioned treatments depending on the condition of your verruca your dermatologist would recommend the best treatment.
Keloid Scars: The development of these types of scars is always known, however, they are not dangerous. The main symptoms associated with these types of scars are itchiness, tenderness or they can be painful to touch.
The treatment for keloid scars varies depending on the size, for smaller scars, steroid injections can be performed and larger scars can be removed surgically.
Mole Removal: Malignant melanoma one of the most frequent types of cancer in the UK with figures rising over the past 30 years. This is why is important to keep an eye on your moles for any changes in colour or shape and if you have any concerns, book in a consultation with a dermatologist to find out as soon as possible just in case there is malignant melanoma.
Mole Mapping: It is important to assess whether your moles are dangerous or not and one of the best preventative methods available is mole mapping. A dermatologist examines your skin using the latest technologies and will assess whether you are at any risk and if so advise on the best treatment.
Eczema:  also known as dermatitis is a type of skin condition which affects children and adults. Some of the most common symptoms of eczema are patches of dry, swollen, red or itchy skin that often appear on arms, neck, face, skin folds, hands or legs. Your dermatologist will recommend the best treatments depending on your condition but often include emollients and topical steroids.
Psoriasis: is a skin condition appearing in any part of the body but most prominently around the elbows, scalp, knees or lower back. Plaque psoriasis can be reduced with LED phototherapy to help control inflammation.
Melasma: is a skin condition that mostly affects women between the ages of 20 and 40. Melasma tends to appear around the upper lip, bridge of the nose, forehead and cheeks. The treatments for Melasma include the Obagi Nu-Derm System, which is a skin care system ideal for troubled ageing skin and Chemical Peels.
Rosacea: is a common skin condition among many people in the UK. Some of the main symptoms are redness, burning sensation and flushing. Rosacea is a skin condition that can worsen and lead to more serious issues such as Rhinophyma an enlargement of the nose, usually developed by older men. Even though there is no cure for this skin condition, at The Private Clinic we offer some treatments to reduce the signs and symptoms of Rosacea.
Excessive Sweating: Hyperhidrosis or excessive sweating is when your body produces an increased and non-physiological amount of sweat. Many people suffer from excessive underarm sweating. Here at The Private Clinic, we have a variety of treatments that target this issue. We offer an injection treatment for hyperhidrosis which is performed by our specialist doctors, nurses and surgeons who are fully trained and qualified for this procedure.
The treatment consists of blocking the transmission of the nerve impulses to the sweat glands in order to decrease the amount of sweat or perspiration.
Wrinkle injections: are FDA approved injections of a substance called Botulinum toxin that helps relax the muscles responsible for causing any fine lines and wrinkles.
Dermal Fillers: are injections of Hyaluronic acid that help minimise the appearance of lines and wrinkles and are able to restore and add volume to different areas of the face.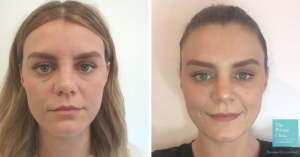 At The Private Clinic, patients do not require a referral from the doctor; you can book in an appointment with any of our dermatologist doctors. We work with the best dermatologists in the UK who are highly experienced and have great depth of clinical knowledge.
The Private Clinic of Harley Street, London for Dermatology Skin treatments
At The Private Clinic, we work with world class nurses, doctors and highly trained skin practitioners. We provide outstanding results and tailor the treatments to each of our patient's needs.
Our Harley Street clinic is our flagship located in 98, Harley Street London W1G 7HZ. The Private Clinic London is in a central location close to Hyde Park, Belgravia, Kensington, Knightsbridge, South Kensington, Bayswater, Earls Court,  Fulham, Green Park, Notting Hill. Chelsea, Soho, Battersea, West End, Clapham,  Marylebone, Victoria,  Regents Park, Holland Park,  Primrose Hill, St Johns Wood, Mayfair, and Fitzrovia.
To book a dermatology consultation with any of our highly experienced Dermatologists please call us on 0333 920 2471 or visit our dermatology page on our website.