When should I see a dermatologist?
DERMATOLOGY
Home » When should I see a dermatologist?
There's more to your skin than you'd think. As the largest organ of our body, it's an average of around two square metres when stretched out…that's a lot of skin.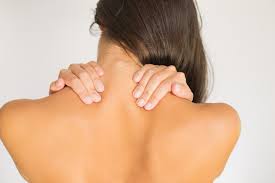 It's not surprising then that so many of us have problems and oddities we want to sort out. We've all got little quirks and it's virtually impossible to have completely 'perfect' skin, but when do you need to see a specialist? We explore.
Moles
The average person has between 15-40 moles on their body (and many people much more). The vast majority of these are completely safe and absolutely no cause for concern, but the only way you know this for sure is by checking thoroughly and regularly.
While seeing a professional to do this is extremely wise and strongly recommended, it's impossible to go every single week. Therefore, we advise checking your own skin regularly in the first instance to spot any signs of trouble. The ABCD rule was devised to help spot any signs of danger and can be followed at home as frequently as you'd like – it outlines the key indicators for troublesome moles including size, texture, colour and more. We explain it here.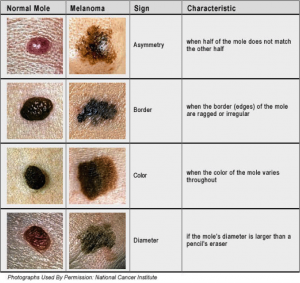 The ABCDs of checking your skin. And don't forget E – evolution. Check for any changes!
If you notice anything at all unusual with your moles or if you're generally concerned about your risk, seeing a specialist as soon as possible is the best way to prevent any danger. Dermatologists are trained in looking out for potentially risky moles and can take a look at anything that concerns you, as well as removing it and sending it for a biopsy. While beauty salons can sometimes provide services for removing purely aesthetic moles, we strongly advise to only allow a trained dermatologist or skin doctor do so. While you might not think there is anything wrong with it, a specialist knows what signs to look out for and will ensure it is removed correctly.
Find out more about mole checking and removal with our dermatologist.
Scars
While the initial complaint might have disappeared, scars can be a nasty reminder of acne, previous wounds or other skin issues. They are generally an aesthetic issue above anything else so very rarely need to be treated unless you want them to be. However, it is always vital to work with someone extremely well practised, so you don't end up disappointed or – worse- with more scar tissue than before. The type of treatment you require will often come down to the type of scar you have and before recommending any specialist, we'd normally have a chat with you to make sure we choose the right one. Dermatologists are an extremely wise choice for scarring, but specialist doctors can also provide treatments. Similarly, for very small acne scarring, chemical peel or microneedling treatments may be recommended.
Find out more about scar revision treatment.
Acne
Acne affects 80% of teenagers and 10% of adults. Yet, despite being a regular occurrence, it's one of the biggest confidence killers for a lot of us. There are, however, a multitude of treatments available to target the issue, with very few requiring you to see a dermatologist in the first instance.
At The Private Clinic, we normally recommend meeting one of our fully-qualified skin therapists. They have extensive experience with acne so can help you understand why you're experiencing it and what treatments will work for you. Popular methods include in-house laser N-Lite treatment and chemical peels, often paired with a specially designed home care package. If you have particularly severe acne or the team don't think usual methods will work for you, they will then refer you to a dermatologist who can take a deeper look at your skin and see what, exactly, the best way forward is.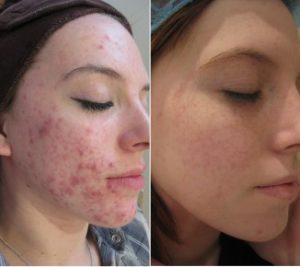 Find out more about acne treatment.
Eczema and Psoriasis
Eczema is a fairly common skin complaint, affecting around 1 in 5 children and 1 in 12 adults. Psoriasis, meanwhile, is less common with around 2% of the population suffering. Because the conditions affect people in different ways, we usually recommend a dermatologist consultation for both, but it's important to remember that neither condition can ever be fully 'cured' as such. Treatment, instead, will help improve symptoms and stop any flare ups. It can often include things like emollients or topical steroids, but the method will always be individual to you. This is why it's so vital to see the right skin expert from the start.
Find out more about ezcema or psoriasis treatment. 
Other skin complaints
Dermatologists are able to see you for virtually anything relating to your skin, however, they aren't always your first port of call. For some treatments, we'd always advise meeting with a one straight away (for example wart/skin tag removal or un-diagnosed skin complaints), whereas for things like anti-ageing or rejuvenation options you'll normally be directed to a therapist, nurse or cosmetic doctor. Our team of skin care experts will always be able to help if you're not sure who to talk to by walking you through your options so you know where to turn.
View our full list of dermatology treatments.
Dermatology at The Private Clinic
Skin is an amazingly complex and detailed piece of art. No matter how many people suffer with the same complaint as you, we know it's always your personal experience that counts. Our expert London Dermatologists are able to deal with any skin issues that cause you concern, diagnosed or not, but they aren't always your only option. For conditions like acne or signs of ageing, our skin specialists are also here to offer treatment and product advice. Likewise there are small things you can do at home like checking your own skin and monitoring any changes. Whoever you go with, remember there are always experts on hand to help and guide you towards the best way to make you feel like…well, you again.
At The Private Clinic, we have hand-pick our Dermatologists and Skin experts to make sure they are the best in their field, with extensive experience and knowledge on what's causing your skin complaint. Whatever you're looking to achieve, our number one priority at our Harley street dermatology clinic is helping you to achieve the best results safely and sensitively to your needs. We're proud to have some of the UK's Best Cosmetic Dermatologists in London working with us as well as some of the most renowned skin experts, meaning we'll only ever give you a treatment that works for you.If you are looking for the best dermatology clinic in Harley street you have come to the right place.
We specialise in
Our Consultant Dermatologist; Dr Rishika Sinha, MA(Cantab), MB BChir, MRCP(Derm). GMC Number: 6092256 is able to consult on the condition at our London Harley Street clinic, while our skin specialists are available at our clinics located across the UK in: Birmingham, Bristol, Leeds, Manchester and Northampton
To find out more about dermatology treatments at our dermatology clinic in London Harley Street please call 0333 920 2471 or use our dermatology online contact form.