What is it?
Nipple correction is exactly what the title suggests, a correction of the nipple. Some women may notice that their nipples are inverted which generally is nothing to be concerned about. If your nipple has suddenly become inverted however, then it may be worth visiting your GP first to rule out any underlying causes before having surgery.
It is also common amongst both men and women to feel their nipples are too large and cause them discomfort when wearing clothing and exercising.
What are my options?
The majority of our nipple correction surgeries are performed under local anaesthetic and you are able to return home the same day. Nipple correction surgery can also be performed at the same time as another surgical procedure such as a breast enlargement.
Inverted Nipple Correction – Inverted nipples often occur when the breast ducts are too short or there's a tightening of the duct's tissue due to an imbalance in traction between them and the smooth muscle that keeps nipples erect. The cause of inverted nipples varies from person to person and can be due to genetics, lactation, pregnancy or trauma. Inverted nipple correction surgery can be performed to release the inwards pull of the nipple. Find out more about Inverted Nipple surgery here.
Nipple Reduction – Overly large nipples can cause a great deal of concern to some patients either due to discomfort or increased visibility when wearing certain types of clothing. Nipple size or appearance can often change through weight gain, weight loss or pregnancy but conditions such as gynecomastia can also cause nipples to appear oversized in proportion to the rest of the chest. Nipple reduction surgery can reduce the height or width of the nipple. Find out more about Nipple Reduction surgery here.
Nipple Correction Female
It is estimated that 1 in 10 women suffer from nipple-related conditions in the UK often where the nipples are irregular or enlarged and often protrude through clothing causing many to feel self-conscious and uncomfortable in social situations. For women who are active and enjoy sport it can cause a  pain and irritation which is commonly known as 'Jogger's Nipple'.
The causes for enlarged nipples are varied, for many they may have been present since birth but only developed following puberty. Many women experience changes to their nipples during pregnancy and/or breastfeeding.
Nipple reduction surgery for females is the best way to see a physical reduction in the size and shape of the nipple. We recommend that female patients only consider nipple reduction surgery after they have completed their family and finished breastfeeding as surgery to the nipple always carries a risk of not being able to breastfeed afterwards.
To find out more about nipple reduction surgery for females, book a consultation with one of our expert breast surgeons.
Nipple Correction Male
Nipple correction surgery for men is a common request at our clinics. For many men, they are actually experiencing a condition referred to as 'Puffy Nipple' which is often a symptom of Gynecomastia. Gynecomastia is an excess of breast tissue or enlarged breast glands under the nipple/areola which then pushes the nipple outwards into a cone shape. For some men they may be experiencing inverted nipple which is where the nipple sits inside the areola and is often unresponsive to touch and temperature. Many men come to us after feeling restricted in clothing that they wear and express feeling embarrassed to comfortably take part in activities that require a bare chest showing the nipples such as swimming and sunbathing.
Weight gain can also impact the appearance of the nipples on the male chest and Nipple reduction surgery can really help to reduce the height, width and position of the nipple reshaping it into a more desirable appearance. Nipple reduction surgery can be performed as a stand-alone procedure or alongside male chest reduction surgery.
Who can treat me?
We have some of the UK's most talented and experienced Plastic Surgeons in our plastic surgery team to bring you effective results.
How much will it cost?
The cost of Bilateral Inverted Nipple Correction starts at £2,500. The cost of a bilateral nipple reduction starts at £1,890. We don't follow a one-price-fits-all policy and prices are quoted on a case by case basis. You will be given an accurate quote for your requirements following your consultation.
Nipple Correction Before and After Photos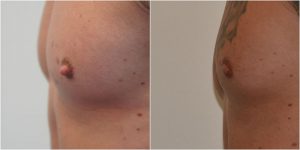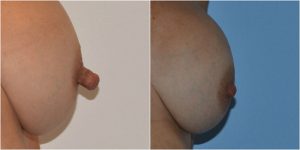 Nipple Reduction before and after photos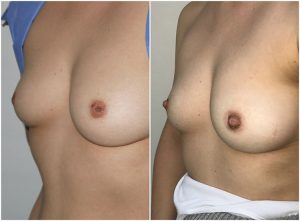 Inverted nipple before and after photos
Male Chest Reduction before and after photos
Patient Testimonials/Reviews
"I wasn't happy with the appearance of my nipples and felt like my breasts hadn't fully developed. They were flat and slightly inverted and even though when wearing clothes you couldn't tell, it highly affected my confidence in relationships. I wouldn't wear anything unless it had padding, even in bed. Since having the surgery I am so much happier and confident, in relationships and general life. The whole process was very well organised, the staff were very helpful before, during and after the surgery – I'd even say my nipples are now perfect" – Apryl, Read Apryl's patient story here.

"As far as the operation went, it was great! I am a 46 year old white female and I had Bilateral Inverted Nipple Correction (I was a Grade 3). The injections were the worst pain EVER, but after that I just lay there and chatted whilst Dr Richards worked. Everyone was very friendly and sweet and I was made to feel relaxed, bearing in mind this is the most mortifying problem and I have always been very stressed/embarrassed about it. The results are amazing! I have actual proper sticky-out nipples now and I am beyond thrilled and have 100% more confidence!! I am seriously contemplating a tummy tuck now after this experience." – Anne

"I enquired by phone and managed to get a consultation at the Leeds clinic a few days later due to a cancellation, which was great as I had been thinking about inverted nipple surgery for a while and really wanted to move quickly with this. I was made to feel very comfortable during the consultation, and managed to book my surgery the next day, which was to take place 2 weeks later. The surgical team made me feel so at ease and were supportive at every step of the way, including during my aftercare. I have no regrets about the surgery and my confidence has improved so much since. Thanks to the team for making this as easy as possible for me and if I was considering surgery again I would definitely use The Private Clinic." – S
The Private Clinic
Our philosophy at The Private Clinic is that we want to help you feel more like yourself and comfortable in your own body. In order to do that, we've gathered some of the UK's leading Consultant Plastic Surgeons to advise you in an unbiased and professional manner. Keep in mind, if they do not think that a procedure would benefit you, they won't perform it.
You will only be treated by industry-leading, highly experienced Cosmetic surgeons
We afford all our patients the right care well before, during and long after every procedure
You will have a Patient Coordinator, who you can call as much as you need, throughout your Private Clinic journey
Our nurses are all very experienced and well trained.
Our aftercare promise – you can call, email and visit us to discuss how we tailor-make each procedure and offer ethical and professional aftercare for every patient
We are contactable 24/7, 365 days a year for patients
We are competitively priced for the expertise and professionalism we provide every patient
Consultations available in London, Birmingham, Manchester, Leeds and Northampton.
To find out more about our nipple procedures call 0333 920 2471 or use our online nipple surgery contact form.