Varicose veins can be unsightly and uncomfortable to those that have them but seeking treatment can be a challenge. In the majority of cases, varicose vein surgery is not performed on the NHS so if you are looking for varicose vein surgery, you are going to need to go private.
At The Private Clinic, we offer patients the best varicose vein operation choices. All of our varicose vein procedures are performed as non-surgical treatments and they include EVLA (Endovenous Laser Ablation) or Endovenous laser treatment, Sclerotherapy (Foam & Liquid), VenaSeal and Phlebectomy.
EVLA (Endovenous Laser Ablation) has been rated the Gold Standard for treatment of Varicose Veins by NICE (National Institute for Clinical Excellence) and is always our first choice when selecting varicose vein surgery for our patients. Varicose vein laser surgery is suitable for the vast majority of patients with varicose veins no matter how short or wide the veins are.
VenaSeal is a great option for patients who are needle phobic. The treatment only requires a single injection per vein and it also has a short recovery period with many patients returning to work and exercise a lot sooner and there is also no requirement to wear compression stockings after treatment.
Foam sclerotherapy is a great minimally invasive technique for mild cases of varicose veins, but it can require more than one treatment for the best results.
Phlebectomy surgery is not commonly performed but is often a preferred choice by our vascular surgeons if the veins are sitting close to the surface of the skin. It does require very small incisions to be made on the leg to perform a keyhole varicose vein removal however these do not require stitches and it is all performed under local anaesthetic.
Varicose Vein Surgery Recovery
One of the biggest deciding factors on having varicose vein surgery is the recovery time.
Traditionally varicose vein surgery was carried out via a vein stripping method which has now been discouraged. The vein stripping method often required 3 weeks to recover before returning to work and everyday activities and patients were often in a lot of pain following surgery.
Our range of minimally invasive varicose vein procedures all have much shorter recovery times with Varicose Vein laser surgery recovery taking as little as 24 hours.
How long-time off work following varicose vein removal?
Patients who have had EVLA, VenaSeal and Foam Sclerotherapy procedures often feel able to return to work the next day. Those that had a Phlebectomy often require a few additional days to recover.
Our expert vascular surgeons do advise that strenuous exercise is avoided for at least 5 days and it should then be returned to at a gradual pace to avoid unnecessary injury.
But overall, patients are encouraged to stay active throughout their recovery and we feel this gives the best results.
Varicose vein surgery before and after photos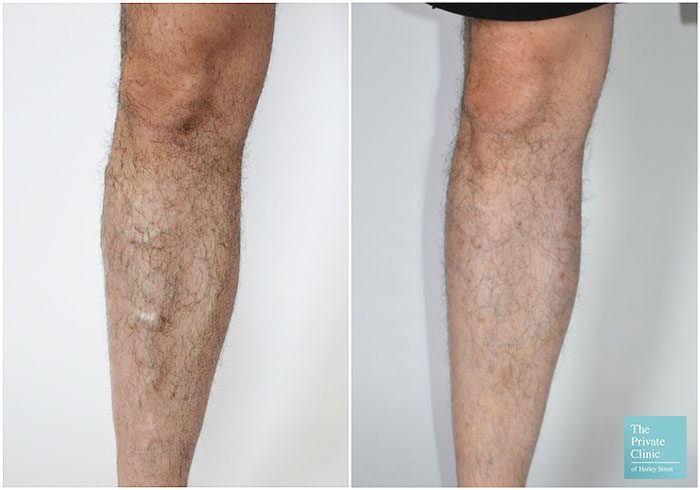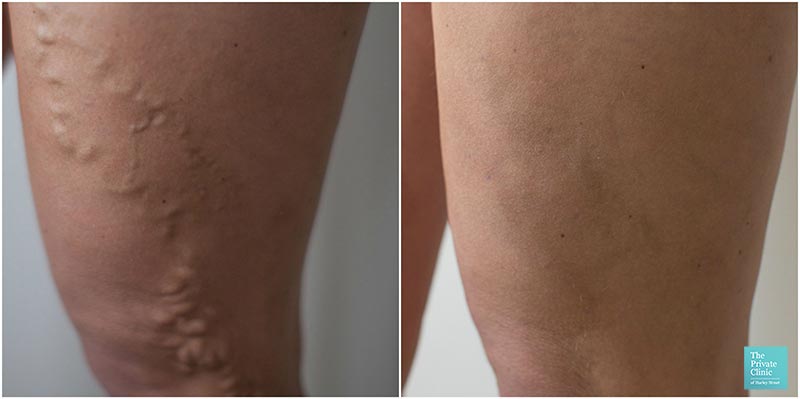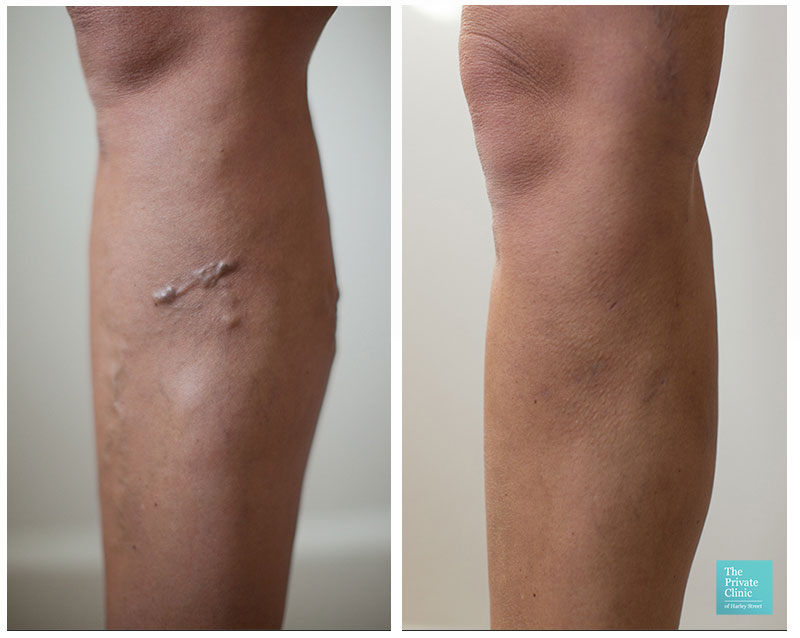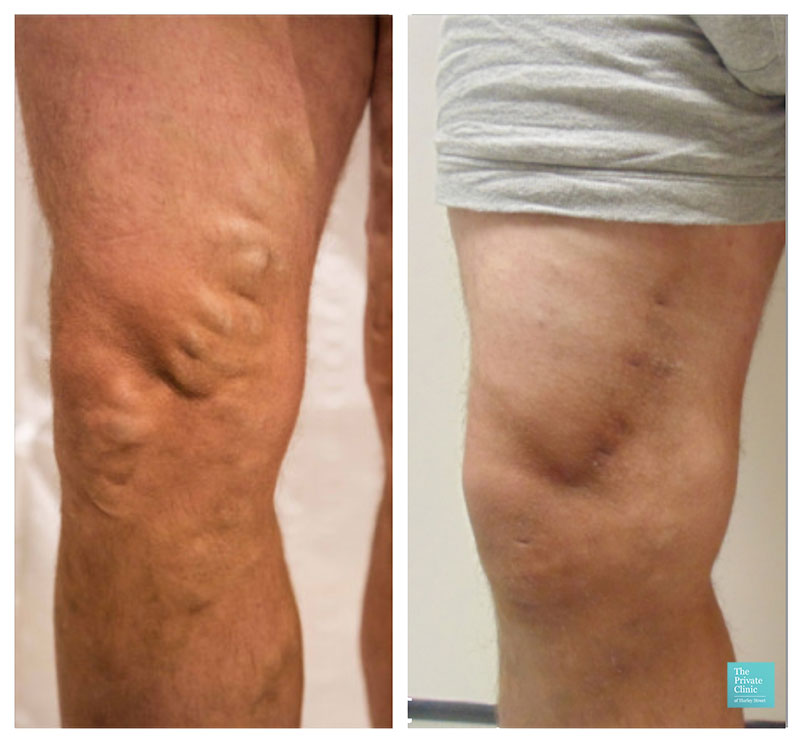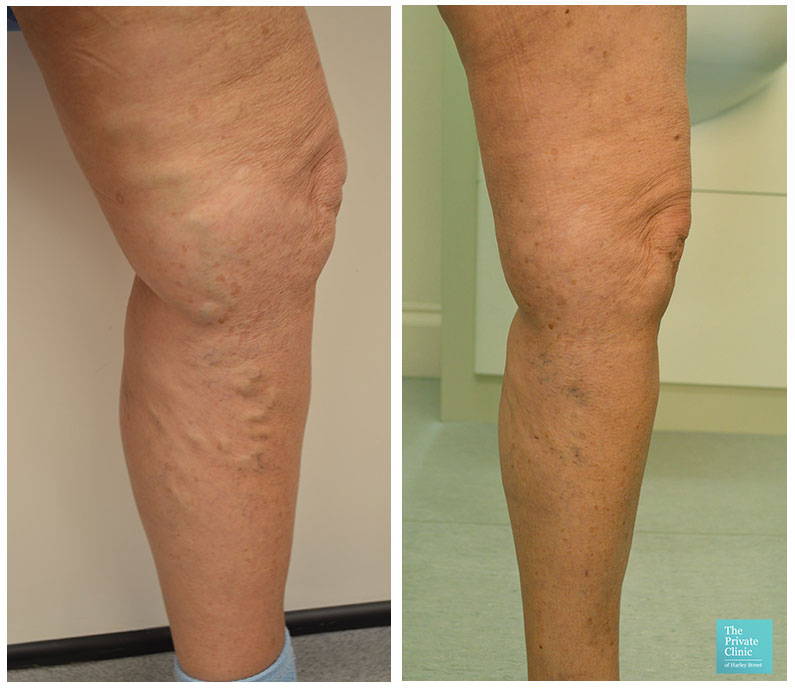 Varicose vein surgery at The Private Clinic
Our aim is to always advise on the least invasive method for varicose veins and thread veins removal treatment for your legs, body and face.
Our Consultant vascular surgeons are pioneers in EVLA (Endovenous Laser Ablation) and have treated thousands of patients.
All varicose vein treatments are performed under local anaesthetic.
Walk in, walk out procedures – no hospital stay required
No downtime, treatment takes one hour.
The NICE (National Institute for Clinical Excellence) Gold Standard for treatment of Varicose Veins find the success rate after five years for EVLA is 95.4%.
We tackle the actual cause of the problem, which is why we offer all patients a free ultrasound scan.
We are competitively priced
We focus on the underlying cause of your veins and with no scars
Owing to our reputation, we have been featured on Channel 4's Embarrassing Bodies , TLC's My Naked Secret and featured in Harper's Bazaar's Cosmetic Tweakment Trends for 2019 and The Daily Mail.
We have carried out over 7,000 procedures in treating Veins.
Trust Pilot 5-star rating and 96% of patients would recommend us to friends and family
Download our varicose veins brochure.
The Private Clinic has clinics nationwide:
Expert Vascular Surgeons
To find out more about the best varicose vein removal treatments available for you call 0333 920 2471 or use our online varicose veins contact form to make a consultation.