Have you seen a VASER Lipo price that seems too good to be true?
It's probably cutting costs somewhere or not telling you all the costs involved.
Don't be fooled by the tricks.
Make sure you clarify with your clinic all the costs involved and what additional extras are available and recommended. Then make sure your VASER Doctor is experienced and fully qualified, with a good reputation.
When we quote you the price, that is the price you will pay.
There are a number of options for your procedure but the quoted liposuction price will be after the evaluation of what is necessary and what is optional for you.
VASER Lipo is a body contouring and fat removal procedure, ideal for people seeking to enhance and sculpt their bodies by removing targeted areas of fat. It's very popular and The Private Clinic has lots of experience.
How much does Vaser Lipo Cost?
Vaser Lipo prices given pre-consultation are always general guide prices, and they may be higher if it is necessary to take fat from more than one area in order to achieve optimal and even results for your body. There is usually a base price and then there will be some additional costs, like sedation fees.
Liposuction costs are based on how long the procedure will take, how much fat will be removed and how many areas are being treated. Therefore costs are based on a sliding scale and only guide liposuction pricing can be given before you see our doctors at a consultation. At your consultation the doctor will be able to assess your body and accurately determine your personalised Vaser Lipo costs.
What areas can Vaser Lipo treat?
Here is a guide list of  individual areas treated with our Vaser Lipo procedure:
Buttocks (the buttock crease)
Flanks
Arms (Bingo Wings)
Inner Thighs
Outer thighs
Lower abdomen
Upper Abdomen
Chin
Neck
Upper Back
Lower Back
Chest
Male chest reduction (gynecomastia)
Knees
Ankles
If you are looking to transform a part of your body, it  may be necessary to take fat from more than one area to fulfil your wishes. You will be able to fully discuss your options with our expert liposuction surgeons.
What is included in our vaser liposuction price?
Below is a guide to the breakdown of costs.
VASER Lipo starts from £2,940 for 1 area.
This includes:
Procedure fee, including local and tumescent local anaesthetic
Doctor fee
Theatre fee
Aftercare sessions (stitch/drain removal if required and all follow-ups with your treating Doctor and/or Nurse )
Compression garments – which you will need to wear in order to aid results and recovery
Prescriptions – antibiotics and pain-relief medication
Sedation – anaesthetist and the anaesthesia
We offer no-obligation consultation with our Vaser Liposuction surgeons to allow you to find out all of the costs involved before deciding to go ahead with your procedure.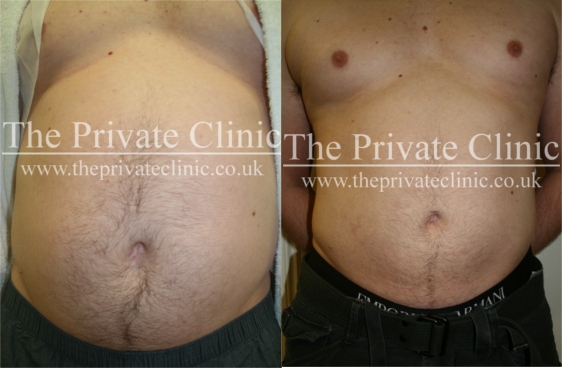 As They Say, Your Body Is a Temple
You have just the one body so make sure you take care of it. Take your time and ask lots of questions before going ahead with surgery. Those bad stories you hear and read about often come from people who wish they had taken more time and not gone for the cheapest option. The Private Clinic requires the highest standards from our staff and we only employ highly experienced and qualified medical practitioners to perform our treatments and procedure.

Vaser Liposuction at The Private Clinic
The Private Clinic prides itself on ensuring you have the best quality and most comprehensive care:
Huge experience, we have performed more than 11,000 procedures.
Consultations with specialist surgeons.
24 hour patient helpline to ensure you are always in the best of hands.
As many post-operative care and appointments with your surgeon, doctor and nursing team as required.
One year cover for all surgical, hospital and nursing care, in case of any medical issue giving you peace of mind*.
Comprehensive patient information, every step of the way
Highly experienced surgeons and doctors who have years of experience in vaser liposuction.
Outstanding hospital facilities.
Competitively priced for our expertise and experience.
With over 35 years' experience of Cosmetic medical Excellence, you are in safe hands.
Our excellent reputation for patient safety and satisfaction, honest advice and outstanding care means your journey with The Private Clinic will be an exciting experience to a newfound shape.
Consultations available in London Harley Street, Birmingham, Leeds, Manchester and Northampton.
The Private Clinic works with highly skilled body contouring and liposuction surgeons with years of experience and they are:
To find out more about Vaser Liposuction or to make an appointment please call 0333 920 2471 or click here.