Varicose Veins Treatment
VARICOSE VEINS
Home » Varicose Veins Treatment
Looking into varicose vein treatment? Due to advances in injections, surgical techniques, and laser methods, there has been a proliferation of varicose vein treatment techniques available, as you may have seen in your research. And it can be quite confusing to know what's best for you.
Varicose Vein Treatments
Although some patients try to diagnose their varicose veins and choose their best treatment online before seeking treatment, ultimately, the only way to understand the best option or options for you is to be assessed by a highly qualified Consultant Vascular Surgeon. And a good surgeon will use ultrasound technology in order to ensure the veins are examined with the greatest accuracy and treatment is tailored to your needs. At The Private Clinic, we provide this ultrasound scan free of charge in consultations, which are usually priced between £350 and £450 at most private hospital and clinics.

One of the most commonly used methods at The Private Clinic, EVLA (Endovenous Laser Ablation) is one of the most effective varicose vein removal procedures. Recommended by NICE as the Gold Star Varicose Vein Treatment, the laser method has a success rate of 95.4% after five years. In the treatment, ultrasound technology is used to detect the varicose vein, before laser heat is used to collapse the veins wall and destroy the route of the problem.
Sclerotherapy can be another great solution for varicose vein removal. Larger veins are more appropriate for foam sclerotherapy and small veins liquid sclerotherapy. The procedure involves the injection of a chemical called a 'sclerosing agent' within the varicose vein, in order to destroy its internal lining, leading to it close off and finally shrink and disappear.
VenaSeal is a fantastic option for needle-phobic patients. A closure system, the treatment uses safe, effective medical grade glue to seal the affected vein. The advanced method benefits from relatively shorter recovery and compression stockings are not required post-treatment.
Phlebectomy treatments involve tiny incisions to remove your varicose veins. A hook is inserted within the incision, hooking onto a part of the affected vein, which is then removed. With incisions being so miniscule no stitches are required, and the treatment allows quick recovery.

All treatments above are available at The Private Clinic and offer patients the below benefits:
Same day Walk-In-Walk-Out Treatment
Minimally Invasive Methods
Performed under local anaesthetic
We do not offer the traditional vein stripping technique, which many clinics still offer, due to its longer recovery, more invasive nature and lower success rates. We only provide the best, most effective techniques offering our patients the greatest results and shortest recovery possible. At your consultation our UK top Consultant Vascular Surgeons will take careful assessment in order to recommend the best treatment or combination of treatments for you.
Expert Vascular Surgeons
Can the NHS treat my varicose veins?
For both uncomplicated and complicated varicose veins, moderate measures such as wearing compression stockings and lifestyle changes, are usually advised by the NHS, before considering treatment options. Such measures may be advised for up to six-months. However, this delay period can mean lengthened suffering, while the condition could worsen and lead to something more serious.
Varicose Vein Treatment at The Private Clinic
The Private Clinic is one of the most recognised clinics for varicose vein removal with more than 35 years' experience providing minimally invasive, advanced varicose vein treatments.
And our highly acclaimed Consultant Vascular Surgeons are skilled and experienced in treating all types of varicose vein problems, including:

Varicose veins with any symptoms such as swollen, painful, aching pains
Veins that are a cosmetic problem only
Veins with venous disease/complications
We can see patients who have had previous unsuccessful treatments
Veins that cannot be treated by the NHS or you do not want to continue NHS moderate treatments, such as compression stockings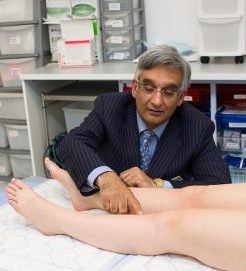 Why choose The Private Clinic for Varicose Vein Removal:
The least invasive method for varicose veins and thread veins removal treatment for your legs, body and face.
Our Consultant vascular surgeons are pioneers in EVLA(Endovenous Laser Ablation) and have treated thousands of patients.
No lengthy downtime or recovery required.
The NICE (National Institute for Clinical Excellence) Gold Standard for treatment of Varicose Veins findings show that the success rate after five years for EVLA is 95.4%.
A consultation with one of our Consultant Vascular Surgeons costs £150, including a free ultrasound scan of your legs (usually priced between £350 and £450 at most clinics and private hospitals).
We focus on the underlying cause of your veins and you will only see a Consultant Vascular surgeon for varicose veins.
We have treated thousands of patients who have regained their confidencewhilst avoiding health issues.
Treatment takes one hour, you can go home shortly after being treated.
Owing to our success, we have been featured on Channel 4's Embarrassing Bodies , TLC's My Naked Secret and featured in Harper's Bazaar's Cosmetic Tweakment Trends for 2019.
We have carried out over 7,000 procedures in treating Veins.
View our varicose vein before and after photos.
Read our extensive varicose vein FAQs.
Take a look at our varicose vein patient stories.
Find out more in our varicose vein blogs.
Download our varicose veins treatment brochure
Our clinics are located nationwide: Harley Street, Manchester, Birmingham, Leeds, Bristol, Bexhill, Bournemouth and Northampton
Find out the stories of some of our varicose vein removal patients at The Private Clinic:

"I couldn't be happier with results." 
Click here to read Martin's full story of VenaSeal treatment with The Private Clinic.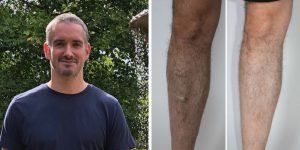 You can also find our other varicose vein patient stories on our website, including Jen and Laura's experience with our veins clinic.
Take a look at our vascular specialist, Mr Constantinos Kyriakides performing varicose vein removal treatment on Channel 4's Embarrassing Bodies:

What are the next steps?
If you would like to book a varicose vein treatment consultation with The Private Clinic, please call us on 0333 920 2471. Alternatively, you can request a consultation using our online varicose vein contact form.