Thinking about gynecomastia removal (man boobs or male breast reduction)? Find out the different treatment options available, and how to choose the best surgeon, through our definitive guide.
Best treatment for Gynecomastia
Several options are available for treating gynecomastia. Male chest reduction in the form of minimally invasive liposuction or surgery is a popular option and there are various techniques that can be used, depending on your requirements.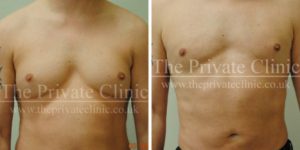 In an attempt to minimise scarring, male breast liposuction is the preferred male chest reduction surgical technique for most pseudogynecomastia cases (build of excess fat in the chest) cases and many cases of pure gynecomastia (excess glandular tissue within the chest). Micro Liposuction, Vaser Liposuction – both being walk-in-walk-out procedures, and Surgical Liposuction are liposuction options used, with the chosen method being dependent on the severity of the case. In some cases, the glandular tissue is too dense and fibrous and difficult to extract using Micro Liposuction alone and Vaser Liposuction may be more appropriate. If there is a significant amount of fat for extraction, surgical liposuction may be recommended, which is more invasive than the preceding options.
However, more persistent, pure glandular gynecomastia cases could be appropriate for an open mastectomy using a periareolar incision (skin incision to surgically remove excessive glandular tissue). And finally, for treating very bulky gynecomastias, a more complex procedure called inferior Pedicle Breast Reduction could be required, within which the breast tissue and skin envelope are both reduced.
For some patients, liposuction can first of all be used, followed 6-9 months later by an excisional procedure, if excess breast tissue or skin continues.
Each patient must be evaluated to find out what is best for them; the surgeon will discuss their medical history and an ultrasound scan undertaken in certain cases in order to rule out malignancies or lumps which, although very rare, can still arise even in male chest tissue.
Finding the best gynecomastia surgeon UK
Here's our definitive guide to help you select a clinic/surgeon for gynecomastia removal:
Selecting a doctor with extensive experience in performing the procedure, is your priority, for the optimum and safest results.
Ensure to check the clinics reviews and ratings, to learn the kind of experience which you could expect. These may be accessed on the clinic website, or sources such as Trustpilot and Google Reviews.
See the kind of results that have been achieved for previous patients. Take a look at the clinic or surgeons male chest reduction before and after photos which may be accessed through their website or community-driven sites such as RealSelf.
Confirm that the hospital/clinic is registered with the CQC.
Check there is a wide selection of male chest reduction treatments available, so you can have confidence you will be recommended the best method for you.
Learn about the attention to care and aftercare provided by the surgeon/clinic. This can be found through the clinic website and patient reviews and stories.
Why choose the Private Clinic for Gynecomastia Removal?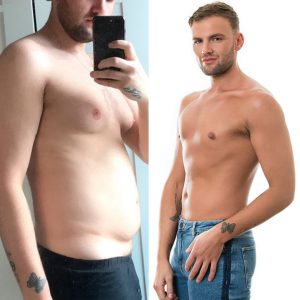 Our Male Chest Reduction plastic surgeons are some of the most experienced and qualified UK-wide, achieving exceptional results while meeting the highest safety standards. Our experts are committed to providing our patients honest, transparent information and advice at all times, with the highest attention to care and service.
Find out more about male chest reduction at The Private Clinic, on our website, offering a selection of before and after photos, useful information about the procedure, patient reviews and more.
If you would like to book a male breast reduction consultation with our expert surgeons or doctors, click here . We also provide FREE gynecomastia consultations with highly experienced patient advisors in our clinics nationwide.
To book a male chest reduction consultation or procedure please call us on 0333 920 2471 or book via our website.
Male chest reduction with liposuction consultations and procedures are available with The Private Clinic in London, Birmingham, Bristol, Buckinghamshire, Essex, Leeds, Manchester and Northampton. Consultations with a patient adviser are also available in Milton Keynes and Glasgow.