We thought we would introduce you to some influential bloggers that chose breast enlargement, in order to achieve their personal confidence goals, and of whom decided to share their story. Meet Lucy and Vicky who underwent surgery with The Private Clinic, and learn about their breast augmentation journeys…
Lucy Radwell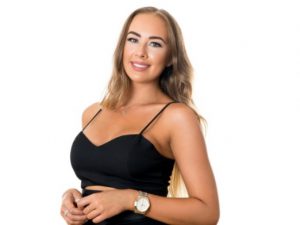 Successful fashion blogger, Lucy Radwell @lradwell, showcases different brands' swimwear, clothing and beauty products and services, on several social media channels. This includes her popular YouTube channel with over 3000 subscribers.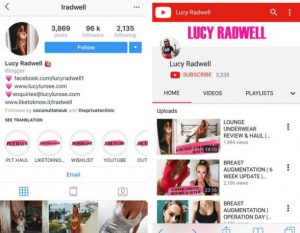 For a couple of years, Lucy had felt unhappy and increasingly self-conscious about her body; she "dreaded going on holiday and wearing bikinis!" and found she couldn't wear the tops she wanted to. Seeking to feel "a lot more feminine and comfortable in [her] own body,' Lucy decided to choose breast augmentation.
After deciding on the procedure, the next step was choosing a provider for the surgery. Lucy undertook significant research, before selecting The Private Clinic for her consultation. Happy with the consultation, Lucy said "no question was too big or too small" and all staff "were so friendly," and then progressed with treatment.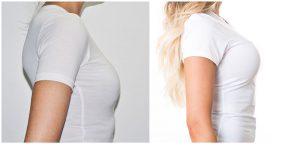 A few months post-surgery, Lucy says she 'couldn't be happier' with her results, and feels much more confident wearing clothes she had 'always wanted to wear.' Commenting on the outcome, Lucy says she doesn't feel like she has "implants in at all," saying they "don't feel unnatural" and it feels as if "they've always been there."
Hear Lucy's breast augmentation journey updates she shared with her followers, on Lucy's YouTube channel, including an update of her procedure day, and progress at 6 weeks post-surgery.
You can also find out more about Lucy's journey, in Lucy's Breast Augmentation Patient Story video (below):
Vicky Hadley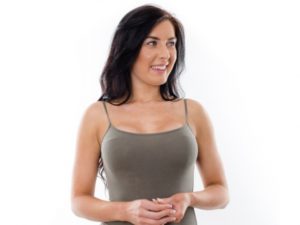 With a lifestyle largely focused around fitness and health, Vicky Hadley @vickyhadleyfitness is a highly successful influencer, personal trainer, writer and blogger for the BikiniGirlsDiary.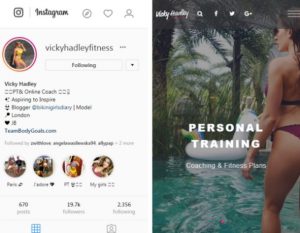 Vicky decided to look into breast augmentation after losing significant weight from her chest. Following her first fitness bikini competition, requiring extensive training and a strict macronutrient diet, Vicky ended up going from her originally small B cup size to a very small A cup.
After a personal recommendation from a friend and extensive research, Vicky decided to arrange a consultation with The Private Clinic, and approximately a month later, she decided to book surgery.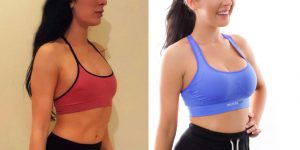 Commenting on her results, Vicky says that post-procedure "she felt amazing, "and her "confidence was high." She says 'I finally feel like a woman, "a grown, sexy, confident and happy woman" and not like a "young girl missing something."
Read Vicky's recount of her breast augmnetation journey she shared on her blog with her followers, including why she chose breast augmentation and what happened in her consultation.
You can also learn more in Vicky's patient story, below, featuring comments on her surgery day, the difference the procedure has made to her, and advise for others who are considering the procedure:
Why choose Breast Augmentation at The Private Clinic?
World-class top breast augmentation specialists, with outstanding reputations in the industry and decades of experience
Highest attention to patient care and aftercare, with unlimited follow up appointments for 3 years after your procedure, and a 24 hour help line
Over 30 years experience in the cosmetic surgery industry
Results are customised to your individual needs
Titled Best Cosmetic Surgery Practise 2018 in the UK My Face My Body Awards
Achieved a 5 Star Rating from our patients on Trustpilot
"I can't thank Dr Richards and Aggie enough for what they have done. I had a breast augmentation and from day one I felt so comfortable with them. They tell you what's right for you so you don't make the bad/wrong decision, my surgery went perfectly and my aftercare has been fantastic! All the staff at the Northampton clinic are so friendly and welcoming always reassuring and so confident with answering any questions." Ellaura, Breast Augmentation Patient
" I had my Breast Augmentation surgery just over 10 days ago. I know is still quite early on after the op but I really wanted to expressed how happy I am with the care I received. I had my surgery under Mr Fallahdar, he is very good at what he does. The initial consultation and the one before the op was not rushed, he took time explaining everything, but most importantly gave advised based on his experience. I'm extremely happy with the outcome and would not change anything." Joanna, Breast Augmentation Patient
Find out more about Breast Augmentation at The Private Clinic, on our website, including an extensive collection of before and after breast augmentation photos, the answers to more than 30 breast surgery FAQ's, and more of our patients stories.
Breast Augmentation Surgeons
If you would like to arrange a free consultation with one of our renowned specialist breast augmentation surgeons, please call us on 0333 920 2471 or use our breast implant online contact form to request a callback.  Surgeon consultations are available in our clinics in Harley Street London, Northampton, Buckinghamshire, Leeds, Bristol and Birmingham. We also provide consultations with patient advisors in Glasgow who can provide helpful information before you meet a surgeon.