We're frequently faced with studies showing how our sedentary lifestyles are shortening our lives. An Australian study published in 2012 found that prolonged sitting is a risk factor for all-causes of mortality, independent of physical activity and it is not the only recent study. Too much standing up exacts a lot of pressure of the circulatory system, and a recent study suggests this could be a contributing factor in developing varicose veins. Essentially though, a healthy balance of most things is the remedy and here we give you the lowdown on varicose veins in the legs and how to avoid them.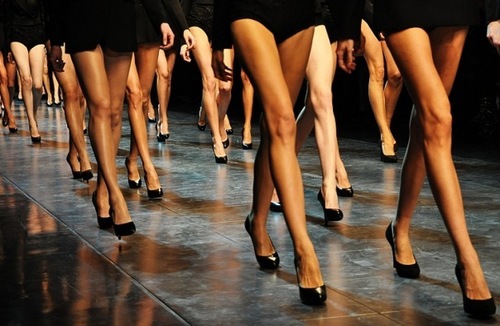 Veins, veins, veins
Veins carry around 64% of the total blood volume in the body and are under a lot of pressure to perform, just as much as arteries but naturally in different ways. Veins in the lower legs are under considerable pressure (as they are furthest from the heart and below the heart) to push blood along the venous system. This pressure is keenly felt at the valves in the veins which help to prevent backflow. They can become dilated and unable to function properly, often leading to varicose veins – blood collects in areas and forms the characteristic swollen or enlarged veins.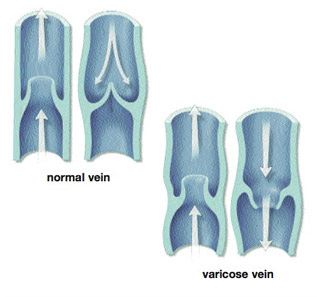 The development of varicose veins is exacerbated by pregnancy and obesity, which put additional pressure on the veins in the legs. For those who haven't experienced the condition or are worried about theirs, varicose veins can be considerably painful, resulting in swelling and ulcers as well as being at higher risk of a pulmonary embolism so they should be taken seriously.
NHS Choices lists some of the risk factors as:
gender
genetics
age
being overweight
occupation
being pregnant
other conditions
Women seem to be more predisposed to the condition than men due to female hormones and their links to relaxing the walls of veins. People with close family members affected are at increased risk. The veins naturally lose their elasticity and valve function with age. Additionally, being overweight seems to have a bigger effect on women than men for varicose veins. Prevention is as important as treatment so take some steps to a healthier lifestyle now for lifelong effects. Try standing up and walking around (if possible) in meetings, at lunch and walk home where possible for considerable health benefits for you and those around you.
Varicose Vein Removal at The Private Clinic
If you're someone living with varicose veins, The Private Clinic offers UK-wide support, advice and treatment. We are able to offer non-surgical varicose vein removal treatments to 99% of patients that come to see us. Our range of non-surgical varicose vein treatments including EVLA (Endovenous Laser Ablation) or Endovenous laser treatment, Sclerotherapy (Foam & Liquid), VenaSeal and Phlebectomy treatment.
The least invasive method for varicose veins and thread veins removal treatment for your legs, body and face.
Our Consultant vascular surgeons are pioneers in EVLA(Endovenous Laser Ablation) and have treated thousands of patients.
No lengthy downtime or recovery required.
The NICE (National Institute for Clinical Excellence) Gold Standard for treatment of Varicose Veins findings show that the success rate after five years for EVLA is 95.4%.
A consultation with one of our Consultant Vascular Surgeons costs £150, including a free ultrasound scan of your legs (usually priced between £350 and £450 at most clinics and private hospitals).
We focus on the underlying cause of your veins and you will only see a Consultant Vascular surgeon for varicose veins.
We have treated thousands of patients who have regained their confidencewhilst avoiding health issues.
Treatment takes one hour, you can go home shortly after being treated.
Owing to our success, we have been featured on Channel 4's Embarrassing Bodies , TLC's My Naked Secret and featured in Harper's Bazaar's Cosmetic Tweakment Trends for 2019.
We have carried out over 7,000 procedures in treating Veins.
View our before and after photos.
Read our extensive FAQs.
Take a look at our patient stories.
We offer Varicose Veins treatments and consultations in London, Bristol, Birmingham, Manchester, Leeds, Glasgow, Bournemouth, Bexhill, Essex, Northampton, Newcastle, Doncaster, Milton Keynes, Cardiff, Liverpool, and Edinburgh.
To book a consultation you can call 0333 920 2471 or use our Varicose Vein online contact form.