According to the British Association of Aesthetic Plastic Surgeons (BAAPS) the number of facelifts performed on both men and women has experienced an overall increase of 7%; facelifts performed on women increased by 9% and for men declined by 16%. There are many aesthetic doctors now with amazing skills that are able to almost replicate the effects of a facelift using non-surgical techniques such as botox, filler and thread lifts and with our lifestyles becoming increasingly busy and demanding, the downtime often associated with surgical procedures such as a facelift just is not an option anymore.
The first place is show visible signs of ageing is our face, the skin often starts to sag and lines and wrinkles can appear almost overnight! As our social media networks, magazines and newspapers are filled with the faces of seemingly never ageing celebrities we can all start to feel the pressure a little bit to look good and more importantly, feel good about our appearance.
In our Harley Street clinic, we are able to offer a relatively new procedure titled the Temporal Lift, or the T-Lift. Performed by expert surgeon Mr Davood Fallahdar, the T-Lift is an ideal alternative to the facelift. The procedure has one incision point, one stitch and is all performed under local anaesthetic with minimal downtime too, most patients are able to return to work the next day.
Mr Davood Fallahdar (FRCS (Plast) Fellow of the Royal College of Surgeons (Plastic) GMC Number: 4686602) is a highly qualified Board Certified Consultant Plastic & Reconstructive Surgeon who specialises facial surgery including Rhinoplasties, Temporal / One Stitch Facelift and Blepharoplasty procedures. Having been a plastic surgeon for 20 years, he has years of experience including previously performing microsurgery on cancer patients in the NHS. He is on the General Medical Council's specialist register for plastic surgery and is a member of British Association of Aesthetic Plastic Surgeons (BAAPS) and the British Association of Plastic, Reconstructive and Aesthetic Surgeons (BAPRAS) both of which have very strict codes of ethics and conduct.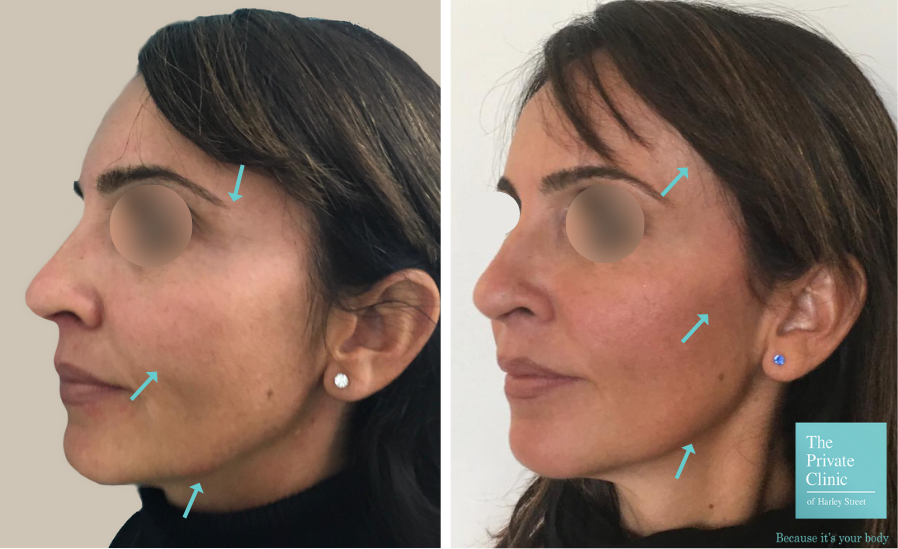 The Temporal facelift targets the upper face sculpts the cheekbones and jawline to improve jowls and can work to also lift the eyebrows and eyelids. You will firstly have a local anaesthetic injected into the area which will sting a little but after that, you should not feel any pain. Your surgeon will then make an incision above the hairline at the temples. The skin is then separated from the fat and muscle below and the underlying muscle and SMAS membranes are tightened. The skin is then pulled back and any excess is removed and the incision is closed with dissolvable sutures.
In some cases, a blepharoplasty may be performed at the same time as a T-Lift, especially if the eyes are a problem area, this will all be discussed in a consultation with your surgeon who will only suggest what they believe is going to give you the best results.
The local anaesthetic will leave you feeling relatively pain-free post-procedure. There is a low risk of swelling and bruising. Although some patients do choose to return to work following the procedure, we do recommend that you take a day or 2 afterwards to relax especially if your work is strenuous or in a dusty/dirty environment.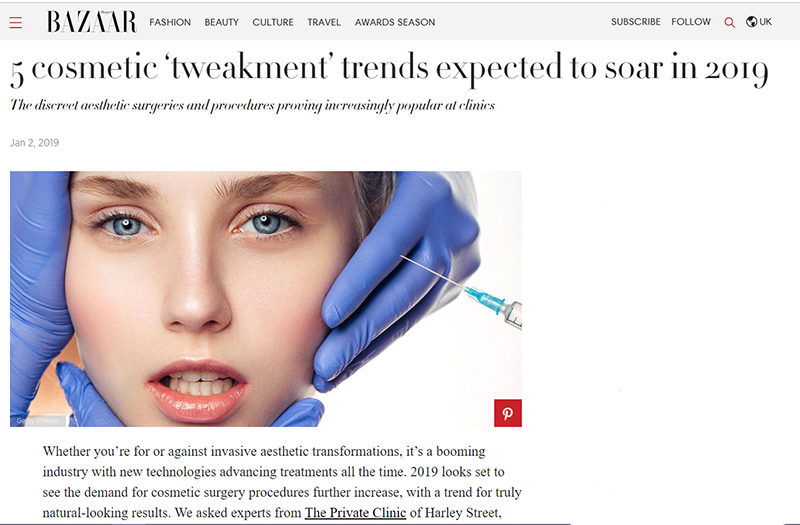 If it is more the lower face that is concerning you, then we also offer the 'One Stitch Facelift' which is very similar to the T-Lift however it instead targets the mid-face and can improve the jaw line. The incision is made along the hairline around the top of the ear. Your surgeon will be able to offer their advice on which procedure is going to give you the best results.
The results from both procedures will be able to be seen instantly, you can even ask Mr Fallahdar to show you the results halfway through the procedure giving you a direct side by side comparison which often dispels any feelings of nervousness about the procedure.
The procedure is also ideal for anyone who is concerned about friends, family or co-workers knowing that they have had something done. You will not be required to wear any bandages during your recovery, you should have very minimal bruising if any but this can be easily covered up with make-up which you are allowed to wear pretty much immediately after the procedure, taking great care to avoid the incisions and being very gentle when applying. The scars are also well hidden in the hairline and the results are designed to be very natural.
Everyone is well aware of what it looks like to be 'over-done' in the world of aesthetics and cosmetic surgery and it is always our aim at The Private Clinic to deliver natural results. Patients who have had the T-Lift describe friends complimenting them on how well they look but they don't ask what they have had done. Of course, the T-Lift will not stop your ageing but, it can help you to look better as ageing does continue to occur. Lastly, the one stitch facelift and temporal facelift are not as dramatic as a facelift can be and are ideal choices for anyone in their 40's, 50's and 60's.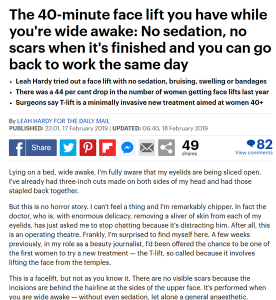 The one stitch T-Lift procedure is available at our London Harley Street clinic with Mr Davood Fallahdar (GMC Number: 4686602).
Other surgeons who perform facelift procedures at The Private Clinic include:
Mr Roberto Uccellini GMC Number: 7416337 available at our London Harley Street clinic.
Mr Dario Rochira GMC Number: 6130664 available at our London Harley Street clinic
Mr Mrinal Supriya GMC Number: 6066456 available at our Northampton and Birmingham clinics.
Why Choose The Private Clinic?
Highly experienced plastic surgeons with years of experience
Plastic surgeons are members of BAAPS (British Association of Aesthetic Plastic Surgeons) and BAPRAS (British Association of Plastic, Reconstructive and Aesthetic Surgeons)
24 hour patient helpline to ensure you are always in the best of hands.
Our discreet outstanding hospital facilities in Fitzroy Square, 10 minutes from our Harley Street Flagship clinic at 98 Harley Street, W1.
As many post-operative care and appointments with your surgeon and nursing team as required.
Our experience and medical expertise makes your journey a reassuring one
5 Star Rating on Trustpilot
Featured in Harper's Bazaar's Top Cosmetic Surgery Trends 2019.
As seen in The Daily Mail
To find out more about our one stitch secret facelift or temporal facelift please call 0333 920 2471 or click here to book a t-lift appointment.