The Private Clinic features in the Tatler Address Book
NEWS
Home » The Private Clinic features in the Tatler Address Book
The Private Clinic has been featured and added to the prestigious Tatler Address Book. The Tatler Guide or Tatler address book features the best cosmetic surgeons, spas, restaurants and hotels in the UK.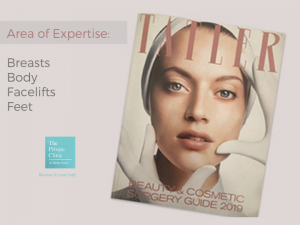 The Private Clinic has been featured including some of the top categories in cosmetic procedures; breast surgery, body cosmetic procedures, facelifts and feet.
The Tatler Address Book an exclusive carefully curated directory for health and beauty. Tatler Health & Beauty Director, Francesca White explains "the Tatler Address Book includes the most sought-after doctors and therapists, and the glossiest clinics…all with the Tatler seal of approval and its rigorous editorial process".
Within Tatler's Beauty & Cosmetic Surgery Guide 2019 consultant vascular surgeon at The Private Clinic Constantinos Kyriakides has been included as "A New Entry" talking about vein procedures.
Mr Constantinos Kyriakides is a consultant vascular surgeon at our London Harley Street Clinic offering patients a wide range of varicose vein removal procedures including:
EVLA
VenaSeal
Foam Sclerorotherapy
Phlebectomy
Mr Kyriakides is passionate about investigating the role of new technologies and techniques in the management of arterial and venous disease and actually pioneered the use of EVLA as a treatment for veins on the hands and he is one of very few surgeons in Europe trained in this revolutionary technique.
To find out more about the treatments that we offer at The Private Clinic, call us via 0333 920 2471 , or use our online contact form.