The Private Clinic wins Best Cosmetic Surgery Practice at the MyFaceMyBody awards
NEWS
Home » The Private Clinic wins Best Cosmetic Surgery Practice at the MyFaceMyBody awards
It has been a great year for The Private Clinic already and it is only March. With the opening of our new hospital premises and the introduction of a range of new treatments and surgeons joining our highly experienced team we were absolutely thrilled to hear of our latest achievement.
The MyFaceMyBody awards are one the largest and most internationally recognized awards within the aesthetic and cosmetic sector that aim recognise and reward aesthetic practices and brands for their customer service excellence. The awards ceremony was attended by hundreds of leading industry professionals, brands, journalists and celebrities all raising money for a great charity.


The Private Clinic of Harley Street was awarded Best Cosmetic Surgery Practice 2018 and we are absolutely thrilled to add this to our collection. At The Private Clinic we pride ourselves on providing our patients with nothing but the best service and care and being awarded this award proved that we are achieving our goals.
Back in December we were also fortunate enough to receive the Best Clinic Group 2017 at the Aesthetics Awards and sitting alongside the finalists that included clinics, manufacturers, suppliers and individual practitioners who have all shown excellence in the field of aesthetic medicine we felt honoured to be acknowledged for our dedication and superb results.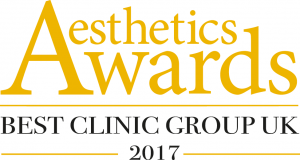 Group Managing Director of The Private Clinic, Valentina Petrone had this to say about our recent achievements;
"I am proud to announce that The Private Clinic has won another award in the space of just few months.
Following the Aesthetic Awards in December 2017, on Saturday we won the MyFaceMyBody Awards 2018 for Best Cosmetic Surgery Practice.
Clinics were shortlisted based on consumer votes. Finalists were judged based on their supporting evidence and were professionally mystery shopped at their practice where a detailed 12 page report was reviewed. Following this process The Private Clinic came first.
When I put the award on the mantelpiece this morning, I was delighted to see it was our 6th.
Our mission is to provide excellent patient care and a good outcome for our patients. This means to continuously promote outstanding service, to look after our patients and to care for their wellbeing."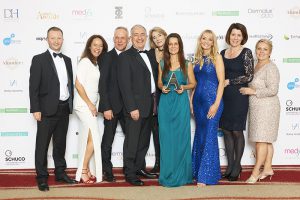 The Private Clinic's mission is to achieve the highest standards of quality of care and to do that we put patients' safety, medical expertise and patients' satisfaction at the core of what we do – always! The Aesthetic award for Best Clinic Group UK 2017 and MyFaceMyBody Best Cosmetic Surgery Practice 2018 awards are recognition of the quality results and hard work of our team of Medical experts and dedicated staff is able to bring to the company.
Why Choose The Private Clinic?
We only offer treatments that our growing team of Doctors and Surgeons specialise in.
Our expert medical team are amongst the most experienced in their field.
We use state-of-the-art technologies and the most advanced techniques to achieve the best results.
We see over 15,000 new patients every year.
We perform over 10,000 procedures every year.
We have one of the highest patients' satisfaction in the sector, TrustPilot 9.4, 5 star rating,
93% of patients would recommend us to their friends and family.
To find out more about our treatments please call 0333 920 2471 or click here to book an appointment.