Gynecomastia is the medical term for a common condition affecting over 30% of men known as 'man boobs'. Many men are embarrassed by the excess volume on their chest and often take to excessive and diets to reduce it. Unfortunately, exercise is often not enough to make an impact on the appearance of an overdeveloped male chest and in some cases it can make it look worse as the rest of your body tones up, this area will stay the same.
Many men avoid doing anything about gynecomastia thinking that it involves a large surgical procedure with scarring but patients here at The Private Clinic are often pleased to find out that we offer a non-surgical male breast reduction technique with some of the best gynecomastia surgeons in the UK.
Chest Liposuction is suitable for men who have a mild form of gynecomastia. Small soft breast can be reduced with vaser liposuction which is less invasive than traditional surgical liposuction. Vaser liposuction is often performed under local anaesthetic or with sedation. The fat in the area being treated is liquefied before being removed from the body through a gentle suction process.
The result is a reduction in fat in the area with minimal scarring and little downtime.  To find out more about Vaser Liposuction click here.
Our team of expert surgeons for Male chest reduction include;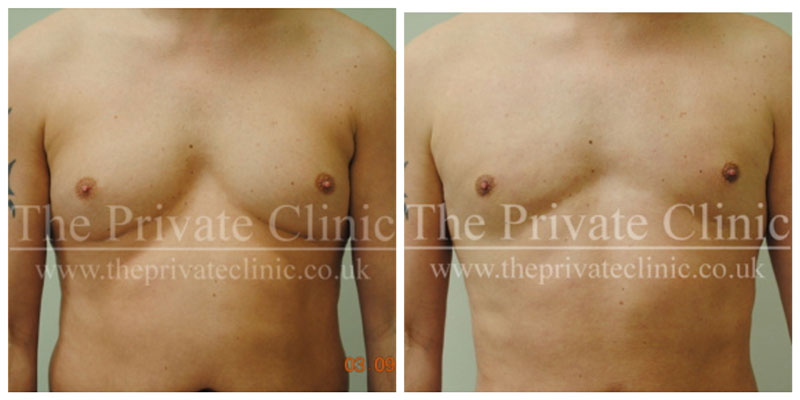 Why You Should Choose The Private Clinic for Non-Surgical Male Chest Reduction?
By coming to The Private Clinic for your chest reduction procedure you can rest assured you are in the best possible hands and that you will get the results you were hoping for.
Consultation with expert specialist surgeons who are very experienced in male chest reduction and gynecomastia.
24 hour patient helpline meaning we are only ever a phone call away should you feel the need to contact us.
As many post-operative care and appointments with your surgeon, doctor and nursing team as required.
One year cover for all surgical, hospital and nursing care, in case of any medical issue giving you peace of mind
Outstanding hospital and clinic facilities.
Competitively priced for our expertise and experience.
Comprehensive patient information, every step of the way.
Our excellent reputation for patient safety and satisfaction, honest advice and outstanding care means your journey with The Private Clinic will be an exciting experience to a newfound shape.
See our gallery of before and after photos here.
Consultations available in London Harley Street, Birmingham, Leeds, Manchester and Northampton.
If you would like to arrange a consultation with one of our renowned specialists, please call us on 0333 920 2471 or use our male chest reduction online contact form.