What is Gynecomastia?
Gynecomastia is often more commonly known as man boobs. It is a condition that affects 15% of adult men in the UK. It is a condition which can run in families and is often caused by excess glandular tissue, fatty tissue or excess chest skin developing in the male's chest area.
Although the condition is not life-limiting in any way, it can cause some mental distress with many men worrying about their appearances and choosing to hide their chest away under baggy tops and they often find themselves avoiding social situations like swimming or holidays.
How can I treat Gynecomastia?
We offer 3 treatment options here at The Private Clinic for gynecomastia/male breast reduction. They are; Vaser Liposuction,  Micro Liposuction or Surgical Liposuction. We have found that liposuction is the best way to target those stubborn areas of fat that simply won't shift.
Vaser Liposuction is a great option if you are looking for a minimally invasive treatment for gynecomastia. It involves the fat being liquefied and then removed from the areas being treated using a gentle suction process. The treatment does not require a hospital stay and you will be able to get back to work and sport much quicker.
Micro-liposuction is ideal for those with not a huge amount of excess tissue, but enough to make them feel uncomfortable. The treatment uses a cannula less than 3mm to remove the fat.
Surgical liposuction is usually only recommended to those who have a larger amount of fat to be removed and have been unsuitable for vaser or micro lipo. It is performed under general anaesthetic so it may require a hospital stay and a longer recovery time but your surgeon will be able to discuss this with you.
Who can treat Gynecomastia?
Coming to us for your chest reduction treatment you can rest assured that you are in the hands of some of the most experienced doctors and surgeons in the country.
Vaser Liposuction Surgeons
Micro Lipo Surgeons
Surgical Liposuction Surgeons
How much will male chest reduction surgery cost?
Prices for male chest reduction start from £4,900. You will be given an accurate quote following your consultation.
Male chest reduction before and after results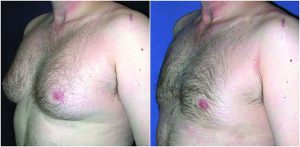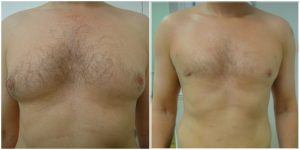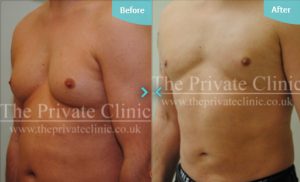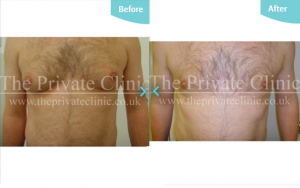 Patient Testimonials/Reviews
"My only regret is not finding The Private Clinic sooner.  I feel so much more comfortable in clothing and with myself.  I have positively alerted my life." * – P.L., London
"I saw the difference immediately and after just one week no swelling was left and my chest is as flat and manly as any other man in the gym. My only regret is that I suffered unnecessarily for 30 years. I have purchased new t-shirts and wearing them without a baggy jumper is a joy" – D.C, Buckinghamshire
"My man boobs were always a problem and I felt embarrassed in the changing rooms after going to the gym. I had a fit body and good physique but with breasts!
I had Vaser Lipo and after reduced bruising and swelling the results look impressive! I would recommend it to anyone!" *
Male Chest Reduction at The Private Clinic
Our doctors have performed thousands of lipo-contouring treatments including over 7,000 VASER treatments to date, more than any other clinic in Europe.
By coming to us for your chest reduction procedure you can rest assured you are in the best possible hands and that you will get the results you were hoping for.
To find out more about male breast reduction surgery or book to book a consultation please call 03339209135 or use our male chest reduction online contact form
We have clinics across the UK in London Harley Street, Birmingham, Bristol, Buckinghamshire, Northampton, Leeds and Manchester