Questions to ask your orthopaedic surgeon about bunion removal
BUNION SURGERY
Home » Questions to ask your orthopaedic surgeon about bunion removal
Choosing the right surgeon to perform your bunion removal procedure can be a daunting task. We have put together some top questions to ask your orthopaedic surgeon to help you make a more informed choice.  
What improvement can I expect from bunion surgery? 
Many people who have bunions, also experience other issues including pain, redness and swelling which will progressively worsen over time if the bunion is left untreated. Bunion surgery is the only way to treat a bunion and patients can expect to be relieved of all pain and discomfort that their bunion caused. Patients may also be pleased about the new appearance of their foot and can find selecting shoes to fit properly and comfortably a lot easier. Some patients have also expressed that they find exercising a lot easier and find themselves taking part in activities that previously they never imagined they would do.   
Find out more about what to expect from private bunion surgery here. 
How many screws will I have in my foot? 
Traditionally bunion surgery requires metal fixative devices such as screws or plates to be placed into the foot which is often what causes the extensive downtime. Our new revolutionary bunion surgery procedure does not involve using any fixative devices. Geometric fractures are made within the foot and then are left to heal according to the patient's load-bearing needs and not to a pre-set standard that may not be right for the patient.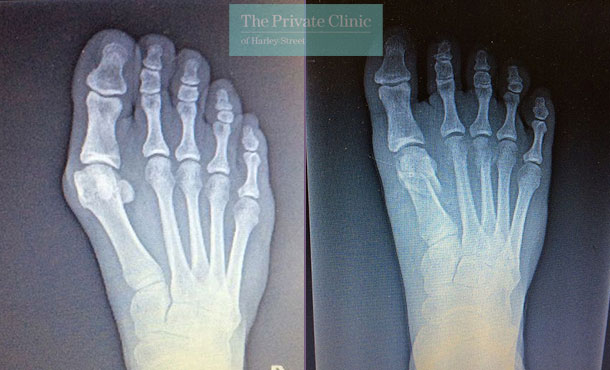 Can I have both bunions removed at the same time? 
It is uncommon to have bunions on each foot treated at the same time. Although this may feel like you are saving time and resources, it can make your recovery difficult. When you have your bunion surgery, a fracture is made in the foot and although it is stable and able to heal naturally – it requires you to be walking as close to your natural manner as possible. Having a fracture in both feet is going to cause you to walk unnaturally and your feet are going to struggle to heal correctly often causing the need for additional surgery.  
Will I require anaesthetic? 
Our minimally invasive bunion surgery only requires local anaesthetic to the area being operated on. You will not feel any pain during the procedure and our expert team will be on-hand to ensure that you are feeling comfortable throughout.  
How long will I need to rest my foot? / Can I walk after bunion surgery?
There is no requirement to rest your foot for extensive periods after our keyhole bunion surgery procedure. We encourage patients to walk on the treated foot as soon as possible after surgery to help it to heal in the correct position. When seated, it is advised to keep the foot elevated to help reduce swelling, but patients are otherwise free to walk immediately after surgery.  
Find out more about bunion surgery myths here. 
Will I have pain after surgery?
The effects of the local anaesthetic may last 24-48 hours after the procedure which can cause your foot to feel numb and pain free. Once this wears off, discomfort may be felt but this should be minimal and managed with painkillers. All our patients are provided with painkillers and aftercare to help with their recovery, our nursing team will also be in contact to ensure that you are feeling comfortable post-surgery.  
How soon after surgery can I return to work?
Traditionally, bunion surgery requires extensive time off work or recovery time which causes many to refuse surgery. Our keyhole bunion surgery is minimally invasive, requires no crutches and no downtime so patients can return to everyday activities almost instantly. Many of our patients can return to work after 1-2 days depending on the nature of their role.  
Find out more about why our bunion technique is so innovative here. 
When will I be able to drive after bunion surgery?
Patients will not be able to drive after bunion surgery until their follow-up appointment where their specialised orthopaedic boot is removed, and they are able to wear shoes. It is very unlikely that your car insurance provider will cover you if you drive whilst wearing an orthopaedic boot and before your surgeon has advised that you can do so. Bunion follow-up appointments are scheduled for 15-20 days post procedure. 
Will I need physiotherapy after surgery? / 
How long does it take to walk normally after bunion surgery?
Patients will not require physiotherapy after surgery. Patients are encouraged to walk on the operated foot as soon after surgery as possible. Many patients instinctively try to protect their foot, which has been operated on by shifting their weight on to the external edge of the foot. Care should be taken to avoid doing this as it can cause pain and swelling in both the operated foot and the non-operated foot. 
Will I have a scar?  
Our bunion surgery is performed using a keyhole surgical technique so although there will be a very small 2-3mm skin incisions,  this should be barely noticeable and should fade to leave no visible scar. 
Will my bunions get worse without surgery? 
Bunions are often progressive which means they can continue to worsen over time. The side effects from bunion surgery such as pain, swelling and redness are more likely to worsen than the physical appearance of the bunion. In some cases, patients can go on to develop hammertoe. Hammertoe is when the pressure from a bunion causes your toe or toes to bend and curl downwards which can cause great discomfort.  
Find out more about hammertoes here. 
Will my bunion return? 
Our bunion surgery has a 98% success rate as it is based on the geometric correction of the deformation. Of course, it is not impossible for a bunion to return but this is unlikely to be the same bunion and more likely to be a new bunion that has developed since your original surgery was performed.  
How many bunion procedures have you performed? 
Dr Andrea Bianchi developed the minimally invasive keyhole bunion surgery technique that we exclusively perform at our clinic in London. He is an expert orthopaedic surgeon who performs over 1,200 bunion operations a year and has been performing bunion operations for over 15 years. Consultations with Dr Bianchi are available at our clinics in London and Manchester.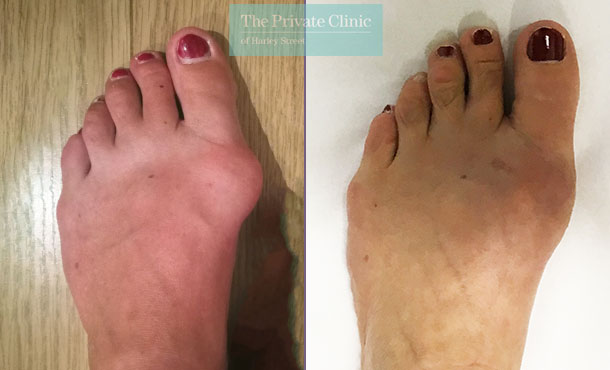 See more bunion before and after photos here. 
Why Choose The Private Clinic for Keyhole Bunion Surgery UK?
Exclusive

 to The Private Clinic in the UK, there is no other operation like this one.

 

Minimally invasive procedure

, bunion removal surgery is performed under 

local anaesthesia

 using 

keyhole techniques

.

 

This is the only 

natural operation

 with 

no metal fixtures

 such as wires or screws being used.

 

There is a 

98% success rate

 following the bunion operation.

 

Orthopaedic Consultant Surgeon, Mr Bianchi is an 

expert in his field

 and has been carrying out bunion operations for 15 years.

 

Dr Bianchi carries out 

over 1,200 bunion operations a year

.

 

Walk immediately after surgery

, with 

no crutches

 or extensive downtime required.

 

Minimal post-operative pain

 and aftercare.

 

2-3mm skin incisions which leaves 

no scar.

 

Treatment carried out in our 

state-of-the-art

 London Fitzroy hospital.

 

24-hour patient helpline

 direct to your nursing team and surgeon, which means should you have any concern we are here to help.

 

Our excellent reputation for 

patient safety and satisfaction, honest advice

 and 

outstanding care 

means your journey with The Private Clinic will be an exciting experience to a newfound confidence.

 

Watch our informative 

bunion videos

 

Read our 

bunion patient stories

 

See our extensive

 bunion surgery FAQs

 
For more information or to book a consultation with our expert orthopaedic surgeon at our bunion clinics in London Harley Street, Manchester, Birmingham and Bournemouth please call us on 0333 920 2471 or use our online bunion contact form to request a call back.