Bunion Surgery in Manchester
BUNION SURGERY
Home » Bunion Surgery in Manchester
Bunion treatment in Manchester
Minimally invasive bunion surgery 
Our bunion removal surgery procedure uses a revolutionary keyhole technique that does not require the fracture of the foot to be immobilised/rested in order to heal. The surgeon will use surgical dental burrs to correct the deformity and modify the bones of the foot through small 2-3-millimetre incisions that leaves virtually no scarring.
A series of small and precise fractures are made to the foot which are called geometric fractures. The fractures do not require any fixative devices such as screws or pins which force the bone into place. They are instead left to heal naturally according to the patient's load-bearing needs and not to a pre-set standard that might not be right for the patient and can actually increase the risk of infection post-surgery.
Once the procedure has taken place and the local anaesthetic worn off, the patient will be encouraged to walk on the foot and will be able to leave hospital without the need for crutches.
What are the advantages of the bunion surgery technique?
Procedure is exclusive to The Private Clinic in the UK
Over 1,200 procedures performed each year in Italy and London
98% success rate
No screws, plates, wires or metal fixtures required
5 star TrustPilot rating based on over 1000 reviews
Keyhole surgery and no big scars
No crutches, no downtime. So you can return to everyday activities
Advanced bunion hospital and aftercare support
Walk in walk out, minimally invasive day case procedure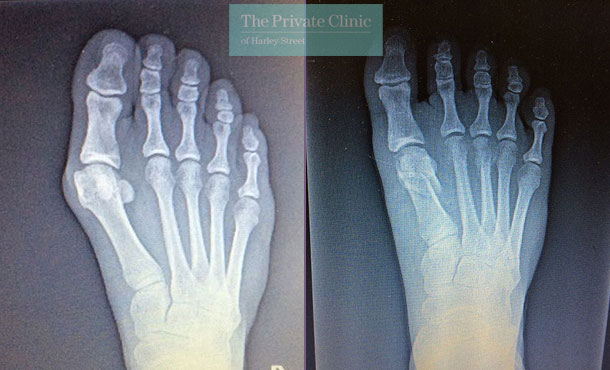 Find out more about our exclusive minimally invasive keyhole bunion surgery here.
Minimally Invasive Bunion Surgery Results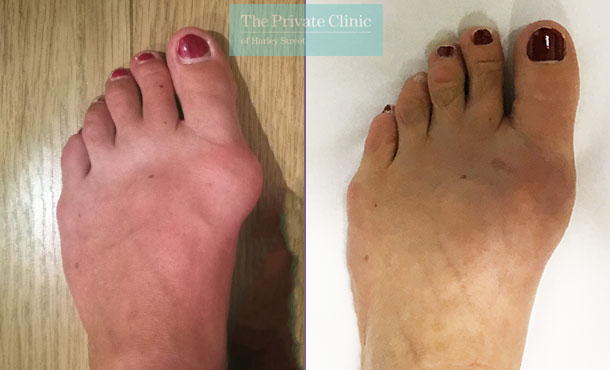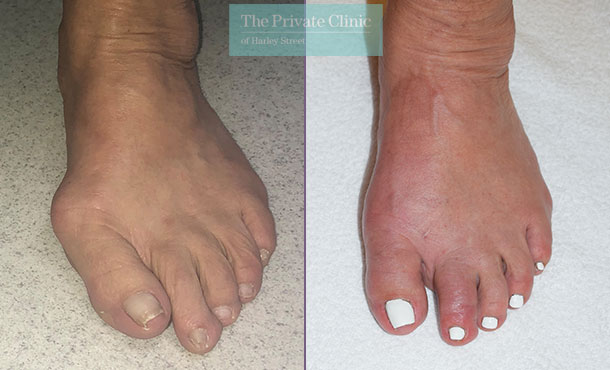 See more keyhole bunion surgery before and after photos here
Do I have a bunion?
The most obvious sign that you have a bunion is a bony lump appearing on the outside edge of the foot. You may find it difficult to find shoes that fit properly or find wearing certain types of shoes painful. Other symptoms of bunions include pain, redness and swelling.
What causes bunions?
It is believed that bunions are often caused by wearing ill-fitting and uncomfortable footwear. This is because it can induce excessive pressure on the toes by forcing the first and fifth toes towards the centre which then compresses the other toes. This can definitely be a big factor as to why you may have developed a bunion.
Other factors that can be a cause of bunions includes genetics, deformities from birth, inherited foot type, foot stress / injury or medical conditions such as arthritis, rheumatoid arthritis, or osteoarthritis.
How do I treat my bunion?
There are lots of 'treatments' available for bunions but unless it is a surgical procedure, it is unlikely to have a successful result.
Bunion pads and splints are one of the most common bunion treatment methods available which can be sourced from most health stores, pharmacies and even supermarkets. These are great items which can be really successful at relieving pain and discomfort caused by bunions, but it is unlikely that they will have much of an impact on reducing the size of bunion.
Find out more about how to reduce bunion pain here.
Bunion surgery is the most effective method of treating bunions it is often the last option for many patients as it has a reputation for having lengthy waiting lists, extensive downtime, and a painful recovery.
The Private Clinic is able to offer patients minimally invasive bunion surgery with no scar, no metal fixtures & no downtime with patients being able to walk after surgery without the need for crutches.
Where to get a bunion treatment in Manchester?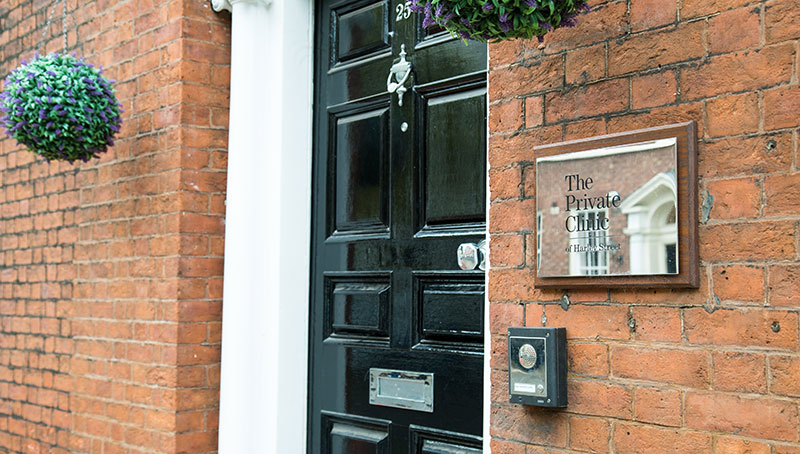 Our Manchester bunion clinic has a friendly team who are committed to helping you find the best treatment for your needs. Bunion removal consultations are available at our Manchester clinic with Consultant Orthopaedic Surgeon, Mr Andrea Bianchi. Minimally invasive bunion removal surgery takes place at our specialised bunion hospital in London Fitzroy square. All aftercare appointments can take place at our bunion clinic in Manchester.
We focus on offering patients our revolutionary minimally invasive keyhole surgery technique for bunions to ensure that our patients achieve the best results without lengthy downtime.
Manchester Bunion Clinic Address:
The Private Clinic Manchester
25 St John Street
Manchester
M3 4DT

The Private Clinic in Manchester is based on 25 St John Street which is located near the Spinningfields district just off of Deansgate road which runs through the city centre of Manchester.
Many patients travel from surrounding areas of Manchester including Bowdon, Hale, Hale Barns, Worsley, Altrincham, Cheadle, Deansgate, Sale, Rusholme, Spinningfields, Didsbury and Castlefield.
Whilst others visit us from locations within Cheshire such as Chester, Warrington, Crewe, Congleton, Northwich, Winsford, Macclesfield, Nantwich, Alderley Edge, Wilmslow, Leigh, Prestbury, Nantwich, Tarporley and Knutsford.
Who will perform my bunion surgery?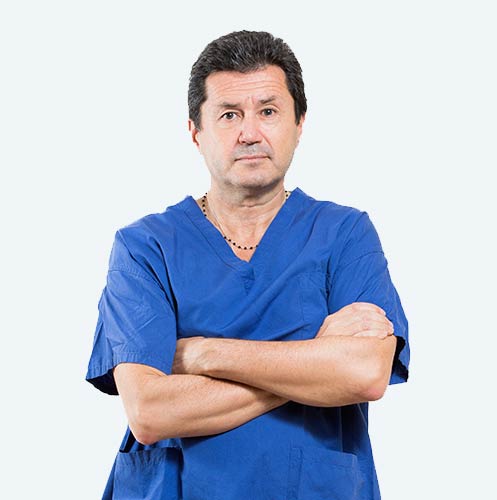 Dr Andrea Bianchi is The Private Clinic's Consultant Orthopaedic surgeon. Mr Bianchi pioneered this revolutionary bunion removal procedure and now offers it for patients in the UK exclusively at our bunion clinics in Manchester, London and Birmingham.
Dr Andrea Bianchi has performed more than 50,000 Orthopaedic minimally invasive foot surgeries and carries out over 1,200 minimally invasive bunion surgery cases a year.
Find out more about Dr Bianchi here.
Where will my bunion surgery take place?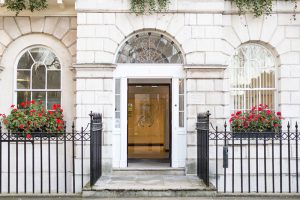 Your minimally invasive keyhole bunion surgery procedure will take place at our Private Bunion Hospital in London Fitzroy Square. It is a day case procedure, and you will be able to walk out of the hospital after your procedure with no need for crutches. We can help patients to organise travel arrangements and any overnight stays in London if preferred.

All follow up appointments after your procedure will take place back at our Manchester bunion clinic with Dr Bianchi and our team of expert nurses will be able to assist you should you need any care or advice.
Keyhole Bunion Surgery Manchester Reviews
"I had Bunion surgery after experiencing pain on a regular basis and finding it very frustrating that I had to reduce the amount of exercise I was able to do. I am delighted to say that 2 months after my procedure, I am back cycling, able to wear my walking boots again and very happy . Thank you for looking after me so well!"
Julie
"Excellent service, from start to finish. The procedure lasted 10 min tops. Walked out of the clinic after the surgery. Pain very manageable, quick recovery and healing process. 9 weeks on and back in my regular shoes. Best decision ever to have my bunion done. Couldn't recommend better specialist than Dr Bianchi. Thank you"
Anna
"I read the traditional methods of bunion removal and then Dr Bianchi's. The difference is as night and day. Friends and family have suffered the traditional method always accompanied with pain and many weeks off work. Usually bolts or wires are used, a general anaesthetic, unable to put pressure on the foot for at least a couple of weeks and afterwards walking with crutches required and then not always a successful outcome. And, who can take that amount of time out anyway? Also, I don't understand that if a bolt is put through the toe joint, when that person stands, his entire weight is pressing on that bolt. It is therefore restrictive to where the foot wants to be meaning what if a person is 9st and another is 16st all the weight is held in a predetermined place regardless of the individuals weight…it's all pushing on the bolt surely the heavier the person the more pressure? Dr Bianchi's method allows the foot to set and heal where the person's standing weight determines. I am familiar with the minimal invasion, rapid recovery technique as in 2018 I had an hip replacement and could walk the length of the hospital corridor without crutches on the same evening of the operation and was discharged the next morning, so I was delighted when I read about Dr Bianchi's similar technique. I met with Dr Bianchi and Dr Luca and was very impressed. They are very professional and both warm and welcoming people. I therefore decided it was a "no brainer," I had needed the OP for some time and decided that this was the only way I would ever have it done. Dr Bianchi removed the bunion, in I think, it was no more than 20 minutes from memory and I can truly tell you it's FANTASTIC. Everything he says was true. A local anaesthetic was used, I could walk out unaided straight after, no pain at any time both during and all through the recovery period. It really felt as though he hadn't done anything. I was expecting pain after the local were off but I swear for me there was none! So there is another way! There are few groups more conservative than the medical profession. They are distrustful of someone suggesting that there is a completely different way of doing things. They are simply not prepared to acknowledge that someone else does it better."
Gary
"I was apprehensive about having my bunion operation done under local anaesthetic. I needn't have worried. I had a fairly severe bunion, the operation was very straightforward and I literally walked out of the clinic. Healing time was minimal and I was back in the gym in my "special boot", especially designed and provided by the clinic, within a week of the operation. I would have no hesitation at all in recommending Mr Bianchi for this procedure and in fact have done so."
Frankie
Why choose The Private Clinic for Bunion Removal Surgery?
Exclusive to The Private Clinic in the UK, there is no other operation like this one.
Bunion Removal Surgery is performed under local anaesthesia using keyhole techniques.
This is the only natural operation with no metal fixtures such as wires or screws being used.
No fixative devices inside the foot means a reduced risk of infection.
There is a 98% success rate following the bunion operation
Mr Bianchi, an expert in his field has been carrying out bunion operations for over 15 years
Dr Bianchi carries out on average 1,200 bunion operations a year
You will be able to bear weight on your foot shortly after surgery
No need for an overnight stay
Minimal post-operative pain and aftercare.
Consultation and aftercare carried out at our Manchester Bunion Clinic.
Treatment carried out in our state of the art London Fitzroy hospital
24 hour patient helpline direct to your nursing team and surgeon, which means should you have any concern we are here to help.
Dedicated post-operative care and appointments with your surgeon and nursing team. We are here to give you the best experience.
Our excellent reputation for patient safety and satisfaction, honest advice and outstanding care means your journey with The Private Clinic will be an exciting experience to a newfound confidence.
For more information or to book a consultation with our expert orthopaedic surgeon at our bunion clinic in Manchester please call us on 0333 920 2471 or use our online contact form here.