Bunion surgery before and after UK
BUNION SURGERY
Home » Bunion surgery before and after UK
The before and after results of our exclusive bunion removal procedure are a great way to see how life changing this procedure can be. Bunion removal is not just about the aesthetics however, the true results of bunion removal surgery is the relief in discomfort, pain, swelling and aching of the foot. Shopping for shoes can now be an enjoyable activity and taking part in exercise can be done with ease without irritation.
Karen was one of our first bunion removal patients at our London clinic. She had previously declined surgery on the NHS due to the lengthy recovery period and downtime. After hearing about our new exclusive minimally invasive bunion removal procedure she was keen to get booked in and find out more.
As you can see, Karen has had a great result and went on to have her other foot treated shortly after. Her recovery had minimal impact on both her work and home life, and she found herself taking up new sporting activities such as running which she previously thought she would never be able to do due to the discomfort in her feet.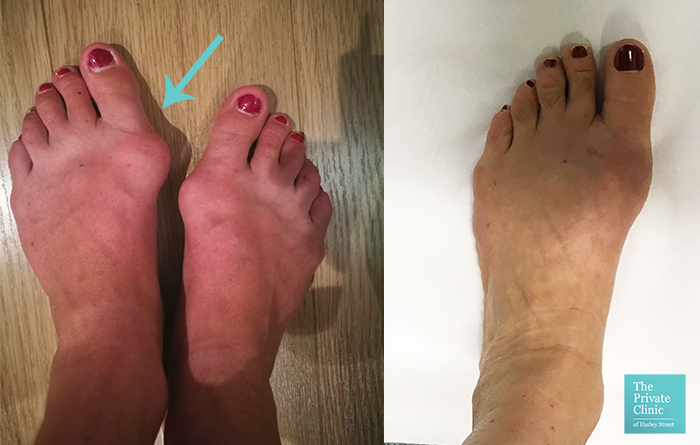 You can find out more about Karen and her treatment journey here.
Performed exclusively in the UK at The Private Clinic, consultant orthopaedic surgeon Dr Andrea Bianchi has been performing bunion operations for 15 years and developed the minimally invasive bunion removal procedure in 1996 undertaking approximately 1,200 treatments a year. Consultations with Dr Bianchi are available at our clinics in London,  Manchester, Birmingham and Bournemouth.
Bunion removal before and after results photos UK 2021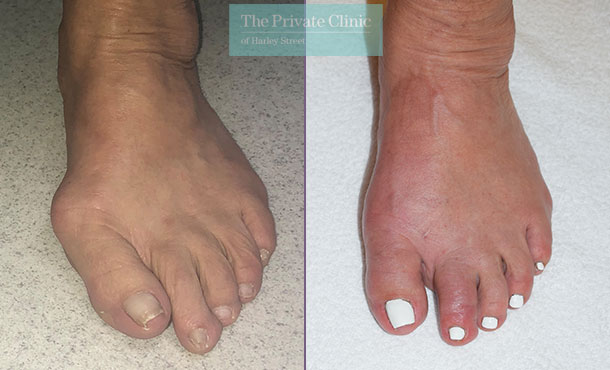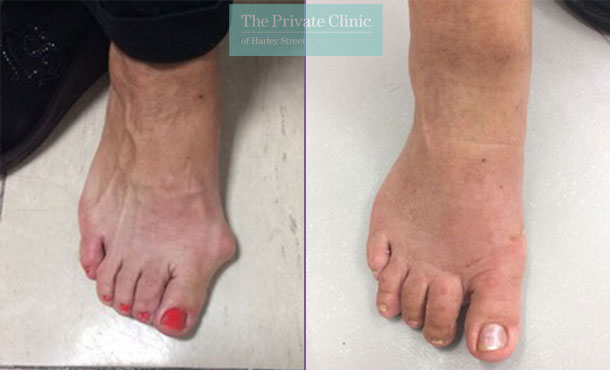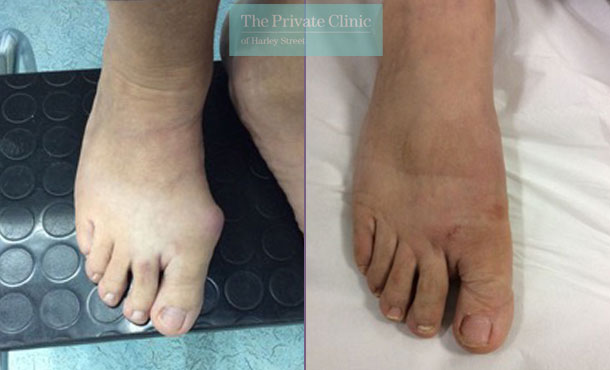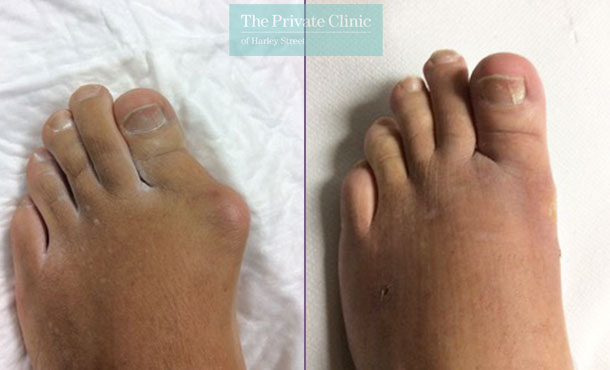 We also like to share the x-ray images of our bunion results so you can see the correction in the bones without the use of fixative devices.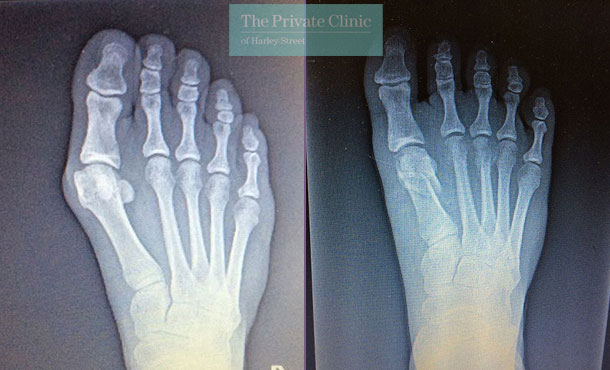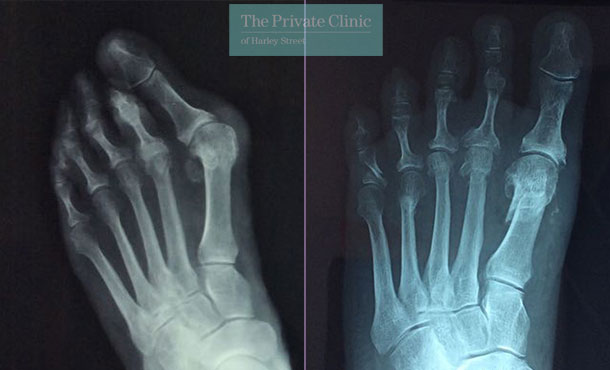 Bunion Patient testimonials and review
"My reason initially for choosing The Private Clinic of Harley Street mainly was because Dr Bianchi, my surgeon, was offering keyhole bunion surgery which was pioneering and unknown of in the UK. Also there are no screws or pins fitted just bandages. My experience from my first meeting with Dr Bianchi and his team was excellent from start to finish. The day I had surgery everyone put me at ease and as was discussed because of the nature of the surgery I was able to walk out of the hospital the same day without the aid of crutches and was virtually pain free. The aftercare the Clinic provided was excellent so I went ahead with the second foot and now several months later I have no bunions and very pleased with the result and can wear shoes without the discomfort I was having for many years. I would definitely recommend Dr Bianchi's new method of surgery and the Private Clinic of Harley Street for their professionalism."
Janet, Suffolk
"Dr Bianchi & Luca are not only very professional but very kind & have a wonderful sense of humour. They made me feel very relaxed & comfortable. I had my surgery in January 2020 which took all of 5 minutes, although the whole time at the clinic was roughly about 4 hours. This included all the pre surgery assessments & recovery time. I was walking straight away with a special bandage & a special fitting shoe. My foot was numb from the nerve block but that soon wore off. The pain is very minimal, I used paracetamol for a few days and rested my foot every day but also continued my housewife duties & school runs as normal. By February I had my bandage off & was wearing a normal flat shoe but needed to be of a wide fit as my foot was a little swollen. Now in March I am wearing kitten heel shoes. I am now scheduling my surgery for my other foot. No regrets in doing this surgery."
Silvana, Hertfordshire
"I'm very pleased to have chosen the Private Clinic as my procedure was almost painless and the recovery was just a matter of a few weeks. Everyone at the Clinic was so pleasant, friendly, and helpful. I wouldn't hesitate to use again or recommend the Private Clinic."
Suzanne, Hertfordshire
Why choose The Private Clinic for Bunion Removal Surgery?
Exclusive to The Private Clinic in the UK, there is no other operation like this one.
Bunion Removal Surgery is performed under local anaesthesia using keyhole techniques.
This is the only natural operation with no metal fixtures such as wires or screws being used.
There is a 98% success rate following the bunion operation.
Mr Bianchi, an expert in his field has been carrying out bunion operations for 15 years.
Dr Bianchi carries out on average 1,200 bunion operations a year.
You will be able to bear weight on your foot quickly after surgery.
No need for an overnight stay
Minimal post-operative pain and aftercare.
Treatment carried out in our state-of-the-art London Fitzroy hospital
24-hour patient helpline direct to your nursing team and surgeon, which means should you have any concern we are here to help.
Dedicated post-operative care and appointments with your surgeon and nursing team. We are here to give you the best experience.
Our excellent reputation for patient safety and satisfaction, honest advice and outstanding care means your journey with The Private Clinic will be an exciting experience to a newfound confidence.
View our bunion before and after photos.
Watch our bunion treatment and testimonial videos.
Read our extensive bunion FAQs
For more information or to book a consultation with our expert orthopaedic surgeon at our bunion clinics in London Harley Street, Manchester, Birmingham and Bournemouth please call us on 0333 920 2471 or use our online bunion contact form to request a call back.