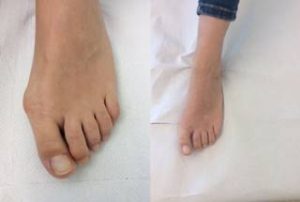 6 Myths about Bunion Surgery
BUNION SURGERY
Home » 6 Myths about Bunion Surgery
Bunion surgery is a procedure that helps to correct the appearance of a lump that sticks out the side of your foot, usually on the edge of your big toe.  Surgery is the only way to fully treat a bunion but it is often avoided from due to associations of long periods of downtime, the need for crutches, scarring and pain.
At The Private Clinic we are able to offer an exclusive minimally invasive bunion correction surgery that is not available anywhere else in the UK. There is no other bunion correction operation like this one which enables to patients to be back on their feet straight after their procedure with no need for crutches.
To find out more about our bunion correction surgery book an appointment with our consultant orthopaedic surgeon Mr Andrea Bianchi at our bunion clinics in London Harley Street, Manchester, Birmingham and Bournemouth.
Our bunion correction procedure is able to make 6 of the most common statements about bunions a complete myth!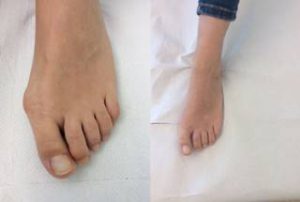 Bunions can return after bunion correction surgery
It is very uncommon for a bunion to grow back after bunion correction surgery however it is possible. If your bunions were to come back after surgery it would not be referred to as the bunion 'growing back' but more the bunion reoccurring due to the structure of your foot.
In the vast majority of cases, patients who undergo bunion correction surgery are able to live a bunion-free life well into the future. At The Private Clinic our expert surgeon will tailor your surgical procedure for your particular bunion to greatly reduce any need for revision surgery at a later date.
Bunion surgery is very painful
All types of cosmetic surgery come with a certain amount of pain but no pain should be felt during the procedure. Bunion Correction procedures at The Private Clinic are performed under local anaesthetic and sedation if required. You may experience some post-op pain, but this is not known to be any more severe than any other type of surgery and is well managed with pain medication provided to you after your procedure to go home with.
Bunion surgery involves a long period of downtime
Traditionally bunion surgery has always required a substantial amount of downtime. We are now able to offer a minimally invasive bunion removal surgical procedure that is available exclusively at The Private Clinic. Our minimally invasive technique has been inspired by keyhole surgery and doesn't require the use of any fixative devices such as screws, plates or wires. Patients are able to walk immediately with no crutches and get back to their everyday activities much quicker than traditional bunion removal surgery.
Bunion surgery causes unsightly scars
All surgical procedures will involve scarring but our minimally invasive procedure only requires very small incisions that results in minimal scarring that does not require stitches.
You will need crutches after bunion correction surgery
Bunion correction surgery in the past has resulted in patients needing to use crutches after their procedure and the time they are required has varied between a few days to weeks. Bunion correction surgery at The Private Clinic is an exclusive minimally invasive procedure that allows patients to walk without crutches immediately after the surgery. Patients who have had bunion surgery with us are able to return to their everyday activities much sooner than they initially thought they would be able to making it perfect for those with a busy lifestyle.
If your bunion isn't painful you can't fix it
If you were to have bunion surgery through the NHS then it is often a requirement that the bunion is causing you pain to even be considered for surgery. Bunion surgery at The Private Clinic is available to anyone who feels uncomfortable with the appearance of their bunion, hammertoe or tailor's bunion.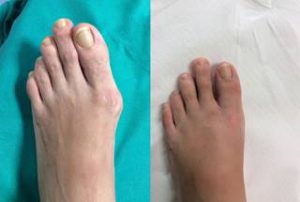 Why choose The Private Clinic for Bunion Removal Surgery?
Exclusive to The Private Clinic in the UK, there is no other operation like this one.
Consultations available at our clinics in London Harley Street, Manchester, Birmingham or Bournemouth.
Bunion Removal Surgery is performed under local anaesthesia using keyhole techniques.
This is the only natural operation with no metal fixtures such as wires or screws being used.
There is a 98% success rate following the bunion operation
Mr Bianchi, an expert in his field has been carrying out bunion operations for 15 years
Mr Bianchi carries out on average 1,200 bunion operations a year
You will be able to bear weight on your foot shortly after surgery when advised to by your surgeon
No need for an overnight stay
Minimal post-operative pain and aftercare.
Treatment carried out in our state of the art London Fitzroy hospital
24 hour patient helpline direct to your nursing team and surgeon, which means should you have any concern we are here to help.
Dedicated post-operative care and appointments with your surgeon and nursing team. We are here to give you the best experience.
Our excellent reputation for patient safety and satisfaction, honest advice and outstanding care means your journey with The Private Clinic will be an exciting experience to a newfound confidence.
For more information or to book a consultation please call us on 0333 920 2471 or click here.