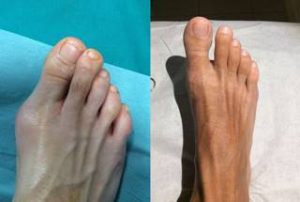 Private Bunion Surgery: What can you expect ?
BUNION SURGERY
Home » Private Bunion Surgery: What can you expect ?
Many people wish for bunion treatment but are often unable to have the traditional surgery due to the long downtime that is involved. Our new minimally invasive bunion treatment available exclusively at The Private Clinic allows patients to have their bunion removed and continue with their day-to-day activities straight after surgery.
Bunion Removal less painful, less invasive procedure
Bunions are the boney lump that is commonly found on the side of the foot or sometimes the base of the big toe and as well as being unsightly they can also make wearing particular types of shoes difficult and be painful for many.
Previously, bunion removal surgery has required patients to allow for approximately 6 weeks downtime where they would not be able to walk, work or play sport for a period of time. This impact on our everyday lives is often not even an option and many choose to reject surgery in favour of non-surgical alternatives such as bunion pads and specialist shoes to help to temporarily alleviate the pain. Although these options are great at providing some relief to patients' lives, they do not treat the bunion or help in any way to decrease the size.
Our minimally invasive bunion removal procedure
has changed the way that bunions are treated. Our treatment allows the patient to walk shortly after surgery without the need for crutches meaning patients can return to their everyday activities a lot quicker compared to the traditional surgery. Our minimally invasive procedure does not use any fixative devices, such as wires, screws and plates and has a 98% success rate achieving outstanding results with minimal scarring.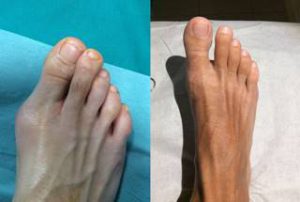 Performed exclusively in the UK at The Private Clinic, consultant orthopaedic surgeon Dr Andrea Bianchi has been performing bunion operations for 15 years and developed the minimally invasive bunion removal procedure in 1996 undertaking approximately 1,700 treatments a year.
How does Minimally invasive bunion surgery work?
Minimally invasive bunion surgery at The Private Clinic uses keyhole surgery techniques and a specialist radiological device.  Small 2 to 3 mm incisions are made within the skin allowing the surgeon to insert tools to cut the bone (dental burrs) which are able to reshape the foot to correct the deformity. You will have bandages applied to your foot which will need to remain in place until you return in a few weeks' time for your post-op check.
What is the downtime?
Post-operative pain after minimally invasive bunion surgery is very low and you will be provided with detailed aftercare instructions to help you during your period of recovery.  Shortly after your procedure once your local anaesthetic has worn off you will be encouraged to walk on your foot. Your surgeon will encourage you to do this regularly as it will help your bones to heal correctly. You will not require crutches or physiotherapy but you will be provided with a specialised orthopaedic shoe that you will be recommended to wear up until you visit again for your post-op check-up where in most cases you will be advised to start wearing comfortable shoes.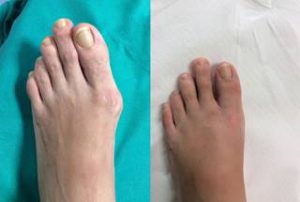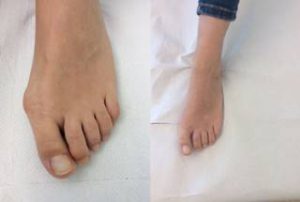 Why choose The Private Clinic for Bunion Removal Surgery?
Exclusive to The Private Clinic in the UK, there is no other operation like this one.
Bunion Removal Surgery is performed under local anaesthesia using keyhole techniques.
This is the only natural operation with no metal fixtures such as wires or screws being used.
There is a 98% success rate following the bunion operation
Mr Bianchi, an expert in his field has been carrying out bunion operations for 15 years
Dr Bianchi carries out on average 1,200 bunion operations a year
You will be able to bear weight on your foot shortly after surgery
No need for an overnight stay
Minimal post-operative pain and aftercare.
Treatment carried out in our state of the art London Fitzroy hospital
24 hour patient helpline direct to your nursing team and surgeon, which means should you have any concern we are here to help.
Dedicated post-operative care and appointments with your surgeon and nursing team. We are here to give you the best experience.
Our excellent reputation for patient safety and satisfaction, honest advice and outstanding care means your journey with The Private Clinic will be an exciting experience to a newfound confidence.
For more information or to book a consultation with our expert orthopaedic surgeon at our bunion clinic in London Harley Street please call us on 0333 920 2471 or click here.