Victoria Beckham amongst other celebrities have been snapped recently not looking like their glowing face. Victoria Beckham was snapped looking extremely tired with dark circles and a gaunt face. She admitted that Baby Harper wasn't sleeping well and that she has spent endless night's up with her whilst maintaining her work life too.
Looking and feeling exhausted after having a baby is to be expected to some degree, so don't worry, you're not alone. If you are extraordinarily tired your first step should be to go see your GP who should carry out some basic hormone tests, for example checking for any thyroid disorder. Your doctor should also look for any signs of post natal depression.
There are some rebound hormonal changes that can have an effect on how you feel and look after pregnancy, 90% of changes come down to tiredness and a massive change of lifestyle.
Your old lifestyle will have disappeared, going to the gym,  getting a good night sleep, even eating regularly, your priority becomes looking after your new born infant.
Typically post pregnancy skin can be very dry and look more aged with deeper lines starting to appear. Extreme tiredness will result in hollows under the eyes and dark circles. Tiny broken veins on the cheeks are also common as a result of increased blood levels in pregnancy and from pushing in labour.
Hyperpigmentation or melasma is very common during pregnancy due to hormone changes and this uneven pigmentation is ageing and can be very tricky to get rid of.
New mums are usually short of time and put themselves way down the list of priorities, forgetting to eat properly which especially when you are breast feeding will result in weight loss and this can make cheeks look hollow. Poor nutrition will also make skin appear dull and feel dry. It is important to try and find the time to exercise, eat healthy and sleep as much as you can which is often easier said than done but for a quick fix there are several treatments that mums can have that can give their skin a much needed boost.
IPL Photorejuvenation
IPL or Intense Pulsed Light treatment can be very effective at evening out skin tone and reducing the appearance of hyperpigmentation and melasma. IPL emits a wide range of light waves which work to reduce the appearance of redness, brown spots and discoloration in the skin as they absorb the light and eventually fade over a course of treatment.
Treatment takes around an hour and can leave your skin looking a little red immediately after, but this will gradually reduce over the course of the day. The majority of patients will need 5 treatments carried out every 4 weeks to achieve the best results. Your skin will gradually improve following each treatment but the best results are seen 3-5 months following your last treatment.
Consultations for IPL Photorejuvenation are available in London Harley Street with our trained skin specialists who are highly qualified in treating skin conditions such as melasma.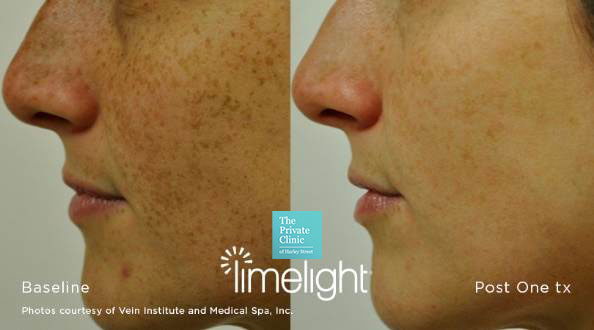 Chemical Skin Peel
A chemical skin peel is a great treatment to help with a multitude of skin problems. We have a wide range of peels at The Private Clinic and common ones for new mums are treating dull/tired skin and hyperpigmentation. A chemical peel is a relatively quick treatment depending on the type of peel you are having but usually takes under an hour and the downtime is minimal. Each chemical peel treatment will be different depending on your skin type, the peel used and the condition being treated but a course of treatments are usually recommended to get the best results.
Consultations for Chemical Skin Peels are available in London Harley Street, Birmingham, Leeds, Manchester and Northampton.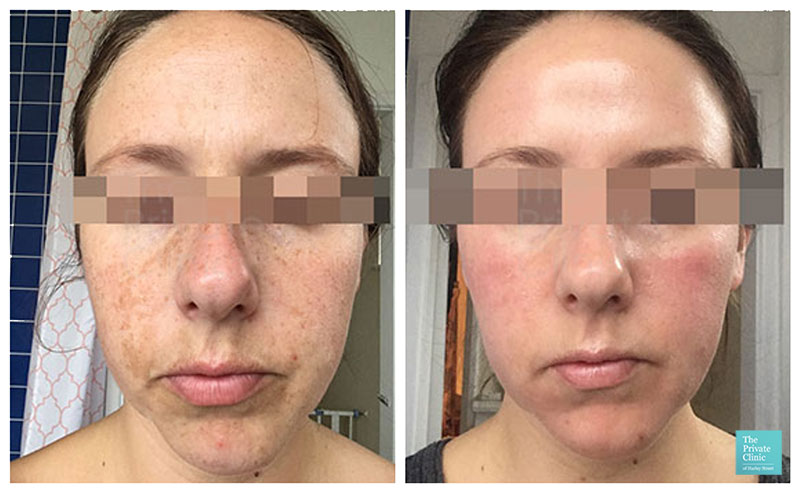 Profhilo
Profhilo is an injectable treatment that is great for brightening and treating dull skin with visible results after 2 treatments. Profhilo uses contains hyaluronic acid however it does not plump the skin like you would see in a dermal filler treatment. Profhilo treatment instead works to treat the skin resulting in an improved skin tone, texture, elasticity and firmness with increased hydration and radiance. The result is healthier, softer and smoother skin. Profhilo requires patients to have 2 treatments spaced 1 month apart. The results are seen 4 weeks after the first treatment but some patients may start to notice a change 1-2 days after their treatment. The best results are seen 8-10 weeks following your final treatment.
Consultations for Profhilo are available in London Harley Street, Birmingham, Leeds, Manchester and Northampton with one of our experienced aesthetic doctors or nurses.
Other popular treatments include; our Bespoke Youth Trio which is a great combined treatment package available at our London Harley Street clinic.
To find out more about our rejuvenating skin treatments please call 0333 920 2471 or use our online contact form to request a call back.