Suitable for face, neck, chest, arms and hands. Featured in About Time Magazine's Best Winter Facials in London
A youthful cocktail of treatments
Suitable for face, neck, chest, arms and hands
Featured in About Time Magazine's Best Winter Facials in London
A youthful cocktail of treatments
Suitable for face, neck, chest, arms and hands
Featured in About Time Magazine's Best Winter Facials in London
Medically reviewed by
Lorcan Sheppard BSc MBBS FRCA, Chief Medical Officer and the Medical Advisory Committee
for The Private Clinic.
Last Reviewed July 16th 2020
Here at The Private Clinic, we have created a youthful cocktail of treatments to help you refresh and revitalise your skin in time for a big event.
Our Bespoke Youth Trio Treatment uses a combination of enzyme, chemical and laser treatments to help rejuvenate and restore your skin.
The treatment is suitable for all ages and skin types and will help to boost your complexion reducing the appearance of tired and dull skin.
Featured in About Time Magazine's Best Winter Facials in London
The Bespoke Youth Trio includes 3 different stages of treatment
Circadia Enzyme Exfoliating Treatment
Our Circadia Enzyme Exfoliating treatment combines a range of active enzymes to dissolve different forms of cellular debris and protein build up, leaving the skin soft, clear and more receptive to any further treatments.
Circadia Latic Peel
Circadia Latic Peel is high-performance peel that is tolerated by most skin types. Enriched with powerful ingredients that effectively targets hyperpigmentation caused by acne, ageing or sun damage.
Laser Genesis
Laser Genesis is an innovative skin therapy that uses an advanced laser to treat key signs of skin ageing to promote a healthy and vibrant looking skin. This non-surgical, minimally invasive treatment uses infrared light to tighten the skin. The infrared light heats the collagen underneath the surface of the skin which induces the formation of new collagen causing the skin to then contract and tighten leaving you with almost instant results.
What are the benefits of Bespoke Youth Trio?
No Downtime
Suitable for face, neck, chest, arms and hands
FDA approved
Gradual and natural results
Treatment is painless
The Private Clinic has been treating patients for over 35 years with thousands of people placing their trust in us each year. We pride ourselves on being able to offer a personalised service. We have a team of friendly nurses and expert surgeons who understand the importance of this decision and will support you throughout your journey with us.
The Procedure

Aftercare
The Procedure
Aftercare
FAQs
What is the Bespoke Youth Trio Treatment?
The Bespoke Youth Trio Treatment is available exclusively at The Private Clinic. Our Bespoke Youth Trio Treatment uses a combination of enzyme, chemical and laser treatments to help rejuvenate and restore your skin.To find out more, book a free skin consultation with one of our skin experts.
How long does the Bespoke Youth Trio Treatment take?
We advise our patients to allow 1 hour and 30 minutes for a Bespoke Youth Trio Treatment especially if it is your first time visiting our clinic. This allows time for our skin specialist to analyse your skin and select the best products to use to give you the best results. The Circadia Enzyme Exfoliating treatment usually takes around 20 minutes, the lactic acid peel around 10 and then the laser genesis treatment on average takes around 30 minutes.
What are the results from the Bespoke Youth Trio treatment?
Our Bespoke Youth Trio treatment is designed to refresh and revitalise the skin. You may notice that your skin appears brighter, fresher and more radiant. We advise using a Vitamin C serum to help prolong the results of the treatment. More permanent effects, you will need to have a course of treatment which is usually 3 treatments spaced a month apart.
Am I suitable for Bespoke Youth Trio Treatment?
The majority of people are suitable for our Bespoke Youth Trio treatment as we are able to personalise the treatment to suit your skin type.Those not suitable for treatment are pregnant or breastfeeding women, anyone who has been in the sun within 6 weeks pre-treatment, patients taking Accutane within the past year, anyone with open wounds on the area being treated and anyone who has had a glycolic acid or salicylic acid within past week.We only perform skin treatments on patients over 18 years old. To find out if you are suitable for our Bespoke Youth Trio treatment, make a free consultation with one of our skin experts.Visit our Laser Genesis treatment page or Facial Chemical Peel treatment page to find out more.
Bespoke Youth Trio is Available in these Clinics
Outstanding care, patient satisfaction and results mean everything to The Private Clinic Team
Read about our patients' experiences to see what you can expect from our award-winning procedures.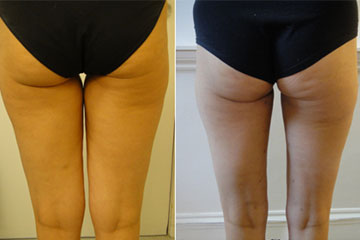 MicroLipo & Breast Fat Transfer – Fat from inner thighs transferred to breasts "I absolutely love my legs. I never thought they could look this good. The breasts, to me, have improved 100% (I was not after large volume but better shape and fuller nipples after breastfeeding 2 kids)."  I...
Excellent treatment guided by Dr.Nicholas Kalavrezos and the Anaesthesia Team led by Dr Martinez. It was mg first time under General A and I wasn't too excited. From start to finish all the nurses were superb, the room was clean and my food was also yummy. Sometimes it pays to sort your Private Medical Insurance our. The surgery was booked in less than a week after my 2nd consultation. MRSA and Covid Test also were done prior. I can not recommend The Harley Street Clinic enough.Thank you everyone. Regards Monica
I had an eye vein removed by laser , I'm very happy with the results ,I still need a check up Marie is very kind and said on my next visit she will laser the vein if it's not gone , but so far so good the big part of the vein has gone. but unfortunately iv not been able to get to London because of the COVID, so hopefully I can go for my check up next year.
Great experience. Had two operations with these guys and great service, really put you at ease on the day, great post op support and amazing results! Cannot recommend highly enough
Very friendly and helpful, very happy with the service.
Michael Neslund
2020-12-17
Had a FUE hair transplant on 16 December with Dr Furqan Raja.He and the two nurses he worked with were fantastic!They made me feel very comfortable throughout the procedure and constantly checked in with me. I had 1700 grafts taken from the back of my head and put into the front where I had gone bald either side of my windows peak.It took a bit longer than I thought (about 8.5 hours) but this was due to the high quality, attention to detail and best result they wanted to achieve for me.I had the procedure done at the Leeds clinic but could have chosen Manchester too. I travelled two hours there and back in one day.I am now following the after care information they gave me and also the full kit of products they provided (all included in the price) to help me make sure I look after the new grafts properly.I have follow up appointments with the nurse and access to an emergency on call nurse 24/7 if required. But so far, I have no pain and everything is exactly as described to me in advance of the procedure.I did a LOT of research online and found many of the other national FUE/FUT hair transplant clinics too sales driven and very pushy. Dr Furqan Raja and the team at the private clinic gave me time and space to decide on what was right for me, and importantly they never sold to me but just answered all my questions in a professional, caring and trustworthy manor.This is why I chose them and looking at the early results I am pleased I did!If you speak to other clinics and do your research, make sure you also book a consultation with The Private Clinic. Alex Clair in Manchester was my Patient Coordinator and he went out of his way to help me and gave me lots of free, practical and helpful information up front.Their straightforward, honest and friendly approach was great throughout. Highly recommended Dr Furqan Raja, Alex Clair and the whole team.
Sophie Veerasawmy
2020-12-17
All of a sudden I noticed these veins under my eyes, it was soooo upsetting to see everyday! I didn't think I could do anything about them. Until I googled and it came up with Harley street and they did removal of under eye veins. I rang the them up and they was so helpful! And from there I was booked in and was so happy to know I can get something done! Everytime I called up nothing was a problem and was always happy to talk to me and answer any questions I had. When it came to the day of the procedure, Marie was so calming and made me feel as relaxed as possible. It was a little uncomfortable but soooo worth it as the results are amazing! Very happy I chose Harley street for the this treatment! Thankyou so much!
Amazing, Brilliant service!!
I had a laser treatment with Maria at The private clinic. She's very professional and very experience. the result is amazing!! Thank you Maria
Miss Kelly Phillips
2020-12-15
I had treatment with Nurse Marie. She was so kind. The first treatment was rather painful and when I came in for my second round I was very nervous. Marie was so caring, she totally understood and took her time treating. Would definitely recommend.
Anti – aging treatments with Dr Santa Cruz are a must for me. I have been seeing her for about 3 years now at the Private Clinic of Harley Street. Very knowledgeable and takes before and after photos which have been incredibly helpful when we want to see how much of a difference the treatment has made. I would highly recommend her as her treatments are 100% effective and painless. Also I feel safe with the covid -safe measures they have in place.
Why Choose The Private Clinic
We are the UK's leading non-invasive cosmetic group and have some of the most experienced nurses and skin therapists working with us. During your free consultation one of our highly experienced practitioners will talk you through the treatment and explain how they could work for your particular skin condition.

CONSULTANT PLASTIC SURGEON
BSc, MB ChB (Hons), MD FRCS (Plast)
GMC Number: 4404969
CONSULTANT ONCOPLASTIC, BREAST RECONSTRUCTIVE & AESTHETIC SURGEON
MA(Cantab) MB BChir MSEd FRCS
GMC Number : 4767420

CONSULTANT PLASTIC & RECONSTRUCTIVE SURGEON
BSc, MB ChB (Hons), MD FRCS (Plast), MicroSurg. (Hons), ORL H&NSurg
GMC Number: 4686602