If you are unhappy with your varicose veins or worried about associated health issues, you may be wondering what your options are.
If you see your NHS doctor about tackling varicose veins for cosmetic reasons or associated health problems, they will very likely suggest self-care measures such as trialling compression stockings for 6 months. However this can lead to further varicose veins complications and prolong your suffering.
Ultimately, the best way to get rid of your varicose veins and avoid issues is treating and removing them promptly with varicose vein removal treatment by a highly qualified consultant vascular surgeon, at a reputable clinic.
Consultations can be arranged with surgeons, who will undertake detailed assessment of your vein(s), including an ultrasound scan, to determine the best treatment, or in some cases, combination of treatments, for you, from a choice of treatment options.

What varicose vein treatments are available?
A range of modern, advanced, non-surgical varicose vein treatments are available, suited to different types of varicose vein cases. Some clinics choose to offer patients the more archaic method, varicose vein stripping, although at The Private Clinic we choose not to use this method due to its more invasive nature, higher varicose vein recurrence rate and longer downtime.
Please see below a range of non-surgical procedures for varicose veins:
EVLA: Standing for Endovenous Laser Ablation, EVLA is a highly recommended laser treatment for varicose vein removal, with a success rate after 5 years of 95.4% according to NICE. And how does it work? The treatment uses laser heat to collapse and destroy the varicose veins from the inside.
VenaSeal: This is a closure system using safe medical adhesive to close the vein. Often desired by needle phobic patients, the treatment is quick and painless with shorter recovery, and there is no-need for compression stockings post-treatment.
Sclerotherapy: The treatment involves the injection of a chemical into the varicose vein, which damages it and leads it to close off. The affective vein subsequently shrinks and disappears. Schlerotherapy can come in either foam or liquid form. Liquid sclerotherapy is most appropriate for small varicose veins that are not associated with underlying venous reflux and foam sclerotherapy is more suitable for larger varicose veins.
Phlebectomy: A minimally invasive surgical treatment, Phlebectomy treatments involve a hook being entered via very small incisions to the affected area (using local anaesthetic), followed by the vein being gently removed. Incisions are so small that stitches are not required.
How do I choose a clinic or surgeon for my Veins treatment?
Ensure that your varicose vein treatment would be carried out by a Vascular Surgeon
Having great impact on your results, make sure to find out the surgeons experience, including how long the vascular surgeon has been performing the treatment, and how regularly they perform it. Find out if the surgeon is board certified in the field of vascular surgery or received a vein-treatment associated certification from a respected organisation. Also, check the surgeon is qualified in treating your particular condition.
Ensure a range of varicose vein treatment options are available, including EVLA, Sclerotherapy, VenaSeal and Phlebectomy procedures, for peace of mind you will be recommended and treated with the appropriate procedure for you
Verify that preliminary evaluations are taken place before treatment, involving an imaging technique (such as ultrasound technology) to understand the location of your veins and check for any serious conditions
Check the clinics before and after vein treatment photos, which can provide a good indication of the results you can expect
Read patient reviews and testimonials to understand the kind of experience you could achieve with that clinic. These may be accessed on the clinics website, or other online sources such as Trustpilot and Google Reviews.
Find out about the quality of service, care and aftercare offered by the clinic. This may be available on the clinic websites, found in patient reviews, and learnt after your consultation
Check that the clinic is CQC (Care Quality Commission) certified
What can be achieved with varicose vein treatments?
Varicose vein removal can achieve highly effective, safe results, when performed by a highly qualified Consultant Vascular Surgeon. Please see the kind of results that have been achieved by some of our varicose vein patients, below, and see more varicose vein before and after photos on our website.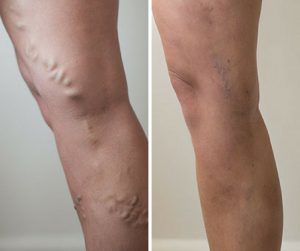 Before and after EVLA Treatment at The Private Clinic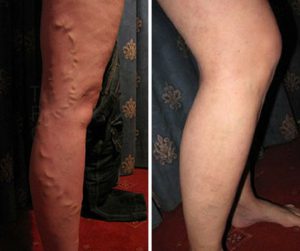 Before and After EVLA and Phlebectomy Treatment at The Private Clinic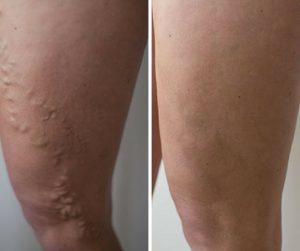 Before and After EVLA Treatment at The Private Clinic
Why choose The Private Clinic for Varicose Vein removal?
The least invasive method for varicose veins and thread veins removal treatment for your legs, body and face.
Our Consultant vascular surgeons are pioneers in EVLA(Endovenous Laser Ablation) and have treated thousands of patients.
No lengthy downtime or recovery required.
The NICE (National Institute for Clinical Excellence) Gold Standard for treatment of Varicose Veins findings show that the success rate after five years for EVLA is 95.4%.
A consultation with one of our Consultant Vascular Surgeons costs £150, including a free ultrasound scan of your legs (usually priced between £350 and £450 at most clinics and private hospitals).
We focus on the underlying cause of your veins and you will only see a Consultant Vascular surgeon for varicose veins.
We have treated thousands of patients who have regained their confidencewhilst avoiding health issues.
Treatment takes one hour, you can go home shortly after being treated.
Owing to our success, we have been featured on Channel 4's Embarrassing Bodies , TLC's My Naked Secret and featured in Harper's Bazaar's Cosmetic Tweakment Trends for 2019.
We have carried out over 7,000 procedures in treating Veins.
View our varicose vein before and after photos.
Read our extensive varicose vein FAQs.
Take a look at our varicose vein patient stories.
Find out more in our varicose vein blogs.
Download our varicose veins treatment brochure.
If you would like to arrange a varicose vein consultation with one of our Consultant Vascular Surgeons, please call 0333 920 2471 or use our online varicose vein contact form.
Expert Vascular Surgeons
Varicose vein surgeon consultations and treatments are available in our clinics in Harley Street London, Birmingham, Bristol, Manchester, Leeds, Bournemouth, Bexhill and Northampton.