Chloe's Preservation Rhinoplasty and Top FAQ's
RHINOPLASTY NOSE JOB
Home » Chloe's Preservation Rhinoplasty and Top FAQ's
A Rhinoplasty or nose job is a popular surgical procedure performed to improve the aesthetic appearance and functionality of the nose. A rhinoplasty can help improve the size, shape and help correct other issues such as deviated septum or for a previously broken nose.
In this blog post, we will be covering Chloe's preservation rhinoplasty story and answer some of the most frequently asked questions regarding this innovative procedure.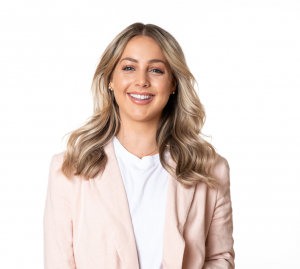 Chloe decided to visit The Private Clinic for a rhinoplasty consultation. Chloe from a very young age had been self-conscious about her nose, in particular with the hump of her nose.
With her job as a beauty and fashion blogger, always taking pictures and on video, her nose was just bothering her even more "With my job and constantly ben on camera every little flaw was just heightened". Chloe decided that it was time to undergo a rhinoplasty so decided to attend a consultation with Dr Rochira, plastic surgeon at The Private Clinic. Dr Rochira is one of the few surgeons within the UK who performs Preservation Rhinoplasty a new rhinoplasty technique that requires less downtime than traditional rhinoplasty and there is less swelling and bruising involved. During the consultation, Dr Rochira explained to Chloe that she was a great candidate for the preservation rhinoplasty technique. "Dr Rochira explained that the issue with my nose was not so much the hump but the fact that the tip of my nose dropped, so as soon as he lifted the tip of my nose I could see that was the nose I always wanted". "Being able to have the Preservation rhinoplasty technique just checked all my boxes since it has less downtime and less swelling, it was just perfect".
Dr Rochira was able to reduce Chloe's nose hump, correct her deviated septum to improve Chloe's breathing issues and reshape and lift the tip of the nose via the Preservation rhinoplasty technique.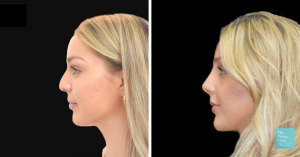 7 days post-surgery Chloe's cast was removed revealing a natural-looking smaller nose with a lifted tip.  "Seeing myself without the cast for the first time was so overwhelming… it was something I wanted for so long…I feel so happy with myself and confident. Now when I go to socials events I don't feel conscious about it anymore".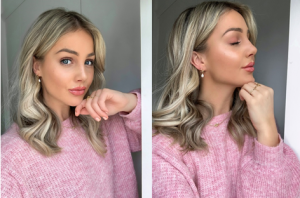 Frequently asked questions about Preservation Rhinoplasty
What is Preservation Rhinoplasty?
Traditional rhinoplasty to correct dorsal hump or correct and reshape the tip, the vault of the nose is destroyed and must then be reconstructed in order to be functional again.
For the last 50 years, the old nose surgery technique was the standard procedure to remove a hump and change the shape of the nose. However, this technique often had associated a high rate of revision and secondary surgery. Now with Preservation Rhinoplasty surgeons no longer need to destroy or reconstruct the dorsum of the nose during surgery, instead, the height is reduced internally. By doing this the nose becomes smaller and the hump disappears.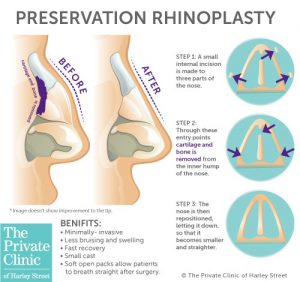 Preservation Rhinoplasty is less invasive and there is less bruising and swelling. Thanks to this less invasive technique, there is less bleeding post-operatively and the soft packs inserted inside the nose after surgery allow the patient to breathe straight away. Dorsal preservation also achieves a more natural result, and there is less risk for secondary deformities or need for revision surgery.
Am I suitable for Preservation Rhinoplasty?
Preservation rhinoplasty is suitable for approximately 60% of patients, in particular for patients who require the bridge of the nose to be modified. However, the other 20% of patients will still require traditional Rhinoplasty surgery.  At The Private Clinic, we highly recommend booking a consultation with our experts plastic surgeons to assess your case and recommend the best procedure for you.
When will I be able to return to doing sports after Preservation Rhinoplasty?
Before going back to performing sports, running or going to the gym we recommend waiting between 3-4 weeks. However, for contact sports and activities that could lead to your nose getting damaged or hurt such as netball you should wait up to 6 weeks.
Where can I book a consultation for Preservation rhinoplasty?
London, Harley Street.
Our London clinic is situated at 98, Harley Street London W1G 7HZ.
The Private Clinic London is conveniently located near to Primrose Hill, Bayswater, St Johns Wood, Holland Park, Mayfair, Hyde Park, Kensington, Chelsea, South Kensington, Regents Park, Green Park, Notting hill, Fulham, Battersea, Knightsbridge, Clapham, Victoria, West End, Marylebone, Earls Court, Soho, Fulham, Belgravia, Fitzrovia Canary Wharf, Richmond, Wimbledon and Chiswick.
The Private Clinic Bristol
Our clinic in Bristol is at 92c Whiteladies Road. It is located very close to Bedminster, Bath, Leigh Woods, Cotham, Almondsbury, Westbury on Trym, St Pauls Bristol, Totterdown, Redcliffe, Portishead, Clevedon, Redland, Leigh Woods,  Winterbourne,  St Westbury on Trym, Kingsdown,  Phillips Bristol, Frenchay and Hambrook, Henleaze, Cotham, Kingsdown, Downend, Frampton Cotterell.
To book a rhinoplasty appointment with our highly skilled surgeons please call us 0333 920 2471. To learn more about rhinoplasty and see before and after pictures please visit our rhinoplasty page on our website.