Breast Uplift Specialists London
BREAST UPLIFT SURGERY
Home » Breast Uplift Specialists London
For many patients, the issues they have with their breasts is not always the size but narrows down more to the loss of volume and general shape of the bust. Lifestyle factors such as pregnancy, breastfeeding and weight loss can cause breasts to appear empty and patients simply want their natural breasts back.
Breast uplift surgery is a very popular procedure for patients who do not want to have implants and instead improve the appearance of their current breasts. It is possible however to have implants as well as a breast augmentation. This can be performed at the same time, but some surgeons do prefer to wait, especially if the implants are significantly larger to allow the incisions from the uplift to heal fully without putting them under pressure from the increased volume of a breast implant.
Getting a breast uplift usually comes as a result of weight loss, pregnancy and breastfeeding but this doesn't mean that you are entitled to a procedure on the NHS. Breast uplift NHS procedures are very rare and you would have to be a very extreme case to meet their list of specifications to even be considered for one. A breast lift and boob lift procedures are usually only performed privately making it so important that you do your research to find the best surgeon that listens to what you want to achieve from surgery.
A breast uplift procedure is also known as a mastopexy which is its medical term. The surgery is performed under general anaesthetic and involves cutting away excess skin, redistributing the natural breast tissue and restoring the former projection of the breast. In some cases, your surgeon may reduce the size of your areola and adjust where the nipple sits on your breast to help achieve the more uplifted appearance.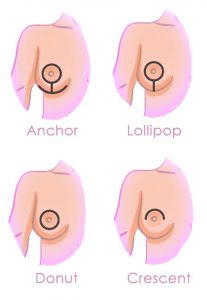 The downside of breast uplift can be the scars. Scars after any surgical procedure are unavoidable but our expert plastic surgeons are very proficient in ensuring your scars are kept as minimal as possible and offer the best scar care advice post procedure to help you achieve the best results. Scars usually fade over time but this can take up to a year. The scars after a breast uplift do vary slightly depending on the extent of the procedure but they usually run around the circumference of the areola and then down the middle of the breast into the inframammary fold which is known as a lollipop scar.
To find out more about Breast Uplift surgery click here.
Or click here to view our extensive FAQs.
Breast uplift before and after photos


Breast Uplift



Breast Uplift and Breast Implants performed as a 2 Stage Procedure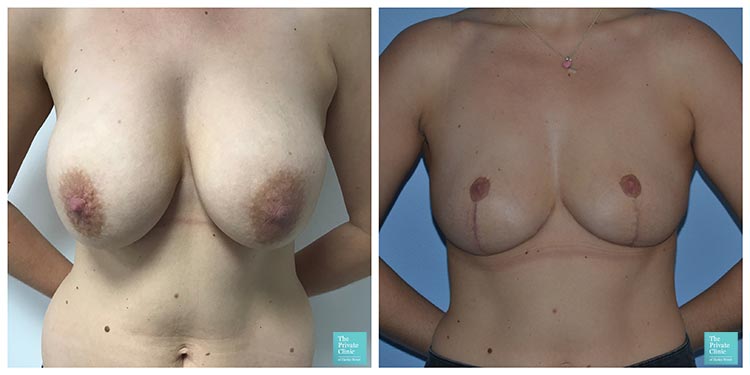 Breast Implant removal with Breast Uplift procedure
Breast Uplift Specialists
Picking a surgeon for your breast uplift procedure is not a decision to be taken lightly. We recommend doing your research and asking for recommendations from friends, family and even your GP. You are well within your rights to attend multiple consultations with a selection of different surgeons and you should never feel pressured into booking on the day.
We have a team of breast surgery specialists working for us at The Private Clinic which includes;
Why choose The Private Clinic for Breast Uplift surgery?
At The Private Clinic, we pride ourselves on ensuring that you have the best cover and quality which includes;
24-hour patient helpline to ensure you are always in the best of hands.
Three years cover for all surgical, hospital and nursing care, in case of any medical issue giving you peace of mind.
Comprehensive Breast Uplift Patient Guide.
Highly experienced Cosmetic Breast Surgeons who have decades of experience.
Outstanding hospital facilities.
As many post-operative care and appointments with your surgeon and nursing team as required.
We believe that our experience and medical expertise will make your surgical journey a reassuring one.
To find out more about breast uplift procedures or to book a consultation call 0333 920 2471 or book your breast lift consultation online.