We explain the difference between a Breast Lift and Breast Implants, and explore what each treatment is suitable for.
If you're considering breast surgery, it can be confusing to know exactly what you require. The most commonly performed treatment in the UK is surgical breast augmentation, but that doesn't mean it has to be your only option.
Breast Augmentation using silicone or saline implants is designed for those who are looking to increase the volume in or size of the breasts. The treatment gives the best results on those who have minimal drooping and sagging, with the nipple still placed quite centrally on the breast.
Breast Implants tend to be a popular choice for those who are unhappy with the plumpness or size of their breasts, and many women opt for the treatment after weight loss or pregnancy to restore lost volume. At the very least, a suitable patient will normally have to be happy about increasing their bra size by at least a cup, meaning it is not always ideal for those with already large chests, nor will it do much to help those with a large amount of sagging.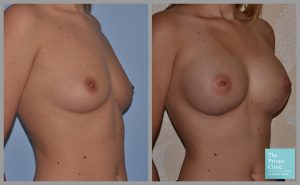 If your breasts are experiencing more severe drooping, you may want to consider a Breast Lift (also known as a Mastopexy) either alongside an augmentation or as a standalone treatment. Whereas implants are designed to increase the volume in breasts, a breast lift is designed to improve the nipple position, overall shape, and general perkiness of the chest area.

The procedure is most commonly chosen by those who have lost firmness in their breasts owing to relaxed or stretched supporting ligaments. To work out if a patient needs a Breast Lift, a surgeon will normally look at whether the nipple is lower on the breast or if it points downwards, how much visible skin there is under the nipple area, whether the patient is happy to increase their breast size, and the size of the nipple area in relation to the patient's goal. Essentially a surgeon needs to see how low your nipple (which should be somewhat central to the chest area) droops.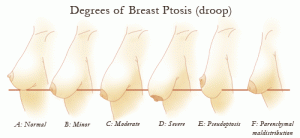 Uplifts and implants aren't the only way to restore the breasts. You may find that Breast Reduction is more suitable for your needs – particularly if you're concerned that your chest is already too large. However, the most important thing when considering any of these treatments is how suitable they are for you, and a good surgeon should be able to explain to you what they believe best and why.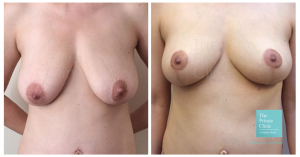 In short, Breast Implants are a solution for those looking to increase volume and size, while a Breast Lift is a better way forward for those seeking more perkiness or an improved shape, and many people benefit from having the two procedures combined. Neither can fully safeguard you from new sagging in the future and it's important to remember that you'll need to replace implants after around 15 years. Having a chat with your surgeon is the only real way to work out the best way forward; book some consultations and explain exactly what you want. An experienced medical team can run through your options, both surgical and non-surgical, to find the most effective method for the results you want.
The Private Clinic
Over thirty five years as a Harley Street staple means we've earned a reputation for exceptional quality and care. We have a team of some of the UK's most established plastic surgeons working alongside leaders in minimally-invasive options to make sure we find the best solution for you. Because we provide a range of different treatments performed by experts in their field, we always value your individuality and ensure we give you the results you want and expect.
Breast Surgeons at The Private Clinic
Mr Davood Fallahdar FRCS (Plast) Fellow of the Royal College of Surgeons (Plastic) GMC Number: 4686602
Mr Navid Jallali BSc MB ChB (Hons) MD FRCS (Plast)   GMC Number: 4404969
Mr Dario Rochira BS, MD GMC Number: 6130664
Mr Maisam Fazel  MA(Cantab) MB BChir MSEd FRCS  GMC Number: 4767420
Mr Adrian Richards, MBBS, MSc, FRCS (Plast.) GMC Number: 3286812
Mr Kenneth Kok MBChB MRCS MSc(Hons) FRCS(plast)   GMC Number: 4701147
Mr William Van Niekerk, MB ChB, MSc, MRCS, FCMI, FRCS (Plast.), RAF (qs) GMC Number: 4362791 in London
Mr Olubowale, MB ChB, MSc (Sheffield), FRCSI, FRCSI (Gen Surg) GMC Number 6044974
Ms Lyndsey Highton, BM BCh (Oxon) MA FRCS (Plast) GMC Number: 6128243
Mr Adel Fattah, FRCS (Plast.) GMC Number: 4764599
Mr Mobinulla Syed MBBS, MSc, PhD, FRCS (Plast) GMC Number: 6035480
Mr Philip Lim BSc (Hons), MB ChB, AFRCS (Ed), MRCS (Eng), FRCS (Plast) GMC Number: 4219068
To find out more about the breast surgery or to book a consultation with one of our expert surgeons or knowledgeable patient advisors please call 03339209135 or use our online contact form to request a callback.