Breast Implant Surgery is more commonly known as Breast Enlargement or Breast Augmentation Surgery. It is a cosmetic surgery procedure that is performed under general anaesthetic where breast implants are inserted into the breast pocket to enlarge the breast.
In 2019 Breast Augmentation procedures accounted for 7,700 procedures. It was the most popular Cosmetic Surgery procedure for 2019.
Choosing the right place and surgeon to have your Breast Enlargement procedure with is one of the most important steps. We encourage patients to have multiple consultations and come prepared with a list of all the questions they would like to ask the surgeon. Common questions include;
What is the best type of breast implant?
 At The Private Clinic we offer a range of implants and our surgeons will all have a preference over which implants they use. During your consultation they will give you a detailed assessment to find the best type, shape and profile of breast implant to suit you and give you the results you are hoping for.
For more information on breast implants see the following blogs;
Will the implant be placed over or under the muscle?
There are two main positions that plastic surgeons use when placing breast implants in the breast pocket; over the muscle and under the muscle.
Over the muscle is usually recommended for patients who do not have enough natural breast tissue to cover the breast implant. By placing the implant under the muscle, it provides more sufficient coverage to avoid a fake and obvious appearance. Although known as 'under the muscle' the implant is not actually placed completely under the muscles and it instated partially behind the muscle and partially behind the breast gland. Your surgeon may refer to this as a dual plane technique but is commonly known as under the muscle.
Implants are placed in front of the muscle for patients who the surgeons feel have enough natural breast tissue to conceal the shape of the breast implant giving patients a more natural result.
What is the recovery time for breast enlargement?
Breast Augmentation surgery does involve a period of recovery time. The procedure itself is usually performed as day-case surgery meaning you will not be required to stay overnight and free to leave in the hours following surgery to recover at home. We advise patients to take at least 1 week off work, ideally 2.
Patients will be provided with pain medication to help with any discomfort once the anaesthetic has worn off. Exercise and strenuous activity should be avoided for 4-6 weeks and only returned too once given the go-ahead from the surgeon or nursing team.
To find out more about the aftercare for Breast Augmentation surgery see our informative breast  video series here.
Breast Surgeons at The Private Clinic
We have a team of expert breast surgeons all of whom are registered with the General Medical Council (GMC) and many have professional memberships with medical bodies such as The British Association of Aesthetic Plastic Surgeons (BAAPS), The British Association of Plastic, Reconstructive and Aesthetic Surgeons (BAPRAS) and Royal College of Surgeons (RCS).
How much do breast implants cost?
Although the cost of a Breast Enlargement procedure can be a big part of your decision, it should never be the deciding factor. Breast augmentation costs start from £5,800 but you will need to attend a consultation to get a personalised quote based on what you require from surgery.
At The Private Clinic our quotes have no hidden extras and offer patients the best cover. A consultation with one of our expert breast surgeons is £50. If you are still feeling undecided, you can attend a free consultation with one of our patient advisors who are very experienced and can offer information on breast enlargement procedures before you commit to a clinical consultation with a surgeon.
Breast Enlargement Before and after photos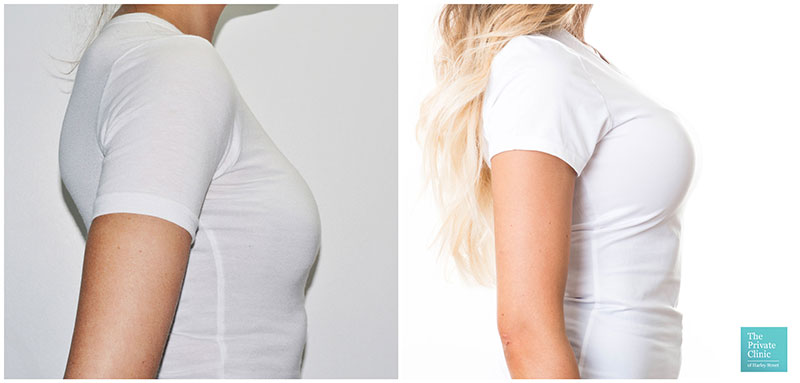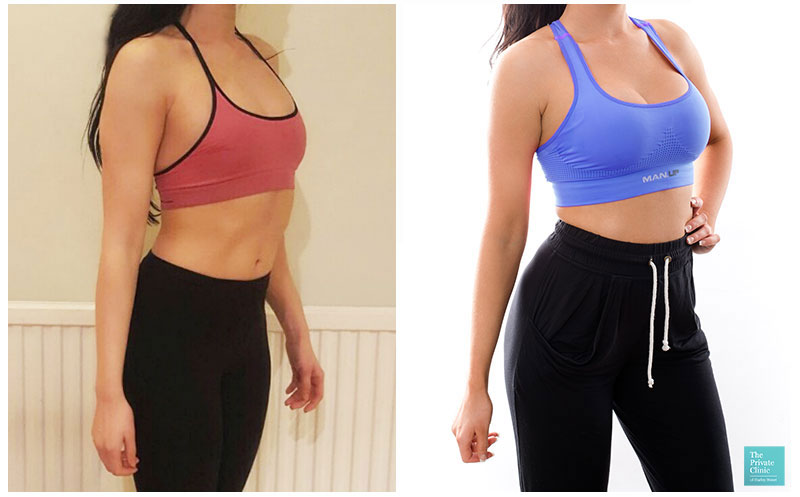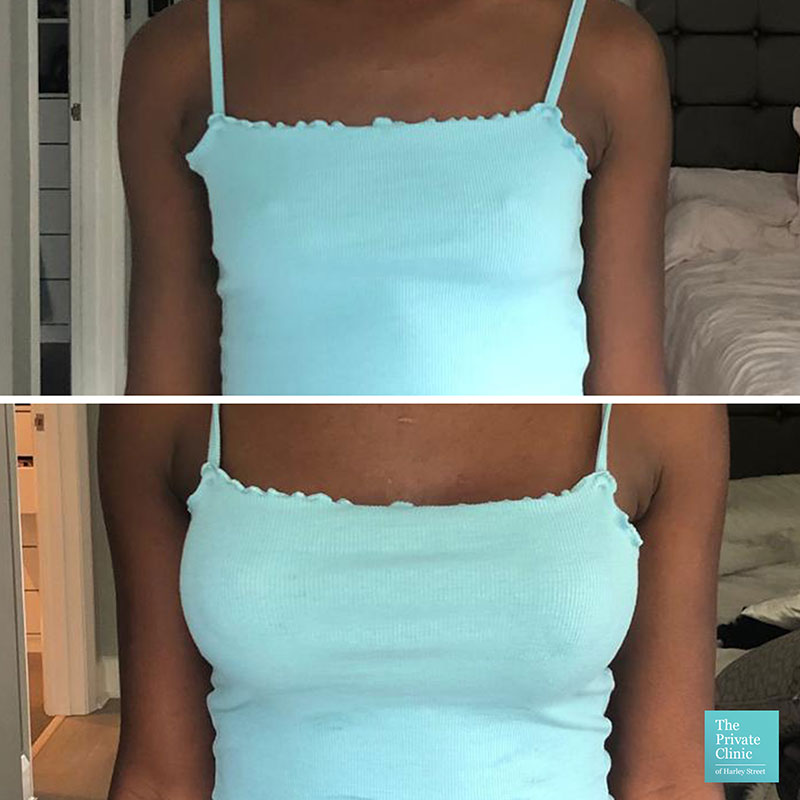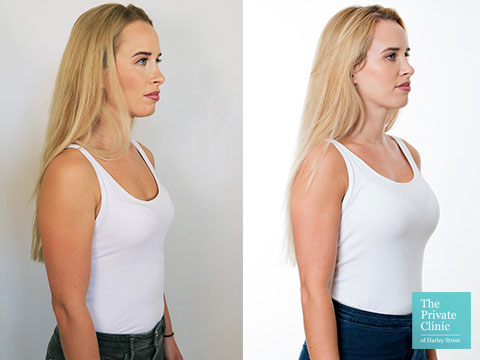 Choosing The Private Clinic for Breast Enlargement Surgery
We provide a 10-year implant warranty with £1000 towards your surgical costs.
Expert Cosmetic surgeons, see our breast enlargement before and after results here.
Dedicated care with your expert breast surgeon and nursing team, and a 24-hour help line.
Peace of mind with our personal three-year aftercare breast cover.
The Private Clinic covers a lifetime guarantee on your breast implant.
We have state of the art hospital
All of the breast options are discussed not just one type of implant. So, you will be happy with your shape
Where can I have breast enlargement surgery in south east England?
Breast Surgery Clinic London
Our cosmetic surgery clinic in London Harley Street is in a great location for patients travelling from Bayswater, Hyde Park, Green Park, Soho, Notting hill, Kings Road, Kensington, South Kensington, Chelsea, Fulham, Chiswick, Hammersmith, Battersea, Regents Park, St Johns Wood, Primrose Hill, Victoria, West End, Marylebone, Knightsbridge, Belgravia, Mayfair, Holland Park, Earls court, Richmond, Wimbledon,  and Fitzrovia.
Breast Surgery Clinic Buckinghamshire
Our cosmetic surgery clinic in Stokenchurch, Buckinghamshire is in a great location for patients from Bucks, Herts and Oxfordshire. Many patients travel from the surrounding areas of High Wycombe, Thame, Chinnor, Princes Risborough, Watlington, Oxford, Headington, Cowley, Hazelmere, Amersham, Marlow, Henley-on-Thames, Wallingford, Wendover, Aylesbury, Chesham, Great Missenden, Watlington, Beaconsfield and Haddenham.
We also have breast enlargement clinics in Bristol, Leeds, Manchester and Northampton.
To find out more about Breast Enlargement Surgery, please call 0333 920 2471 or use our online breast implant contact form.