Breast Augmentation in Turkey
BREAST AUGMENTATION AND ENLARGEMENT
Home » Breast Augmentation in Turkey
Breast enlargement is one of the most popular cosmetic surgery procedures and despite there being numerous clinics and surgeons in the UK who offer the procedure, many brits are choosing to travel abroad to have the procedure.
In recent news reports, the government has issued a warning and updated advice regarding medical tourism after the deaths of 17 Brits who travelled to Turkey to undergo medical procedures such as breast enlargement and liposuction.
Medical tourism has increased in popularity over the years and many people travel to Europe and beyond to undergo cosmetic surgery prices. The biggest reason for travelling is cost, many procedures offered abroad cost significantly less than they do in the UK.
Why is Breast Augmentation cheaper in Turkey?
Cosmetic surgery procedures including Breast Implant surgery performed in Turkey are cheaper, often by up to 70% when compared to the same procedures being offered in the UK. There are a variety of reasons why costs are so low in Turkey which includes:
Low wages
Exchange rates
Operational costs are lower
Cost of medication is also cheaper
The reasons above all relate to the fact that although a boob job in Turkey may seem cheap in comparison to the UK. The cost of surgery in Turkey is actually just relative to the cost of living in Turkey. If you look at the average salary of someone in Turkey and compare it to the cost of surgery in Turkey vs the average wage in the UK compared to the cost of surgery in the UK – the overall ratio is likely to be similar.
Is Turkey a good place to get breast implants?
Boob job prices in Turkey are often the biggest selling factor but it is so important that those considering breast enlargement surgery abroad look beyond the attractive prices and do their research into:
Who is performing the surgery?
What are their qualifications?
Where will the procedure take place?
What implants are being used?
What surgery technique is used?
What aftercare is provided?
There are many plastic surgeons who offer breast implants in Turkey who are very qualified and able to perform breast augmentation surgery. There are also a lot of surgeons who are not qualified or experienced enough to be carrying out the surgery they claim to specialise in. It has also become apparent that some clinics may have an experienced plastic surgeon representing the clinic, but actually less qualified trainees are the ones actually performing the procedure – which often leads to less than desirable results and post-op complications.
Why is the UK safer for breast surgery procedures?
The UK is known for having one of the best healthcare systems.
All healthcare establishments, NHS and Private are covered by the Care Quality Commission (CQC). The CQC is regularly checking providers to ensure that they are delivering high standards of patient care.
All surgeons performing plastic surgery procedures in the UK should be registered on the General Medical Council (GMC) specialist register of plastic surgery. There are also a variety of professional bodies such as The British Association of Plastic, Reconstructive and Aesthetic Surgeons (BAPRAS) and The British Association of Aesthetic Plastic Surgeons (BAAPS) which surgeons can join where they will receive support and work together to help to raise the standards of cosmetic surgery.
Breast and Cosmetic Implant Registry
In the UK, when you have breast implants you will be put on the Breast and Cosmetic Implant Registry (BCIR). This registry holds the details of all breast implant procedures completed in England, Scotland and Northern Ireland by private providers and the NHS. If there were any safety concerns regarding your implant, then you could be traced and contacted.
Find out more about The Breast and Cosmetic Implant Registry here.
A big part of the cost of breast enlargement surgery in the UK is the cost of the breast implant where we will endeavour to use the highest standard of implants available. If choosing breast enlargement in Turkey, then be sure that you are aware of what implants they use and ensure that they are of the highest standard and comparable to those you would have in the UK. We would also recommend requesting your surgical notes as you will not be added to the BCIR and if there were any safety concerns, they may not be automatically shared with you so knowing exactly what implants you have is very important.
Breast Augmentation Recovery & Aftercare
Once you have had a breast enlargement procedure, you should then be provided with an aftercare plan that offers advice and regular appointments with your surgeon and nursing team to ensure you are healing correctly. When having breast implants in Turkey, in-person consultations with your surgeon to allow them to assess you properly may be difficult. Should anything go wrong, or you have any concerns, you will need to know who to contact and what would happen should you need revisional surgery.
At The Private Clinic, we pride ourselves on our aftercare packages which include as many appointments as you require following your breast enlargement procedure and a 24-hour on-call number to contact us at any time. We also provide breast enlargement patients with a three-year aftercare breast cover and a 10-year implant warranty with £1000 towards your surgical costs.
Find out more about our aftercare here.
Medical Negligence Cover
Stories of cosmetic surgery performed abroad that have gone wrong are becoming more common and are often featured in news articles.
We mentioned above, how the deaths of 17 Brits who travelled to Turkey to undergo medical procedures had prompted the government to issue a warning and updated advice.
But what happens if something does go wrong or if you are not happy with the care you received when abroad?
Patients who visit overseas hospitals and clinics in countries such as Turkey do not have the same insurance protection provided by UK providers. Raising a complaint to a foreign insurer as a medical tourist can be very difficult and expensive and some clinics may not even have any insurance.
In the UK, the laws of England and Wales protect private and NHS patients. If you experience medical malpractice then you will most likely be able to make a claim on a no-win, no-fee basis.
Before and After Photo Results UK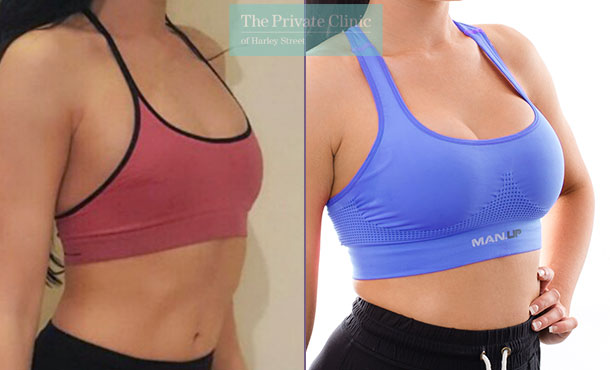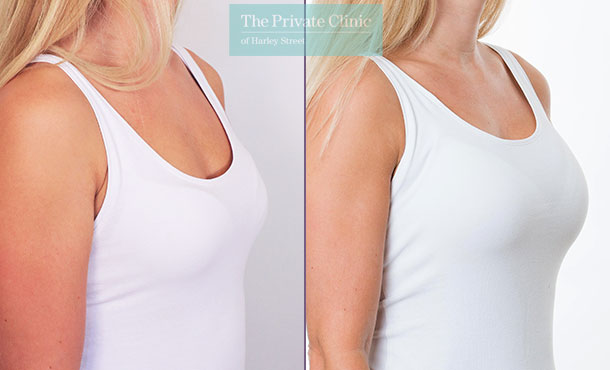 Click to see more breast enlargement results in our before and after photo gallery.
Choosing The Private Clinic for Breast Enlargement
Highly experienced Cosmetic Breast Surgeons who have decades of experience.
24-hour patient helpline to ensure you are always in the best of hands.
Three years cover for all surgical, hospital and nursing care, in case of any medical issue giving you peace of mind.
The Private Clinic offers a unique warranty of £1000 towards surgical costs in case of rupture for 10 years from the date of your operation.
Comprehensive Breast Enlargement Patient Guide.
Outstanding hospital facilities.
As many post-operative care and appointments with your surgeon and nursing team as required.
Our experience and medical expertise makes your journey a reassuring one
Consultations available in UK clinics – London, Birmingham, Leeds, Manchester and Northampton.
See breast augmentation before and after photos.
Hear from previous breast augmentation patients.
Read our extensive breast enlargement FAQs.
Find out more information in our breast implant blogs.
Expert Breast Surgeons at The Private Clinic
To find out more about Breast Enlargement surgery, please call us on 0333 920 2471 or use our breast implants online contact form.