Bad hair day, who can help?
HAIR LOSS
Home » Bad hair day, who can help?
A bad hair day to some may mean a kink in the hair that just won't straighten or a slight frizz that your hairspray just can't tame, but for others, a bad day hair can be everyday with problems that no amount of styling mouse or hair brushes can fix.
Problems with your hair may include hair loss or thinning, flaky or oily scalp, or out of condition hair all of which can be diagnosed and treated with a visit to one of our expert trichologists.
But what's the difference between a trichologist and a hair transplant surgeon?
A trichologist is someone who specialises and helps people who have problems with their hair or scalp. It is their job to question you as the patient and examine your scalp thoroughly to assess the problem and its cause. The trichologist must then decide if treatment is necessary and whether the problem is able to be treated by them, or should be dealt with by another specialist.
You may be referred to another specialist for further medical examination if your trichologist believes an underlying illness is the cause, including The Private Clinic's in-house team of dermatologists. Some patients (particularly men experiencing Male Pattern Baldness) may be suitable for an FUE hair transplant to restore areas that have lost hair, in which case you will be referred to one of The Private Clinic's elite hair surgeons.
What conditions does a trichologist treat?
Hair loss, thinning hair or damaged hair can be distressing for both male and females especially when the cause is unclear. Having someone accurately diagnose the cause for your hair complaints is the key to generating a successful treatment plan, often the causes to most complaints are health or environmental factors but working together with a skilled trichologist you will be able to discuss all possible causes.
A trichologist can also help treat scalp problems which covers everything from dandruff to psoriasis and dermatitis. It may be common that you will be referred to a dermatologist and your personalised scalp treatment plan may consist of anything from a bespoke diet/nutrition schedule and specially formulated shampoos, to medication or scalp massage.
And last but not least if you have hair texture problems that are becoming an everyday occurrence then a trichologist will be able to help and advise you on the best course of action to resurrect hair that has been damaged due to excessive exposure to heat (hair straighteners), chemically-exposed hair (after perms and straightening chemicals), and even stress.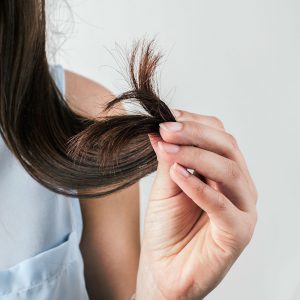 What will happen in my consultation?
Consultations with our trichologists are long and thorough because unless they look at all the possible factors that might be causing your hair or scalp complaint, they won't be able to recommend an effective solution.  During your consultation you will undergo a thorough medical examination to get to the cause of your hair issues, and you will be led through a tailored treatment plan depending on your needs. You may be required to take a blood test as part of your diagnosis process; however this will be outlined and explained to you if so. Your bespoke treatment plan will be designed to tackle hair and scalp issues from the root cause, as well as on the surface, for the longest lasting results. Possible methods can include medication, a tailored nutrition plan, or non surgical hair loss treatments.
What causes hair loss?
Our specialised hair DNA test is ideal for patients who are experiencing hair loss and wish to find out more about what may be causing the issue. The TrichoTest combines the analysis of genetic variations, lifestyle factors and literature related to hair loss treatment to then be able to suggest appropriate treatment options through topical, oral or surgical solutions.
Hair Loss Treatments
We offer a range of hair loss treatment options, from lifestyle advice to more clinical based treatments such as non surgical hair loss treatment which uses growth factors found within your own blood to encourage hair growth in dormant hair follicles. Find out more here.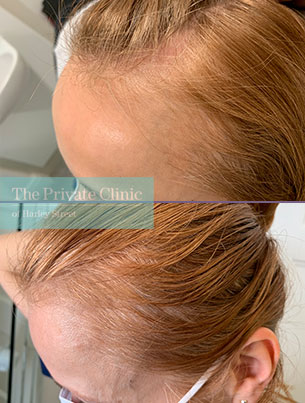 Hair Loss at The Private Clinic
We only work with highly recognised, Trichology professionals certified by the Institute of Trichologists to get the best results for your needs. Our elite team has advanced knowledge on hair loss and are able to utilise years of experience to ensure they find the best treatment plan for you. They work in collaboration with our industry-leading hair surgeons and renowned dermatologists, to ensure results are not only noticeable, but also long-lasting.
Hair Loss Treatment at The Private Clinic
We are the UK's leading non-invasive cosmetic group and have some of the most experienced doctors and nurses in the country working with us. For over 35 years we have successfully treated thousands of patients.
State of the art medical facilities, all registered by the CQC (Care Quality Commission).
You will be treated by highly experienced Trichologists or Hair Transplant surgeons
By coming to us for your non-surgical hair loss treatment you can rest assured you are in the best possible hands
We offer a 24-hour patient helpline following treatment
When it comes to non-surgical treatments we always strive to give you little to no downtime, so you can get back to enjoying life.
We afford all our patients the right care before, during and after every treatment.
We have clinics nationwide in London Harley Street, Birmingham, Leeds, Manchester and Northampton.
See our female hair loss before and after results photo gallery
Find out more information in our blogs
Some patients (particularly men experiencing Male Pattern Baldness) may be suitable for an FUE hair transplant to restore areas that have lost hair, in which case you will be referred to one of The Private Clinic's elite hair surgeons.
To find out more about hair loss treatment options, please call 0333 920 2471 or use our hair loss online contact form.