You may have already booked your surgery and are now counting down the hours until the big day, but are you really prepared? We share 10 of our top tips on how to prepare before your breast augmentation surgery.
1. Housework
You may look at the pile of laundry and think, "after my op I will have plenty of time to sort that out" – Think again! Yes you will be at home but the last thing you will feel like doing is cleaning up, plus it is also highly recommended that you avoid any activity for the first couple of days whilst you recover. Make your home into a serene haven so you will return after your op feeling relaxed.
TOP TIP:  Anything you might need that's on a top shelf; tea bags, cereal etc. make sure you move them before your op as raising your arms over your head post op will be challenging.
2. Recovery Box
Similar to preparing your home, you should also look at getting yourself together a box of items that you may need on a regular basis during your recovery period. This could include lip balm, water, phone charger, a book, anything that you can think of then leave this box on your bedside table so it is within easy reach.
3. Plump those pillows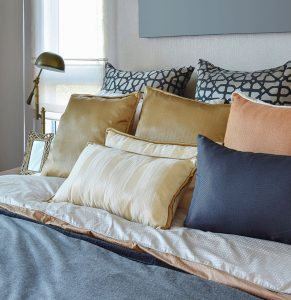 You will be spending a lot of time in bed, or lounging  around on the sofa so invest in some good quality plump pillows because comfort will be essential during your recovery time. It is also recommended that you keep yourself at a 45 degree angle to reduce swelling and bruising.
TOP TIP:  Worried about sleeping? Invest in a V shaped maternity pillow which will help you sleep upright, but in comfort.
4. Moisturise
Post-op skin can leave you feeling slightly dry, tight and uncomfortable. Stock up on shea or cocoa-butter based lotions to use after showering and during the day to keep flaky skin at bay and your recovery time more comfortable.
5. Ask for help
Don't fool yourself into thinking life will continue as normal once you are back home. You have just had a surgical procedure and basic tasks can be difficult. Ask family and friends for help whether it's assisting with the kids, walking the dog or doing your weekly shop. For the first 7 days post-op it is important that you rest and although you may feel fine – it may just be the painkillers.
6. Food
Now is your time to be super organised and plan your meals for the first couple of days post-surgery. Prepare and cook up a variety of your favourite dishes and then freeze them so they are easy to dish up. Alternatively make sure you have supplies in for easy-prep meals to make your time spent in the kitchen minimal. A mix of pain medication and being bed-bound can often have some negative side effects so try to avoid eating binding foods such as bananas or rice because nobody wants constipation. Stocking up on some tinned peaches and keeping hydrated is always an easy solution.
7. Ice Ice Baby
I
ce will soon become your best friend, snuggling up with an ice pack may seem bizarre now but it will feel like the best idea ever when you are post-op. Ice helps decrease the swelling and pain and 20 minutes on and 20 minutes off will be your new routine for the first few days post-op. There are a variety of ice packs you can buy, we recommend looking for something that's quite flexible and able to mould to the area to which you are applying it too.
Top Tip: A top tip from a former patient: she recommends purchasing frozen drink pouches as they are the perfect size and shape to place inside the surgical bra and they will fit to the shape of your bust.
8. Plan your outfits
Do you know what you will be wearing post-op? Pyjamas and lounge-wear most likely but think carefully, will you be able to pull that t-shirt up and over your head on your own? Zips or buttons are key when it comes to post-op clothing, it may not be your usual style but comfort and ease of use are now your priority during your recovery time.
9. Pass the bucket
You may be feeling a bit queasy after your procedure. Aesthetic and post-op medication can cause this, we recommend either hunting out or buying a dedicated plastic bucket or small bin for the possible nauseous drive home. It will also be useful when you are feeling a bit off whilst bed-bound to save you getting up and down too many times.
10. Bendy Straw
The hottest post-op tip for any procedure is a straw. Have you ever tried drinking whilst virtually horizontal? It's tricky, therefore invest in a reusable straw or bottle and you can sip away to your hearts content whatever position you may find yourself in.
We hope our list of considerations has helped prepare you for your potential op and many of them will be relevant for all types of surgical procedures. Rest assured that you will receive full post-op care advice from your surgeon and will discuss your daily activities with you and will advise you on when to gradually introduce them back into your lifestyle.
The Private Clinic
We have some of the most experienced and well-respected plastic surgeons in the industry as part of our breast implant team including:
Consultations with our surgeons are available at London Harley Street, Birmingham, Leeds, Manchester and Northampton.
To find out more please call 0333 920 2471 or use our online breast augmentation contact form to request a consultation with one of our expert breast surgeons.