It is clear to see that these days' men are feeling a lot more comfortable with the idea of hair transplants and we are seeing a lot more famous men embracing the procedure every day.
The most common source of celebrity reference to hair transplants is Wayne Rooney with his name being mentioned by many of our hair transplants patients who come in for their initial consultations. Other top celebrity mentions include the likes of Gordon Ramsay, Calum Best, James Nesbitt and more recently – George Sampson & Lloyd Daniels.
You may remember George Sampson as the 14-year-old who won the second series of Britain's Got Talent and Lloyd Daniels who was the youngest act on The X Factor in 2009 aged 15 so it may have come as a bit of a shock to see them both, now at the age of 23 – sporting bald heads after a seemingly successful hair transplants.
George took to Twitter before the procedure to let his followers know stating that his hair loss has been a result of alopecia which was caused by stress and the loss of a family member, genetics and head spinning.
Lloyd similarly took to social media letting his followers know that he was preparing for the procedure and that he had always been uncomfortable with his hairline since his early teens.
It may seem like a rash decision to some being only 23 in age but they have both have put posts out on social media discussing their frustrations over spending so much time on their hair for the purpose of covering up their receding hairlines and balding too in George's case.
 "'I've decided I've had enough of that. I want my own hair. I am only 23 and balding seems like something which happens to older men. "– George Sampson
We found George's and Lloyd's stories quite interesting here at The Private Clinic and decided to speak to some of our cosmetic surgeons that offer hair restoration about the reducing age of many of hair transplant patients.
Dr Michael Mouzakis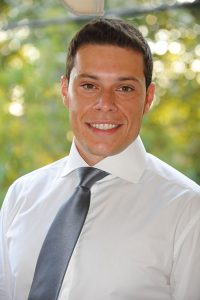 "There is no age limitation about having your first transplant but every time that you have a session it will use part of your available donor area, which can be limited in your lifetime.
Moreover, when you are less than 30, the hair loss can be quite fast because of the increased hormone levels in the bloodstream
The pattern of the hair loss becomes more stable after your 50s when your testosterone levels are significantly reduced.
Testosterone is the main reason for male pattern hair loss. You are at your peak in your 20s before it starts to decline through your 30s. Interestingly there is a recent paper in the Journal of Clinical Endocrinology and Metabolism which concludes that men actually have reduced levels of testosterone now compared to 10 years ago – This can really affect the hair loss issue.
Every time a younger male has a procedure there is a risk that they may need a revision operation in order to increase density or restore gaps in the adjacent areas. These gaps have the tendency to flare up rapidly in those who are younger.
I insist that all hair restorations should be offered and performed by clinicians that have significant training in surgery and a solid background in treating patients because hair loss is not just a cosmetic procedure but it is a medical condition and the patient should be following specific steps of diagnosis and the guidelines of proper treatment.
When I meet a young patient I first try to pursue the correct diagnosis by asking them first to see our trichologist team who will do essential blood tests and run diagnostic tests.
My aim is to give long lasting natural results and not to put my patients into trouble after 5, 10 or 15 years."


Why choose The Private Clinic for a FUE Hair Transplant?
You will be treated by highly experienced Doctors. Our Hair Transplant surgeons are specialised in FUE (Follicular Unit Extraction) and treat hundreds of patients every year.
FUE is a minimally invasive treatment(meaning there is no cutting of a strip), and carried out under local anaesthetic – many patients either watch TV, or even fall asleep during the procedure.
Unlike the Strip (FUT) procedure, you won't require any stitches after your treatment. This means that the recovery time is also reduced when compared to the Strip surgery.
We use the finest instruments, resulting in as minimal trauma to your scalp as possible.
Thanks to our advanced skills and techniques, our team ensure that the donor area looks intact after the hair transplant procedure and you can keep your hair really short if you prefer without any obvious scarring.
Following treatment, you won't have any linear scarring across the back of your head as seen with the strip method (FUT) – you'll be free to wear your hair long or short.
We work by hair, not per graft – this ensures that only the strongest, healthiest follicles are selected for your transplant procedure.
Your results will look natural, with denser packing – the hair is implanted in the direction that matches your hair growth, and because we select healthy follicles, the treated area will look densely filled.
Our surgeons are the only surgeons in the UK offering the Unshaven Hair Transplant (U-FUE) to those who prefer not to shave beforehand. At your consultation, we will be able to advise you on whether an unshaven procedure is suitable for you.
Scars resulting from injuries or previous surgeries can also be corrected.
We have clinics nationwide in London Harley Street, Birmingham, Leeds, Manchester and Northampton.
Read our extensive hair transplant FAQs
Hear from previous Hair Transplant patients in our patient stories and videos
Find out more information in our blogs
Expert Hair Transplant Surgeons at The Private Clinic
If you would like to discuss hair loss treatment options please call 03339 209135 to book a consultation with one of our surgeons, Trichologists or advisors or use our hair transplant online contact form.