Why choose The Private Clinic for Vaser Liposuction?
VASER LIPO
Home » Why choose The Private Clinic for Vaser Liposuction?
According to the British Association of Aesthetic Plastic Surgeons (BAAPS), Liposuction saw a 20% increase in popularity in 2015 for both men and women. This has struck up an interesting debate to whether this could be down to A-list celebrities becoming more open about their nip and tuck procedures. The result of this has encouraged a positive outlook tempting you to consider surgery for areas of your body that you may feel unhappy about after seeing the successful results of celebrities.
As you may be well aware, it is of utmost importance that you find the right clinic and surgeon when it comes to undertaking any cosmetic procedure. So with so many cosmetic surgery clinics available throughout the UK, why should you consider us for your VASER liposuction procedure?
Vaser Liposuction is one of our most popular procedures
Here at The Private Clinic our specialist Doctors perform over 1,300 VASER liposuction procedures which are the highest number throughout the UK.  With this in mind, we thought it was only best to get premises in which would allow us to have our very own theatre rooms, and are able to offer this treatment at our London, Manchester, Birmingham, Bristol and Leeds locations.
Meet the team
We only want to give you the best treatment and care possible, and to do so you need to work with the best. Our expert VASER Doctors are pioneers of the method and have vast experience in harmonising body proportions, allowing us to tailor each VASER procedure to your specific needs and requirements. Our doctors and medical teams are of the most experienced in the country. To find out more about our Vaser Liposuction team visit our expert doctor page.
So what do our patients have to say?
"Had vaser lipo at the end of February. Everything from the initial consultation has been very professional and everything explained in great detail by Dennis Wolf. A genuinely caring man with amazing results, he is an expert in his field. Everything you need for post-surgery is arranged and given to you on the day. All the staff were very caring. Really can't fault them and would definitely recommend The Private Clinic" *
London 
"I had Vaser Lipo on 6 areas at the Leeds Clinic. All I can say is I'm delighted with the results. The team in Leeds are fantastic. The pain on 6 areas was quite a lot but bearable. I was driving within 24 hours and back to work within 3 days. The garments are a must and once you get used to them are fine, a little un-comfy sometimes but they really help the final results along and with the massages too, I had 5. I'm so happy with the result I'm going back in July. if you are thinking about having it done, do it!! You will not regret it. It gives you a great amount of confidence and raises your self esteem and healthy lifestyle."
NL – Leeds
"Happy Days – my experience at the Birmingham clinic I think that the star rating speaks for itself. I had Vaser lipo on my inner thighs, abdomen and flanks yesterday. The staff at the Birmingham clinic made me feel comfortable and at ease through my entire journey from consultation to the procedure. Steve, the Patient Coordinator, and nurse Kiran were extremely supportive, friendly and professional throughout,  face to face, email and phone. Dr Wolf and the entire team at the clinic were absolutely amazing and have given me back something that was lost for a while – my confidence and smile! It's 5 am (and this is a first in a long time) and I have awoken grinning like a cheshire cat. Thank you so much."
Gee – Birmingham
"Vaser Liposuction in Manchester … Had Vaser Liposuction at the Manchester Clinic. Can't be more complimentary of the treatment, the kind and friendly nature of the staff, and the overall professionalism. I was given a thorough and honest consultation, in which the friendly and realistic attitude of the doctor was a major factor in deciding to have the treatment. A few days after the surgery and I'm feeling remarkably good – curing quickly, and it's already evident when I look in the mirror that the team know what they're doing – happy with the look already. Would recommend to anyone keen to improve their body confidence."
Simon – Manchester
What about the aftercare?
We offer all vaser liposuction patients unlimited appointments back with their nurse or surgeon throughout their recovery time. We also supply them with an emergency contact number allowing them to get in touch with us at any time should they feel worried or concerned. They will leave the clinic after their procedure will a full aftercare plan to follow. You will also have a garment fitted and drains if required.
After the procedure we offer MLD (Manual lymphatic drainage) which is a gentle massage aimed at encouraging the natural drainage of the lymph, which carries waste products away from the tissues and back towards the heart. At our clinics in our clinics in London Harley Street, Manchester and Leeds we offer Body Ballancer® treatment which is a compression therapy treatment based on Manual Lymphatic Drainage. Ask us about our post-liposuction treatment options.
This additional treatment also gets thumbs up reviews from our patients.
I met Raddy who does the manual lymphatic massage three days after the operation, she is AN ANGEL, I can't say how nice, helpful, flexible and professional she is. She removed the drainage for me, Zero pain. This lady is very patient, kind, helpful, and excellent at what she does. Raddy I am so grateful for all your help and support."
London 
What are the results?
We also have a photo gallery of before and after photos showing the results of many happy patients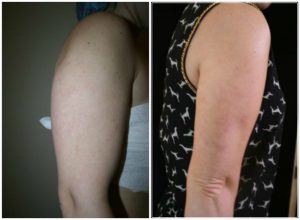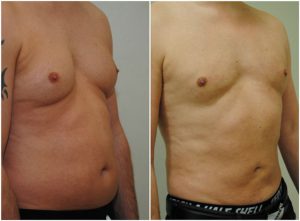 And a range of videos showcasing our expert surgeons and the journeys of patients such as Sam Hayes;

Why should you choose The Private Clinic for Vaser Lipo
The Private Clinic's Doctors have performed 
over 7,000 VASER Liposuction treatments
to date, more than any other clinic in Europe. We were the first clinic to launch Vaser in the UK. We work with highly qualified and specialised vaser lipo doctors which include:
The Private Clinic prides itself on ensuring you have the best quality and most comprehensive care:
24 hour patient helpline to ensure you are always in the best of hands.
As many post-operative care and appointments with your surgeon, doctor and nursing team as required.
One year cover for all surgical, hospital and nursing care, in case of any medical issue giving you peace of mind*.
Comprehensive patient information, every step of the way
Highly experienced surgeons and doctors who have years of experience in vaser liposuction.
Outstanding hospital facilities.
Competitively priced for our expertise and experience.
With over 35 years' experience of Cosmetic medical Excellence, you are in safe hands.
Our excellent reputation for patient safety and satisfaction, honest advice and outstanding care means your journey with The Private Clinic will be an exciting experience to a newfound shape.
See our before and after photos.
Read our patient stories.
Consultations are available across the UK in London Harley Street, Birmingham, Bristol, Buckinghamshire, Manchester, Leeds and Northampton.
To find out more, view our extensive FAQs or call 03339209135 to book a consultation or use our Vaser Liposuction online contact form.