So, you're considering breast enhancement. It's a complicated treatment that should never be taken lightly, but it can seem all the more confusing when you look at the different options and try to work out which is the best way forward for you.
Breast augmentation is the UK's most commonly performed cosmetic surgery, with 8,619 performed last year in the UK alone. But fast rising in popularity is the procedure's more 'natural' sister: fat transfer, which currently ranks 7th. Rather than using synthetic implants, as per traditional augmentation, the method uses fat from a patient's own body (extracted through liposuction) and transfers it to the area. When it comes to which is better, the answer completely depends on what type of result you're after and your individual body type.
Breast Implants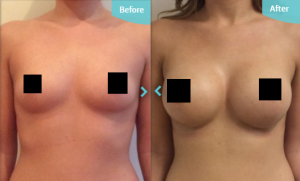 Breast implants are popular for a reason: they are unparalleled in their ability to increase the bust by several sizes, and are perfect for those who want a specific cup. With the right surgeon, they can help transform the figure and confidence of patients regardless of whether it's down to uneven breasts, a lack of volume, or general discontent with their size or appearance.
They can, normally, be used on patients of all (healthy) sizes with little limitation apart from any health concerns, which is why it's always vital to disclose anything (no matter how small it may seem) to your surgeon during consultations.
Depending on your individual case, you may require general anaesthetic and a stay in hospital. We understand this isn't always ideal so at The Private Clinic we try to perform as many as we can under local anaesthetic where suitable, but this is never guaranteed. Downtime after surgical breast augmentation is perhaps what puts most people off – due to risk of infection and chances of scarring. Complications are extremely rare, but the treatment is a large surgery and you should ensure you understand that before commencing and always follow your surgeon's advice to the letter. Likewise, while results are long-term, they are not permanent and after 10-15 years you'll need them replacing or taken out. Make sure you factor this in while you're considering your options.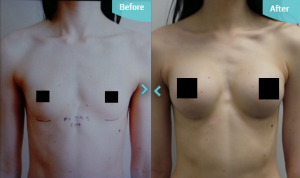 Key Points
Able to increase bust by several cup sizes
Will generally stay same size if you lose or put on weight
Suitable for patients of all (healthy) sizes
General anaesthetic required, but doesn't usually require an overnight stay
2 weeks downtime
Last 10-15 years before they need replacing
Fat Transfer

As a '2-in-1' treatment, fat transfer is best for those who are looking to both target pockets of fat on the body and increase volume in the bust. Unlike breast implants, you will require suitable levels of fat to extract, however this doesn't mean you have to be overweight. In fact, we advise all patients that they need to be at or around their ideal weight for fat transfer – even seemingly thin candidates can have areas for extraction – it all comes down to what your surgeon believes possible.
Unlike implants, the treatment isn't ideal for those looking to increase their breasts by a large amount. We tend to recommend it for those who want a size increase of 1-2 cup sizes, though patients have seen larger increases. Because your own fat is used in the treatment the potential for growth is completely individual and something that is very hard to predict prior to meeting your doctor.
In most cases fat transfer to the breast is performed under local anaesthetic, meaning less risk and no overnight stay in hospital. Likewise, as the material used is all natural, there's little risk of your body rejecting it or having an adverse reaction, while downtime and recovery are relatively small. Results from fat transfer, meanwhile, can be permanent, though this does rely on you keeping your weight constant. Unlike breast implants, fat will naturally deplete if you lose too much weight following treatment, which is why we always advise being at a healthy, stable size before you choose to go ahead.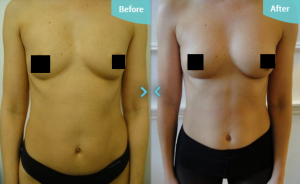 Key Points
Increase by 1-2 cup sizes
More 'natural' appearance and feel
Also slims down stubborn areas of fat (e.g. stomach or thighs) through liposuction
Better to use when near ideal weight
Usually performed under local anaesthetic with patients able to return home the same day
Relatively small downtime
Results can be permanent but only if you keep your weight stable
Summary
Asking which is better out of breast implants and fat transfer is a bit like saying how long is a piece of string. Both treatments have their pros and cons, which all come down to what you're hoping to achieve. If you're a relatively thin patient looking to change from an A to an F cup, fat transfer is never going to be the best way forward for you. However, if you're looking for an increase in volume but don't like the idea of synthetic materials, breast implants may not be the best way forward. The key to finding the best treatment for you is always working closely with a team of medical professionals who understand what you want and have your best interests at heart.
The Private Clinic
With clinics and consultation rooms across the country, we're committed to making it easy for you to get unbiased, uncompromising advice. We don't let patients go ahead with a procedure unless we're sure it's the right one for them, and we believe in explaining every aspect of your treatment so you understand the risks as much as the positives. Your body is important; we're here to respect that so you can achieve the results you want safely and truthfully. Our plastic surgeons are highly educated, have thousands of hours of surgical experience, training and medical experience. Breast Augmentation consultations are available in London Harley Street, Birmingham, Leeds, Manchester and Northampton.
Breast Surgeons
Mr Adrian Richards, MBBS, MSc, FRCS (Plast.) GMC Number: 3286812
Mr. Navid Jallali BSc MB ChB (Hons) MD FRCS (Plast)   GMC Number: 4404969
Mr Dario Rochira BS, MD GMC Number: 6130664
Mr Davood Fallahdar FRCS (Plast) Fellow of the Royal College of Surgeons (Plastic) GMC Number: 4686602
Mr Philip Lim BSc (Hons), MB ChB, AFRCS (Ed), MRCS (Eng), FRCS (Plast) GMC Number: 4219068
Mr Olubowale, MB ChB, MSc (Sheffield), FRCSI, FRCSI (Gen Surg) GMC Number 6044974
Mr Maisam Fazel  MA(Cantab) MB BChir MSEd FRCS  GMC Number: 4767420
Mr Mobinulla Syed MBBS, MSc, PhD, FRCS (Plast) GMC Number: 6035480
Mr Prashant Govilkar, MBBS MS MCh FRCS FRCS (Plast) GMC Number: 4258041
Mr Adel Fattah, FRCS (Plast.) GMC Number: 4764599
Mr Kenneth Kok MBChB MRCS MSc(Hons) FRCS(plast)   GMC Number: 4701147
To find out more about breast enlargement surgery please call 03339209135 or use our online breast augmentation contact form.