What is the likelihood of scarring after a FUE Hair Transplant Procedure?
A short answer to the title of this blog is very likely. Just like all surgical procedures, scarring is to be expected but in this blog we are going to discuss what type of scarring is involved with an FUE Hair Transplant procedure and how it compares to a FUT Hair Transplant procedure.
What is a FUE Hair Transplant Procedure?
An FUE (Follicular Unit Extraction) procedure is involves removing the hair follicles from usually the back of the scalp to the areas that are thinning or balding using a specialised extraction tool.
These hair follicles are then prepared under a microscope ready for transplantation. The follicles are inserted into the new areas with a specialist micro surgical needle and are made sure to mimic the angle and density of your natural hair growth.
Will a FUE Hair Transplant Procedure cause Scarring?
FUE procedures are often preferred because it is minimally invasive leaving patients with minimal scarring. During the procedure, the hair follicles are removed with a specialised extraction punch tool which is less than 1mm in diameter which means scarring will be almost invisible to the naked eye. The scarring after an FUE procedure presents itself as very small circular scars that may appear as little white dots. You may notice the slight signs of this scarring if you shave your donor area or have your hair cut short.
How does a FUT Hair Transplant cause scarring?
An FUT (Follicular Unit Transfer) procedure differs from the FUE procedure as a strip of tissue containing hair is removed from the back of the scalp. This strip is then cut into smaller individual follicles before transplanting them into the areas being treated.
Because the hair follicles are removed in this strip format, an FUT transplant can be the cause of scarring at the back of the scalp as a large area of tissue is often removed.
Can previous Hair Transplant scars be treated?
In the majority of cases we can use the FUE Hair Transplant procedure to help disguise FUT hair transplant scarring. It is common that hair stops growing on areas where scarring is present which can cause the scarring left to be a lot more noticeable.
The FUE Hair Transplant procedure can help disguise scarring by transplanting hair from other areas of the scalp to the scar tissue. It is important to note however that the survival and growth rate of a transplanted hair follicle into scar tissue can vary between patients and a full health assessment will be required to assess your suitability before going ahead with the procedure.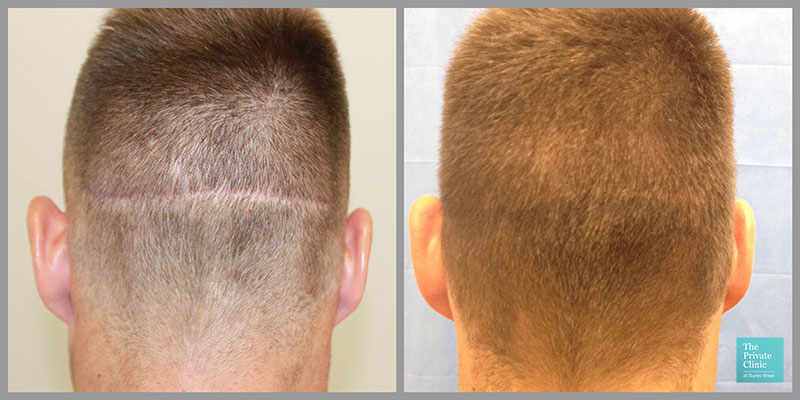 Why choose The Private Clinic?
We have a team of highly experienced Hair Transplant Surgeons who have decades of experience and have carried out thousands of hair transplants.
We pride ourselves on ensuring that you have the best quality and most comprehensive care.
Our 24 hour patient helpline ensures that you are always in the best of hands.
We offer you as many post-operative care appointments with your Hair Transplant surgeon and/or nursing team as you require.
You will be provided with comprehensive patient information, every step of the way.
We have outstanding hospital standard theatre facilities within our local clinics for you convenience.
Our excellent reputation for patient safety and satisfaction, honest advice and outstanding care means your journey with The Private Clinic will be an exciting experience to a new hairline.
We are able to offer finance solutions with manageable payments to suit a variety of budgets.
Hair Transplant surgeons at The Private Clinic
Hair transplant consultations and procedures are available in London Harley Street, Birmingham, Manchester and Leeds.
Consultations with a surgeon or adviser are also available in Northampton
To find out more about FUE Hair Transplant surgery or to book a consultation call 03339209135 or use our hair transplant online contact form.