Breast Implant Replacement Surgery is steadily increasing with many of us choosing to downsize or even increase the size of our implants. We have put together our most frequently asked questions about breast replacement surgery to help you make a more informed decision about your breast implant replacement procedure
How much bigger or smaller in size would I be able to go?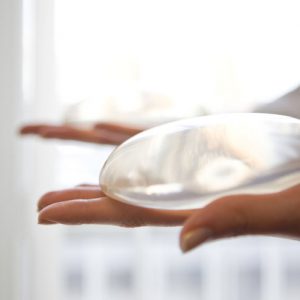 A common reason for breast implant replacement is that the patient is unhappy with the size of their original implants and would like to have a bigger or smaller implant instead.
Picking your original implant size is not usually a haste decision and you should have had a sizing process with your surgeon or a nurse who would have taken measurements of your breast base and shape in order to advise on the best implant suited for you.
Over time, preferences may change which can result in patients wishing they had bigger or smaller implants. The amount you can decrease or increase the size of your implant does depend on your breast tissue and chest size. If you have minimal breast tissue then it is best to not go up in size of too much as you risk your natural breast tissue becoming distorted and often the implant will be too wide for your chest resulting in a very unnatural and fake appearance.
There is not usually too much of a problem downsizing your implants. You will be able to go as small as you desire before reaching your natural breast tissue size – in which case it is best to just remove the implant. One issue to downsizing may be that you might require a mastopexy or uplift. The tissue around the implant would have been stretched to fit the larger implant and by putting a smaller implant in, could result in excess skin.
Do I have to have my implants exchanged with the same plastic surgeon that I had my original breast augmentation with?
It is always advisable that you do visit your previous plastic surgeon should you decide that you wish to replace or remove your implants. This surgeon will know your case history, circumstances and most importantly the details of the implants and where they are positioned within the bust.
However, we understand that this may not always be possible, nor is it essential.
A new plastic surgeon would usually be happy to discuss your case with you however they will ask for the following information;
The make of your implants
The size of your implants (CC's)
The shape of your implant (anatomical or round)
The position of your implant (in-front or behind the muscle)
and any other relevant details about the procedure
Your new surgeon will need this information to be able to put in the place the most appropriate treatment plan for your removal or replacement surgery in order you to achieve the best result.
Does the new implant go in the same place as the old one?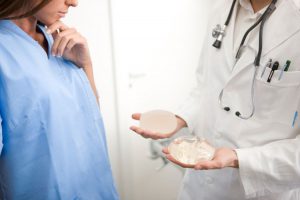 In the majority of cases your surgeon will choose to place your new implants in the same pocket as your previous implants because this means your recovery time will be shorter.
However, if your surgeon finds there is an issue with the pocket, or you have expressed concerns of a capsule or you can feel the edges of an implant then they may suggest changing the position of your new implant to instead sit under the muscle (if it was previously in front) as this can usually rectify any issues with outlines of the implants being prominent.
If your previous implant was sitting high and felt a little unnatural then they may discuss placing your new implant in front of the muscle as a high implant is usually caused by your muscle holding it in a higher position. Moving in in front will allow the implant to settle into a more natural position within the bust.
If I want to have my implants replaced, would that involve having two separate procedures?
A common misconception is that removal and replacement surgery is two different procedures; one to remove the implants and the next to insert new implants.
In the majority of cases, this is not the case and you will be fine to have your implants both removed and replaced in the same procedure.
But in some rare cases it may be necessary to have two separate procedures. An infection around the implant may mean that your surgeon recommends you take a 3 month break to allow your body to recover in the best way without another implant causing any additional problems. Once you get the all clear you will be able to go ahead with the second stage of your surgical procedure and have implants inserted again.
Some patients may feel unsure if they want to have their implants replaced or not, in these cases it may be beneficial to have them removed and allow your breast tissue to contract again naturally to then best assess what size, if any, would then be best for you.
If you are concerned about the results after a breast implant removal it may be worth considering a breast auto augmentation where the natural breast tissue is relocated and reshaped following a breast implant removal procedure to retain the upper fullness in the breast giving the appearance of a breast implant.
Will the recovery period be the same as my breast augmentation procedure?
In most cases, the recovery period after a breast replacement is much quicker than your previous breast augmentation surgery with less pain, downtime and general discomfort. The reason for this is because the pocket that your implant sits within and the tissue surrounding it have already been stretched during your initial surgery.
If the position of your new implants are changing however then the recovery time changes a little to sit more in line with your original breast augmentation.
What are the scars like after breast implant replacement surgery?
The scars after further breast implant procedures should not change too much from your original breast augmentation scar if this was in the inframammary fold which is just along the bottom of your breast where it meets your chest. If you had your original breast implants inserted via the areola or armpit then unless your surgeon is happy to remove them this way – it is worth knowing that an additional scar will be made in the inframammary fold beneath your breast.
Your surgeon will most likely cut out and remove your previous scar so your new scar will be in the same place. The only difference may be that your scar is shorter as older breast augmentation scars were slightly longer at 6cm long compared the 4-5cm scars these days.
If you are choosing to have a mastopexy or uplift with your breast implant replacement then additional scarring would occur. Usually a lollypop scar is used with this type of procedure which means the scar will run around your areola and down your breast.

The Private Clinic
The Private Clinic is renowned for setting high standards in the cosmetic industry and we value our excellent reputation for patient safety and satisfaction. From the first consultation through to your first-class aftercare we have some of the most experienced and well-respected surgeons in the industry as part of our breast implant replacement team at locations across the UK in London Harley Street, Birmingham, Northampton, Manchester, Leeds, Glasgow and Buckinghamshire
To find out more about Breast Implant Replacement surgery , call 0333 920 2471 or use our breast implant replacement online contact form to request a call back.