Strictly Come Dancing head judge, Shirley Ballas decides to remove her breast implants due to her family history of breast cancer.  Shirley has been very open about undergoing her breast implant removal procedure and has been backed with support from her followers who have been sending positive messages.
Breast implant removal and replacement is a surgical procedure performed to completely remove the existing implants or replace them with new ones.
Many women decide to undergo breast implant removal procedure because they no longer want to keep their implants due to varied reasons. Some of the most common reasons why women decide to remove their implants are for prevention for breast cancer like Shirley, they are not happy with the look of the implants, have experienced sagging due to changes in weight or have developed capsular contracture (hardening of the scar tissue around the breast implant).
Breast implant removal consists of the removal of the implants from the breast pocket with no other procedures performed. This surgery is performed under general anaesthetic and your surgeon will remove the implant using the same incision where your implant was originally inserted, so there will be no further scarring. After a breast implant removal procedure, patients are not typically required to stay overnight so they may return home once discharged by the surgeon.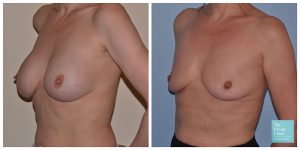 At The Private Clinic, we also offer different procedures to compliment the breast implant removal to reshape the breast such as the Breast Implant Removal with Uplift (Mastopexy) or Breast Auto augmentation.
Breast Implant Removal with Uplift (Mastopexy) is a procedure ideal for patients whose breast tissue has stretched. After the implant Is removed the nipple will be lifted and repositioned to its natural position.
Breast Auto-Augmentation – Is recommended for patients who would like to keep the volume on their breast after the implants are removed. This procedure involves using the existing breast tissue to then reshape the breast which allows a fuller and more lifted result.
Some of the benefits of the beast auto-augmentation procedure include:
Improvement on the natural shape of your breasts without the need of an implant.
Increased fullness around the upper breast.
Can help to correct sagging of the breast.
The breasts can be lifted for a more youthful look.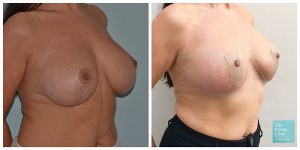 Breast Implant Replacement. Many patients decide to replace their implants for new ones. It could be to increase or decrease the size, change the shape or type of implant. If you are choosing to remove your implants in favour of implants of a different size, then a breast implant and replacement procedure will be performed. This procedure is performed under general anaesthetic and the new implants would be inserted using the existing incision from the initial procedure.
At The Private Clinic, we work with highly specialised plastic and reconstructive surgeons with years
of experience performing breast surgery to a high standard. We also count with a dedicated post-operative care and nursing team to support you thought your entire journey as well as a 24-hour helpline available to all our patients.
The Private Clinic has clinics across the UK including London Harley Street, Leeds, Glasgow,  Birmingham,  Buckinghamshire,  Manchester,  Bristol, and Northampton.
To book a consultation with our breast surgeons get in touch with us on  0333 920 2471 or visit our breast implant replacement/removal page on our website where you can see before and after pictures and patient stories.