It is well-known that breast implants are not designed to last forever and there will come a point where they will need to either be removed or replaced but knowing when to do this can be difficult.
According to the majority of breast implant manufacturers, the average lifespan of a breast implant is 10 years and it is recommended that after this point you should look to remove or replace your breast implants.
Here at The Private Clinic, we do advise patients that this may not always be necessary as breast implants don't actually have a specific lifespan and that this is purely the recommendation from the manufacturer.  However, if you have had implants for 10 years or longer we would recommend that you start to consider the future of your implants as the majority of patients will need to remove or replace their implants at some point 10-20 years after their original procedure.
For some patients the decision to remove or replace their implants comes from issues relating to their implants. Even if you have not had any problems, after 10 years you should return to see your surgeon to get a professional opinion on what your next stages are. Patients are often recommended to have a MRI scan which allows the surgeon to check the integrity of the implant without you needing to have surgery.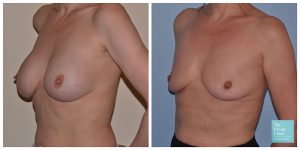 What is breast implant removal / replacement surgery?
There are lots of different options when it comes to breast implant removal or replacement surgery.
Breast Implant Removal – The breast implants are removed.
Breast Implant Replacement or Breast re-augmentation – Your implants are removed and replaced with new implants which can be the same, smaller or bigger in size.
Breast Capsulectomy – A capsulectomy procedure removes the capsule which is the lining around your implant and then you can either have the original implant removed or replaced.
Enbloc – An enbloc procedure is when the implant and the capsule are removed at the same time with the implant still inside the intact scar tissue capsule.
Breast Implant Removal with Uplift (Mastopexy) – This combined procedure may be recommended if your surgeon feels your breast tissue has stretched. The procedure will ensure that after the implant is removed your nipple is lifted back up to its natural position.
Breast Auto-Augmentation – A breast auto augmentation is great option for patients who wish to remove their implants but still wish to retain volume. Your surgeon will use your existing breast tissue to reshape the breast; giving you fullness in the upper bust along with an uplifted appearance too without the need for an implant.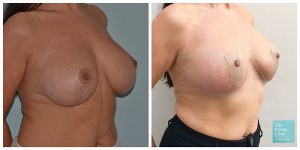 Why do people have their implants removed or replaced?
There are a variety of reasons why people would choose to remove or replace their breast implants such as;
They may dislike the shape or size of their current implants.
They may have gained or lost weight which can alter the appearance of your implants.
They may have had children and breastfed which can also alter the appearance of your breasts.
It has been 10+ years and their surgeon has advised for them to remove or replace their implants.
They may have symptoms of capsular contracture which requires surgical release or removal of the capsule and implants.
Their implant may have ruptured and therefore needs replacing or removing.
Patients may have changed their mind and no longer wants breast implants.

How do I know if my breast implants need removing or replacing?
Your implants may have moved which can create a gap in between your breasts that was not present previously.
Your implants may have started to rotate which can create an uneven look.
Your implants are experiencing lateral displacement which can cause them to sit lower than the inframammary fold, also known as 'bottoming out'.
Your implants have become hard to the touch and misshapen.
You are unhappy with the size, shape or position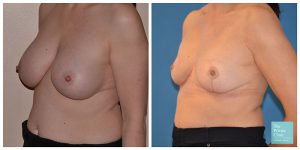 How much does a breast implant removal and replacement cost?          
Breast implant removal or replacement surgery is often tailored to the individual patient so it is difficult to estimate a specific price. Breast implant removal procedures start from £4,650 and breast implant exchanges start from £5,830 but these are estimates and a more accurate quote can be provided following a consultation with one of our expert breast specialist surgeons.

What are the next steps?
If you feel that you may need your implants removing or replacing then the first step is to book a consultation with one of our plastic surgeons who will be able to advise you on which procedure is going to be best for you and give you the results that you hope to achieve.
At The Private Clinic, we are proud to offer the highest quality implants, with procedures performed by some of the UK's top consultant plastic surgeons. Our team includes some of the most recognised plastic surgeons in the UK, with extensive experience in the removal of all implant brands such as Motiva, Mentor, Nagor, and complex cases associated with PIP implants. Our surgeons have removed or replaced thousands of implants and are available in our clinics nationwide;
To find out more about implant removal or implant replacement procedures at The Private Clinic please call 0333 920 2471 or use our online Breast Implant removal replacement contact form to request a consultation with one of our expert surgeons. Consultations are available in London Harley Street, Birmingham, Bristol, Buckinghamshire, Glasgow, Leeds, Manchester and Northampton.