Ever wondered about the differences between VASER Liposuction (or just VASER Lipo as we call it) and Laser Lipo? Are you thinking of a non-invasive fat removal treatment or liposuction but aren't sure which procedure to choose? There are lots of procedures and treatments out there claiming to zap fat and banish it forever in some way. It's hard to know what to believe when you can tell what will work and what is overrated.
Fat removal procedures come in all shapes and sizes, just like people. It's quite right that people come in all shapes and sizes – diversity is great – and the same can be said for fat removal procedures. You have non-invasive, minimally invasive and surgical treatments and procedures capable of targeting fat in some way and it's important there's choice for patients. Not all patients will want the same things from their treatment so it's good to explore and have a range of options to look at. Below is a guide to one of the biggest discussions we have: VASER Lipo vs. Laser Lipo.
VASER Lipo
VASER Lipo is often touted at the top end of the fat removal treatment scale for its effectiveness. There's little doubt it works – you can see the fat after it's been taken out and some patients even like to take pictures of the extracted fat. Just look at before and after VASER Lipo photos to see the amazing results.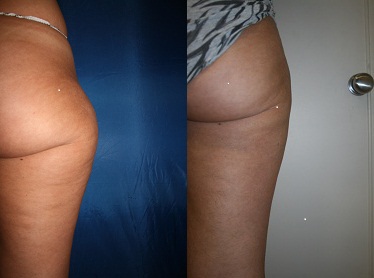 VASER Lipo is minimally invasive and downtime is minimal compared to traditional liposuction but there are some downsides. Recovery can be uncomfortable for some patients (effective pain medication is given to manage any discomfort), patients must be relatively close to their target weight and cannot be obese. It's not a weight loss solution, more of a body sculpting and fat removal procedure so expectations may need to be adjusted. However for the right patients, it can really help. It's popular for a reason.
Vaser Lipo is suitable for almost all areas of the body;
The body is extraordinarily complicated and fat distribution is largely determined by genetics. Some people have problem areas around the abdomen and thighs, while others have issues with their breasts and flanks (love handles). You can't spot reduce fat and even personal trainers can tell you it can be really hard to shift fat from stubborn areas. We don't all have hours and hours each day to train and so many healthy people turn to VASER Lipo to permanently treat their problem areas and achieve fantastic results.

Laser Lipo
Next down the scale in fat removal treatments is often laser lipo. Various generations and machines exist to target fat with lasers, some remove the fat with suction-assisted liposuction while other treatments leave it up to the body to flush the fat away and out through excretion. Laser Lipo is suited to people who want to target very small areas and who may not want VASER Lipo or non-invasive fat targeting treatments. Whereas VASER Lipo uses ultrasound to break down the fat cells from the surrounding tissue, Laser Lipo uses lasers to melt the fat. VASER Lipo was developed to target fat cells specifically, whereas lasers can be less precise and disrupt tissue surrounding the fat cells more. Make sure you choose your practitioner carefully as imprecise handling and inexperience can lead to damage to surrounding tissue.
Why You Should Choose The Private Clinic for Vaser Lipo
The Private Clinic's Doctors have performed over 11,000 VASER Liposuction treatments to date, more than any other clinic in Europe. We were the first clinic to launch Vaser in the UK.
The Private Clinic prides itself on ensuring you have the best quality and most comprehensive care:
Consultation with your specialist surgeon.
24 hour patient helpline to ensure you are always in the best of hands.
As many post-operative care and appointments with your surgeon, doctor and nursing team as required.
One year cover for all surgical, hospital and nursing care, in case of any medical issue giving you peace of mind*.
Comprehensive patient information, every step of the way
Highly experienced surgeons and doctors who have years of experience in vaser liposuction.
Outstanding hospital facilities.
Competitively priced for our expertise and experience.
With over 35 years' experience of Cosmetic medical Excellence, you are in safe hands.
Our excellent reputation for patient safety and satisfaction, honest advice and outstanding care means your journey with The Private Clinic will be an exciting experience to a newfound shape.
View more vaser lipo before and after photos
Read our extensive vaser lipo FAQs
Hear from previous patients in our vaser liposuction patient stories
The Private Clinic of Harley Street has many years of experience treating patients. The Private Clinic are a multi-award-winning Cosmetic Surgery provider with over 35 years' experience in Medical Cosmetic treatments.
Consultations for Vaser Liposuction take place at London Harley Street, Leeds, Manchester, Northampton, Birmingham with our expert liposuction surgeon or knowledgeable patient coordinators.
To find out more please call 0333 920 2471 or use our online contact form to request a consultation.