Thermage is a popular non-surgical face and body lift has many celebrity fans, including Oprah Winfrey who championed the treatment back in 2006 and Gwyneth Paltrow soon after, even proclaiming after a session, "I feel like it took five years off my face."
Other recognisable figures that have reportedly used Thermage include: Kim Kardashian; Demi Moore; Linda Evangelista; Amanda Holden and Michelle Obama.
Celebrities often have a lot more resources to use on their appearance and it's certainly a good sign that with all the various treatments and procedures around celebs opt for Thermage. This quick, safe and easy procedure has proved a hit since its introduction and remains a relevant and effective treatment.
What is Thermage?
Thermage is an advanced rejuvenation treatment that uses radio frequency (RF) energy to help smooth, contour and tighten skin. Thermage has a great rejuvenating effect that leaves your skin looking fresher and invigorated. Thermage works by heating up the collagen-rich layers in the skin. This helps tighten the existing collagen in the skin as well as stimulating the production of more collagen. This results in smoother, less sagging and tighter skin. Thermage can be used to treat skin on the face and around the body. Results are often immediate and can last many, many years.
Advantages of Thermage treatment
Safe
Non-invasive
Works on all skin types and colours
Delivers results in one session
Little or no downtime
Thermage treatment is available at our London Harley Street clinic.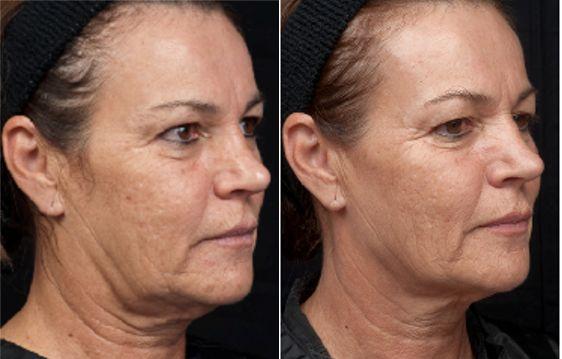 What is Thermage FLX?
Thermage FLX is the latest version of Thermage treatment. The treatment works in the same way as Thermage CPT treatment described above however upgrades have been made to provide the following benefits:
Advantages of Thermage FLX
More comfortable treatment
Faster treatment time
Better results
Long lasting effects
Thermage FLX is available at our London Harley Street clinic.
What is Ultherapy?
Another celebrity favourite skin tightening treatment is Ultherapy. Ultherapy is similar to thermage, they both use energy to encourage and restore collagen production in the dermal layer of the skin but the type of energy that they both use is where they differ.
Ultherapy uses micro-focused ultrasound with visualisation (MFU-V) energy which allows it to treat depths of the skin that other non-invasive cosmetic device are unable too reach. Ultherapy is also the only FDA approved treatment for specifically tightening the skin on the face, neck, chin and brow area.
Advantages of Ultherapy
Non-Surgical Skin Tightening
Treatment time from 30 minutes
Long-lasting results
FDA Approved treatment
No downtime
Stimulates new collagen & elastin, to help reverse the signs of ageing
Over 1 million treatments performed worldwide.
Named 'Best in-office Treatment for Non surgical Skin Tightening' in the New Beauty 2019 Awards
Ultherapy treatment is available at our clinics in London Harley Street, Manchester, Leeds, Birmingham, and Stoke Poges in Buckinghamshire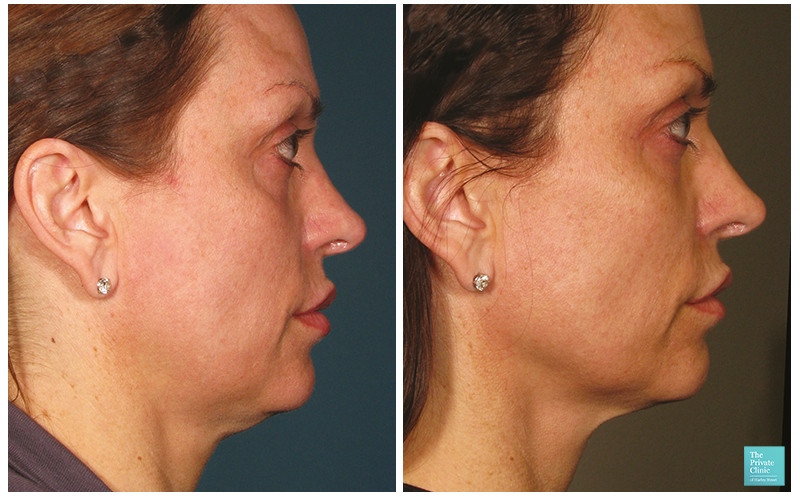 Non Invasive Skin Tightening The Private Clinic
The Private Clinic of Harley Street offers the latest and most advanced non-invasive and minimally invasive cosmetic and medical treatments, including Thermage, Thermage FLX and Ultherapy. We take patient care very seriously and we offer a bespoke service to every patient – making sure you are our priority and not the other way around.
For more information about our Thermage or Ultherapy treatments please contact us on 03339209135 or use our online contact form.