Is troublesome sagging, stretched tissue on your lower stomach holding back your confidence when it comes to wearing fitted clothing or swim suits? Genetics, pregnancy, weight loss and general ageing can all leave us with this unwanted excess tissue, and unfortunately efforts we make in diet and exercise are often ineffective in resolving it.
For those looking for a solution, a mini tummy tuck (mini abdominoplasty) is an increasingly popular surgical procedure to correct excess tissue in this region, leaving an aesthetically pleasing contour.
What is a Mini Tummy Tuck?
Targeting the lower abdomen (lower stomach), a mini tummy tuck removes excess loose skin and fatty tissue between your tummy button and pubic area, leaving a flatter and firmer stomach. Abdominal muscles that have been weakened or stretched can also be repaired and tightened with a Mini Tummy Tuck if necessary. The standard tummy tuck procedure, in comparison, targets the whole stomach area, removing excess skin both below and above the stomach button.
Is a Mini Tummy Tuck the best option for me?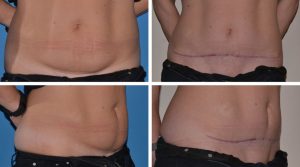 A mini tummy tuck is best for those who are at a healthy, stable weight, with a small amount of stubborn excess skin and fat between the tummy and pubic region. The stomach of mini tummy tuck patients may have a 'crinkly' or sagging appearance and protrude slightly, experiencing some or no lower abdominal over hang. For those with a large amount of sagging excess skin, however, a full tummy tuck may be more appropriate.
Both men and women are eligible for the procedure. However, it is advised that women looking to have children discuss their situation with a surgeon before making a decision, to ensure they can achieve long-lasting results.
The best way to find out if this procedure is the best option for you, however, is to arrange a mini tummy tuck consultation with an expert abdominoplasty surgeon, who will assess your individual case and advise the most suitable course of action.
What does the procedure involve?
An incision is made in between the hips, along the base of the abdomen, typically following the pubic lining. The skin is separated carefully and excess fat and skin in between the pubic area and tummy button is discarded. If required, torn or stretched muscles will also be pulled together and stitched into place, tightening the muscles. There is no incision around the tummy button in this procedure, as takes place in a full tummy tuck procedure.
Mini tummy tucks are shorter and smaller procedures than a standard tummy tuck, usually lasting between 1 and 1 and a half hours. They can often be performed using local anaesthetic but a limit exists on the amount to be removed without general anaesthetic. The procedures offer a slightly quicker recovery and lower, more easily hidden scar than the standard procedure. This scar will also fade over the years.
How much does it cost?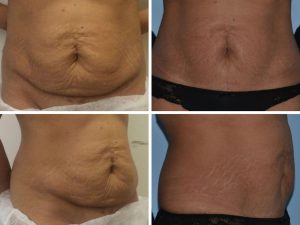 An exact cost quote for a mini tummy tuck can usually only be obtained following a surgeon consultation, as the exact requirements in the procedure will vary for each patient. This is the case at The Private Clinic, however, the average cost of our mini tummy tuck procedures starts at £5760.
Why choose The Private Clinic?
We are proud to offer an industry leading team of the most experienced and esteemed Consultant Plastic and Reconstructive Surgeons in the UK for our tummy tuck procedures. This ensures you can receive the results you desire, and safely. To see more of the outstanding results our surgeons have achieved, click here for our tummy tuck before and after photos. For a first-hand account of the procedure, you may find our reviews and tummy tuck patient stories useful.
Please see below a list of our abdominoplasty surgeons;
Consultations with an experienced tummy tuck plastic surgeon are available in London Harley Street, Birmingham, Leeds, Manchester and Northampton.
We also offer consultations with our highly knowledgeable and experienced Patient Advisors who can answer any queries you may have and provide useful advice before meeting a surgeon.
To arrange a tummy tuck consultation with one of our specialist surgeons you can do so by calling 0333 920 9135 or use our tummy tuck online contact form to arrange a call back.