Successful breast augmentation requires a good understanding of the appropriate proportions and breast size. In order to achieve a harmonious and natural appearance, it is important for surgeons to both consider and balance proportions of the overall body, when selecting the range of suitable implant sizes for the patient, and take into account the proportions of the individual breasts when configuring the implant shape. From the range of feasible implant sizes for a patient, it is also vital that the implant chosen fits the patient's current and anticipated future lifestyle.
This blog post looks into how the appropriate breast size is calculated and proportions that your surgeon must consider…
Overall Body Proportion
When determining appropriate breast implant sizes, it is important that your surgeon considers the overall proportion of your body and in particular, achieves balance between your upper torso and hips. The size of implants that can deliver an "in proportion" and natural looking appearance will be decided, however, by several factors. These include your height, weight, width of shoulders and hips, chest height and width, current breast dimensions and amount of breast skin. All of these factors will be assessed or measured by your surgeon during your consultation.
Sizing Implants
After careful evaluation of the determining factors, your breast augmentation surgeon will advise the range of implant sizes possible. During your consultation, or in a separate sizing appointment, you are able to use a sizer bra to try on the range of implant sizes, and discuss these in detail with your surgeon. With the largest impact on the ultimate finish, the implant size is the most important decision patients can make in the process, so that surgeons commit a significant proportion of the patient's consultation to this choice is crucial. In the appointment, your surgeon should encourage you to carefully contemplate each implants look. You should also be encouraged to think about how the different implants would affect your day-to-day life, now as well as in the future, including throughout potential pregnancies. You will also have your own idea of which proportion would be best for you, which is extremely important to vocalise.
At The Private Clinic, we also provide an option for you to return for another consultation, if you are still unsure about the decision.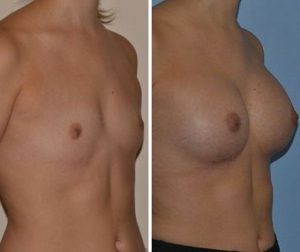 Importance of Proportion with Breast Shape
Once the implant size has been chosen, your surgeon must subsequently consider how the breast implant will fit into the chest area. Your surgeon must take into account the proportions of your individual breasts, using accurate measurements, in order to achieve the desired breast shape using a suitable implant contour and profile.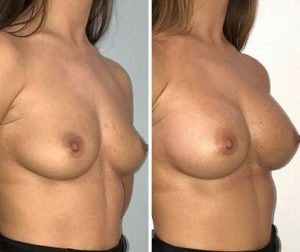 Breast Tissue Boundary Restrictions
Proportions are extremely important when it comes to evaluating which breast implant options are appropriate; however, please note that your breast tissue amount and breasts' base width are the overarching factors that ultimately decide what is first possible.
Your breast implant should not be wider than the base of your breast, to prevent the implant advancing outside your natural breast tissue, which could cause it to continue partially under your arms. Similarly, to achieve a full look, a high profile implant may be used, but a limit per width exists, with how high you can go. It is extremely important that the implant does not exceed the boundaries of the natural breast tissue, in order to avoid an unnatural appearance and prevent your breast tissue stretching and compressing, resulting in stretch marks and excess sagging skin. Your breast implant must be tailored to your individual physique.
Why choose The Private Clinic for breast augmentation?
At The Private Clinic, we offer some of the most respected and experienced surgeons within the industry for our breast augmentation procedures. With our surgeons' expert knowledge, and perfected techniques, you can be confident that you will be recommended and achieve the most appropriate and best possible implants for you. For more than 30 years, we have transformed the confidence of and achieved outstanding results for our patients, and are proud to have achieved a 5 Star Rating on Trustpilot.
Our highly reputable breast augmentation surgeons include:
If you would like to learn more about our breast augmentation procedures, take a look at our breast surgery website, including a range of breast augmentation before and after photos and answers to frequently asked questions. You may also find our breast enlargement video guides useful. Breast augmentation consultations can be arranged through our website or calling 03339209135. The following clinic locations are available for breast augmentation procedures: London Harley Street, Birmingham,  Buckinghamshire, Manchester, Leeds, Glasgow, Northampton and Bristol.