The fountain of youth: a mythical spring with an ability to gift bathers with beauty of the past and the vitality of a younger self. Over the years there have been a fair few quests to find it, one of the earliest being Herodotus way back in 5th century BC. Two thousand years later and any serious attempts to find the illusive miracle have ceased, but our thirst for eternal youth certainly hasn't.
In 2013 BAAPS reported a 17% rise in cosmetic operations, with anti-ageing facelifts and browlifts making a prominent appearance in the top 10 most popular. Not taken into consideration in the statistics, however, are the non-surgical procedures which make up a large portion of the anti-ageing market. As a result the true extent of our fight against the years is still a little shady, though if popular media and news are anything to go by then the prominence of treatments like wrinkle injections and fillers seems more apparent than ever.
The two methods of tackling ageing skin can often be confused. They both target stubborn signs of facial ageing and sound somewhat similar, but they are actually very different treatments that can complement one another in erasing some of time's most frustrating marks.
Wrinkle injections target the cause of skin creases, and work by blocking nerve action from the muscles that have created the wrinkles. With nerve action ceased, the muscles are relaxed and lines formed by them appear lessened, whilst new wrinkles are prevented. The treatment is thus particularly popular for creases caused by expression lines in common areas like the forehead and around the eyes. Initial results can be seen within a week and tend to last between 3-6 months, though studies indicate that the treatment has a cumulative effect meaning you'll need less frequent injections as time goes on.
Dermal fillers use Hyaluronic Acid to reduce wrinkles and add volume to the cheeks and lips. While wrinkle injections relax the muscles that cause creases, fillers are injected directly into wrinkles and add volume to them to lessen their appearance. Depending on which filler you have and where, treatments will normally last between 4-13 months and results can be seen instantly.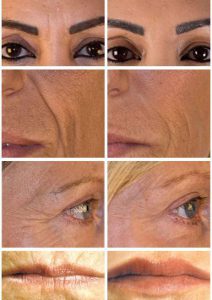 While the methods of achieving their goal may be different, both treatments can be highly effective for tackling wrinkles and lines. It is important to remember, however, that neither is currently well regulated in the UK making the risk of unqualified and unsafe practitioners a serious one. The popularity of fillers and wrinkle injections can make them seem like small treatments that aren't all that dangerous, but you should be as discerning with both as you would be with an invasive procedure. There can be huge consequences when either is performed by an unqualified practitioner as products can often be of a lesser quality or even administered incorrectly. Always consult with a trained medical professional who has your best interests in mind and research any practitioner before you allow them to conduct any treatment. Any experienced doctor or nurse will be able to advise you on which method for wrinkle reduction is best for you, and will also keep your safety in mind.
The Private Clinic
With over 35 years of Harley Street medical experience, The Private Clinic works with only the most experienced and well trained aesthetic professionals. We use the highest quality products in all our treatments. Our fully qualified doctors and nurses have extensive knowledge in the art of anti-ageing techniques and will work with you to find the best treatment for your needs.
Aesthetic Doctors
Aesthetic Nurses
We have skin rejuvenation and injectable clinics across the UK including, London Harley Street, Birmingham, Bristol, Buckinghamshire,  Leeds, Manchester and Northampton.
To book a consultation to find out more about the treatments we offer, please call 0333 920 2471 or use our online contact form to get booked in at a clinic local to you.