Chin or jawline filler is becoming increasingly popular with patients who are seeking treatments to correct a weak chin or weak jawline and bring their face more into proportion whilst improving their side profile.  
The chin is one of the central pillars of the face and if it is out of proportion then this can cause your nose to look larger and your jawline to be practically invisible. Many patients may come to us seeking non-surgical rhinoplasty treatment but then actually leave after having chin and jawline filler. 
What causes a weak chin?
A weak chin usually refers to an underdeveloped jawline. In most cases, it was present from birth and is a result of an under development of the jawbone whilst you were in the womb.  
In some cases, a weak chin can develop after facial trauma usually within childhood where injury, surgery or a viral infection could have altered the formation of growing bones.  
Our expert doctors and nurses are here to listen to your concerns and help to develop a personalised treatment plan to help you achieve the results that you wish to achieve from treatment.  
Am I suitable for dermal chin filler?
Dermal chin filler is suitable for anyone who is looking to improve on their side profile and feel their chin or jawline is weak and not in proportion to their face. We advise attending your consultation for treatment with a clear face, no make-up or contouring so that your nurse or doctor can see how your face naturally looks.  They know where to add filler to help improve the problem areas that you will have previously discussed. 
How does dermal filler treat a weak chin or jawline?
Dermal filler is made up of hyaluronic acid which is naturally found in our bodies. Ageing can cause hyaluronic acid levels in our bodies to reduce which causes hollowing of the face – however – dermal chin filler is not really about filling in areas that have reduced due to ageing as a weak chin or jawline has most likely been an issue from birth.  
Dermal filler can be used to increase volume in an area that previously did not have much volume to begin with. Our expert practitioners can focus to increase definition and add length to the chin whilst also reducing the appearance of a chin crease between the lower lip and chin if relevant.  
Your doctor or nurse may also suggest further dermal filler treatment injections to the rest of the jawline to create a more harmonious result.  
Chin filler before and after results photos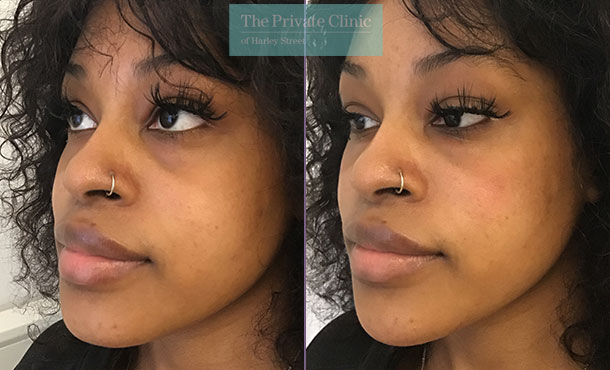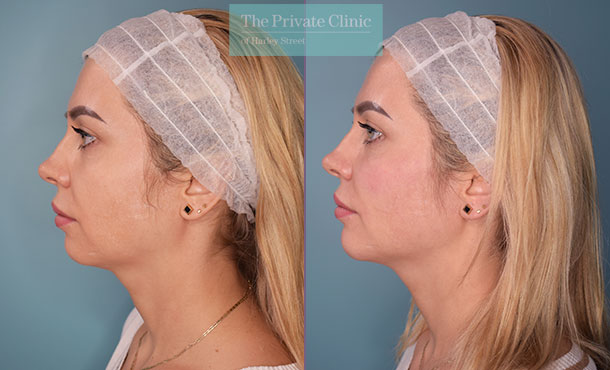 Dermal filler treatment for weak chin and jawline at The Private Clinic
We have been treating patients for injectables for over 20 years and have carried out tens of thousands of treatments, we have decades of experience.

 

We have no hidden costs, after your consultation you will be given a full quote for your recommended treatments.

 

We afford all our patients the right care well before, during and long after every procedure.

 

You will only be treated by highly experienced doctors, surgeons or nurses.

 

Our nurses, doctors and surgeons all very experienced and are registered with the GMC (General Medical Council) NMC (Nursing and Midwifery Council) or GDC (General Dental Council).

 

We are contactable 24/7, 365 days a year for patients.

 

We are competitively priced for the expertise and professionalism we provide every patient.

 

We have an aftercare promise where you will be offered an injectable review a few weeks after your initial treatment where we can discuss the results and offer top ups if needed.

 

We only use high end products purchased from reliable sources.

 
Our dermal filler clinics are located in London Harley Street, Birmingham, Manchester, Leeds, Northampton and Buckinghamshire.
To find out more give us a call on 03339 20471 or use our online contact form.