How is minimally invasive bunion surgery different to other bunion correction techniques?
The extensive downtime required after traditional bunion surgery has meant that many people choose to not go ahead with surgery and instead rely on remedies such as bunion pads, paracetamol and purchasing wide shoes which can come at quite a cost.
Here at The Private Clinic of Harley Street we are excited to be able to offer a minimally invasive bunion removal surgical procedure that has been inspired by keyhole surgery techniques.
Developed by Orthopaedic Consultant Surgeon, Dr Bianchi who will be performing the procedure at our London bunion clinic. This is bunion surgery with a difference as patients are able to walk straight after surgery, have minimal downtime and more importantly no fixative devices such as screws or wires which are usually what causes patients discomfort post-surgery.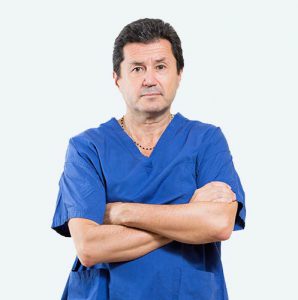 Dr Bianchi who has been 15 years' experience and performs 1,200 minimally invasive bunion procedures performed each year explains to us how minimally invasive keyhole bunion surgery at The Private Clinic is different to other bunion surgery techniques;
Why we don't use metal screws
Introducing an external element such as metal screws into the body will always be very invasive. For example, the metal fixative devices used in bunion surgery can create problems such as the joints in the foot not being able to find a natural posture, which can result in a huge amount of discomfort post-surgery. Because of this, in some cases a second operation may be required to remove them. In addition, the healing from this kind of surgery can take a prolonged period of time and in some instances crutches are needed before the foot is able to bear weight.
In order to address these issues with standard bunion surgery, we have developed a more natural and biological method without using fixative devices (screws, plates or wires). Through my research over 20 years, it has been proven that self-stabilizing geometric fractures can be made on short-bones (without the need for immobilisation) with long term results. This not only means that healing and recovery is much quicker and easier, but that greater joint mobility is achieved after the surgery, compared to standard techniques.
Each bunion procedure carried out at The Private Clinic is customised to the patient, and this is not a 'one-size fits all' approach. The bone is fractured, re-aligned and bandaged in such a way that creates the perfect result for the patient's anatomy and better comfort and joint articulation. The absence of screws means that the joint is not fixed in one place, it can move freely.
In addition, recovery from the minimally invasive method does not require the immobilisation of the foot so the patient can go back to walking immediately post-surgery without the need for crutches. Thanks to the special bandaging technique and supportive shoe, the patient is able to walk unaided straight after the operation.
Why is the bunion surgery technique so innovative, and what does the bunion procedure involve?
The PBS technique quashes the concept that every fracture needs to be immobilised in order to heal. After being realigned, the fractures made during surgery are left free, so the foot heals according to the individual's load-bearing needs and not according to a 'pre-established' standard.
Creating series of geometric fractures (a small, precise fracture used within the PBS technique) without forcing the bone into place using fixative devices, allows the foot to heal naturally. As the PBS technique does not force the bone to repair, the bones and joints heal in a natural position, which results in greater functionality and comfort in the joint.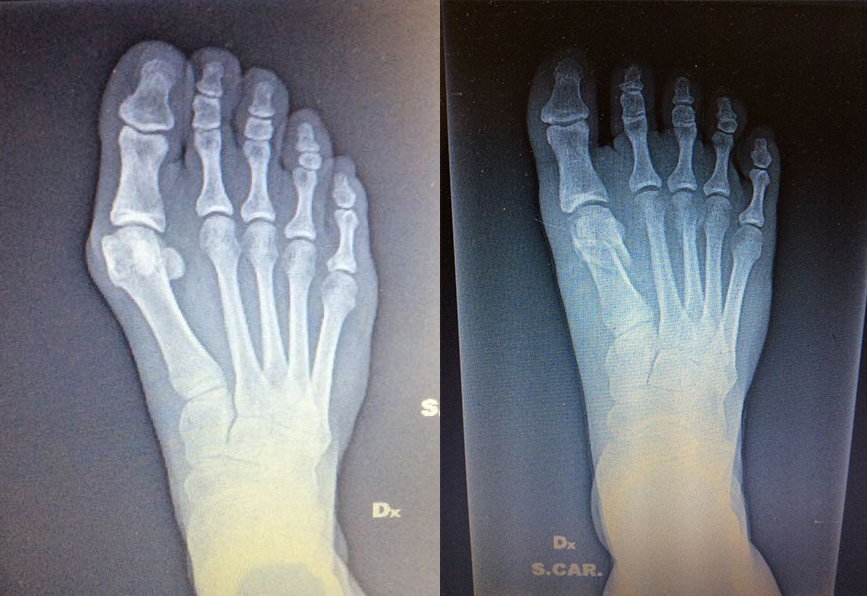 Small, surgical, dental burs are used to correct the deformity and modify the bones of the forefoot. These are inserted through small, approximately 2-3-millimetre incisions in the skin. The surgeon guides the bur using a special radiological device to help him "see" the bones and the burs. The most important innovation of the technique is that it does not use fixative devices (screws or wires). This allows the fractures to heal according to the requirements of the individual's foot.
After surgery, the foot is bandaged and taped using a technique specifically developed by my medical team and this must be worn for at least 20 days.
What exactly is a geometric fracture?
A geometric fracture refers to way the bones are carefully fractured with precision and then realigned into a straight position. The fractured bone is then bandaged without the need for screws to keep it in place, promoting the natural healing of the foot.
Are you able to guarantee 100% a solid joint between the bones that has only been cut with its method of firmly wrapping the foot?
No surgery is 100% guaranteed. However the PBS this method has a 98% success rate.
Why Choose Minimally Invasive Bunion Surgery at The Private Clinic?
Exclusive to The Private Clinic in the UK, there is no other operation like this one.
Bunion Removal Surgery is performed under local anaesthesia using keyhole techniques.
This is the only natural operation with no metal fixtures such as wires or screws being used.
There is a 98% success rate following the bunion operation
Orthopaedic Consultant Surgeon, Mr Bianchi is an expert in his field and has been carrying out bunion operations for 15 years
Dr Bianchi carries out on average 1,200 bunion operations a year
Walk immediately after surgery
No need for an overnight stay
Minimal post-operative pain and aftercare required.
No scar
Treatment carried out in our state of the art London Fitzroy hospital
24 hour patient helpline direct to your nursing team and surgeon, which means should you have any concern we are here to help.
Dedicated post-operative care and appointments with your surgeon and nursing team. We are here to give you the best experience.
Our excellent reputation for patient safety and satisfaction, honest advice and outstanding care means your journey with The Private Clinic will be an exciting experience to newfound confidence.
To find out more about bunion surgery at The Private Clinic or to request an appointment with Orthopaedic Consultant Surgeon, Mr Bianchi at our London Harley Street or Manchester clinics, give us a call on 0333 920 2471 or you can also use our online contact form for bunion surgery.