Reviews are a wonderful way to find out more about a treatment, clinic, or practitioner that you may be considering.
We use a variety of ways to collect reviews from our patients including Trustpilot where we have a trust score of 4.7 and over 1,000 reviews for potential patients to read through.
One of our most popular reviewed treatment's is our Minimally Invasive Keyhole Bunion procedure which is exclusive to The Private Clinic. Our Orthopaedic Consultant Surgeon, Mr Bianchi developed a revolutionary technique that does not require the fracture of the foot to be immobilised/rested in order to heal. He uses surgical dental burrs to correct the deformity and modify the bones of the foot. These fractures do not require fixative devices such as screws or pins which force the bone into place. They are instead left to heal naturally.
What are the advantages of the bunion surgery technique?
Procedure is exclusive to The Private Clinic.
Over 1,200 procedures performed each year with a 98% success rate
No screws, plates, wires, or metal fixtures required
5-star Trustpilot rating based on over 1000 reviews
Keyhole surgery and no big scars
No crutches, no downtime. So you can return to everyday activities
Advanced bunion hospital and aftercare support
Walk in walk out, minimally invasive day case procedure
You can find out more about our Minimally Invasive Bunions Surgery procedure here
Bunion Removal Patient Reviews and Testimonials
Bunion removal on both feet – if you are thinking of booking, book, you will not regret it!
"Where do I begin… the most amazing experience from start to finish.
The booking process for the consultation was smooth and easy, from my telephone consultation to my face2face was 10 days. Dr Bianchi & Luca are amazing! The friendliest and most worthwhile surgeons I have had the pleasure of meeting. They can't do enough for you.
Operation – the operation was so smooth; I have now had both feet completed with my first operation in August and second one in November. The operation experience was nothing I have experienced before, and I was so nervous. After arriving at the hospital on the day, the care from the nurses and assistants is impeccable. They go above and beyond. Dr Bianchi and Luca will visit you and make you aware of everything going on and make you have a giggle to calm your nerves (like I had). You will have a nerve block (sounds scary but not in the slightest) and then you will be taken to theatre awake. The operation is around 7 minutes, but it goes so fast because you're constantly talking and having a laugh. No pain whatsoever and no discomfort.
Straight after the op – you walk directly after and there is no pain (feels like pins and needles for around 12 hours, pretty funny feeling). Walking is like normal just a little awkward with the boot but nothing which will change your day2day normal activities (unless you're a runner of course). 30 mins after you are in your room you are being escorted out (still walking) to your chaperone and that's it, all done and dusted.
Private clinic experience – the staff are incredible. Alicia the manager, what can I say apart from this lady is amazing! The reception staff run around for you from the minute you arrive to the minute you leave. They really are a credit to The Private Clinic franchise. I wish I had a third foot purely to go and have a catch up with the staff because they do care about you as an individual and not just another customer to them.
Thank you for really changing my life because without you I would still be living in UGG boots (that's great in the winter but not so much in the summer). If your hesitating booking your consultation then you don't need to think about it, just book it because you really will regret waiting.
Thank you for everything and special thanks to my amazing and outstanding surgeon Dr Bianchi and his just as amazing colleague Luca. If you don't know these two men, then get to know them they are amazing at what they do. YOU ARE THE BEST! See you in January for my final appointment before I am not your patient anymore, already debating how I can find a third foot to still be your patient gentleman. Thank you again you really have changed my life with this operation. It may seem small to everyone but to me it means the world."
I am back cycling and able to wear my walking boots again
"I had Bunion surgery after experiencing pain on a regular basis and finding it very frustrating that I had to reduce the amount of exercise I was able to do. I am delighted to say that 2 months after my procedure, I am back cycling, able to wear my walking boots again and very happy. Thank you for looking after me so well!"
The operation was a complete success
I had keyhole surgery to remove a bunion and correct my hammertoe. The service offered was amazing from the consultation right through to the follow up appointments, the operation was a complete success, and I was amazed the result.
I cannot recommend Dr Bianchi and his team highly enough
"I recently had bunion surgery at the Private Clinic and couldn't be happier with my experience. Everyone was always very courteous and followed COVID protocol to the letter, hence I always felt very safe.
The surgery was carried out very efficiently and unbelievably I had no pain at all. The result is simply amazing, and I can't wait to have the other foot done. I cannot recommend Dr Bianchi and his team highly enough and have already recommended them to many friends and acquaintances."
I'm absolutely delighted with the result
"I had my bunion op at the end of April, and I'm absolutely delighted with the result. Dr Bianchi's method that he has pioneered with great success in Italy is everything you could wish for. Traditional bunion surgery usually involves pins or wires and a long recovery period which was impossible for me with work commitments. I walked out the hospital after surgery which was a completely painless experience and remained active from the start. I highly recommend Dr Bianchi and his team. Also thank you Fiona my patient coordinator for all your help I will be seeing you again when I eventually have my other bunion done (it's nowhere near as bad at the moment)."
It's a no brainer!
"I have read the traditional methods of bunion removal and then Dr Bianchi's. The difference is as night and day. Friends and family have suffered the traditional method always accompanied with pain and many weeks off work. Usually bolts or wires are used, a general anaesthetic, unable to put pressure on the foot for at least a couple of weeks and afterwards walking with crutches required and then not always a successful outcome. And, who can take that amount of time out anyway? Also, I don't understand that if a bolt is put through the toe joint, when that person stands, his entire weight is pressing on that bolt. It is therefore restrictive to where the foot wants to be meaning what if a person is 9st and another is 16st all the weight is held in a predetermined place regardless of the individuals weight…it's all pushing on the bolt surely the heavier the person the more pressure? Dr Bianchi's method allows the foot to set and heal where the person's standing weight determines. I am familiar with the minimal invasion, rapid recovery technique as in 2018 I had a hip replacement and could walk the length of the hospital corridor without crutches on the same evening of the operation and was discharged the next morning, so I was delighted when I read about Dr Bianchi's similar technique. I met with Dr Bianchi and Dr Luca and was very impressed. They are very professional and both warm and welcoming people. I therefore decided it was a "no brainer," I had needed the OP for some time and decided that this was the only way I would ever have it done. Dr Bianchi removed the bunion, in I think, it was no more than 20 minutes from memory, and I can truly tell you it's FANTASTIC. Everything he says was true. A local anaesthetic was used, I could walk out unaided straight after, no pain at any time both during and all through the recovery period. It really felt as though he hadn't done anything. I was expecting pain after the local wore off, but I swear for me there was none! So there is another way!"
I had put off having my bunion removed as didn't want to be on crutches and immobile for ages!
"The beauty of Dr Bianchi's bunion removal method is that it's done under local anaesthetic, and you walk out afterwards – I had put off having my bunion removed as didn't want to be on crutches and immobile for ages! I was encouraged to walk and did so most days and after 3/4 weeks, the main dressing was removed, and I could then drive again. After 4 months, I was back playing tennis again and my foot looks and feels great. Nurse Luca has been really responsive and helpful, and I would highly recommend their service!"
Extremely high standards combined with kindness, understanding and patience
"From the first phone call to request information about their unique procedure to correct a painful bunion to the completion of my treatment, everyone I spoke to or dealt with at The Private Clinic was patient, kind and helpful. Information, whether by phone, email or in person, was clear and perfectly understandable. At the Clinic and the hospital you know you are in safe hands. Everyone – the highly skilled medical staff, the nursing staff, and the administrative staff – is efficient and professional and it is obvious that standards are very high. At the same time, you are listened to, and you feel comfortable asking questions. Always, you are treated with kindness and understanding. The post-operative information and follow-up care was excellent, and I am well on the way to making a full recovery. I can genuinely highly recommend The Private Clinic and would have no hesitation in attending for treatment in the future."
No hesitation at all in recommending Mr Bianchi
"I was apprehensive about having my bunion operation done under local anaesthetic. I needn't have worried. I had a fairly severe bunion; the operation was very straightforward, and I literally walked out of the clinic. Healing time was minimal, and I was back in the gym in my "special boot", especially designed and provided by the clinic, within a week of the operation. I would have no hesitation at all in recommending Mr Bianchi for this procedure and in fact have done so."
I can wear shoes without the discomfort I was having for many years
"My reason initially for choosing The Private Clinic of Harley Street mainly was because Dr Bianchi, my surgeon, was offering keyhole bunion surgery which was pioneering and unknown of in the UK. Also there are no screws or pins fitted just bandages. My experience from my first meeting with Dr Bianchi and his team was excellent from start to finish. The day I had surgery everyone put me at ease and as was discussed because of the nature of the surgery I was able to walk out of the hospital the same day without the aid of crutches and was virtually pain free. The aftercare the Clinic provided was excellent so I went ahead with the second foot and now several months later I have no bunions and very pleased with the result and can wear shoes without the discomfort I was having for many years. I would definitely recommend Dr Bianchi's new method of surgery and the Private Clinic of Harley Street for their professionalism."
Bunion Before and After Photos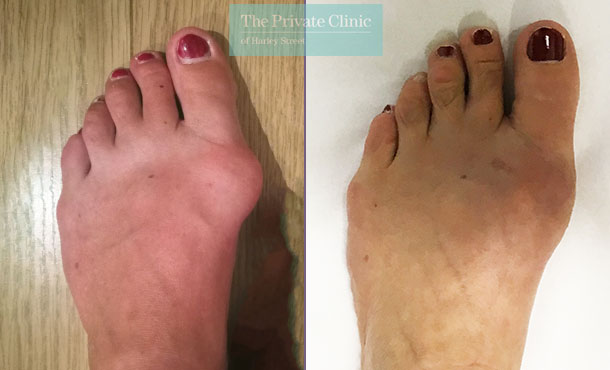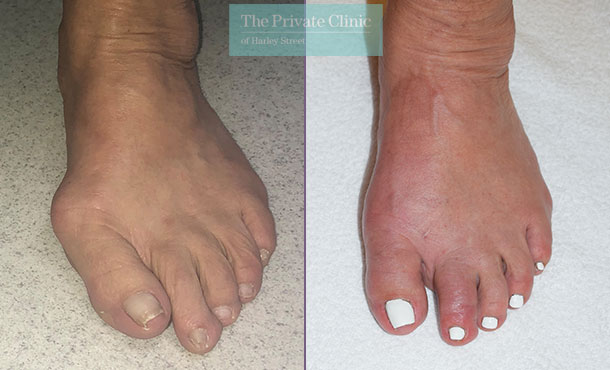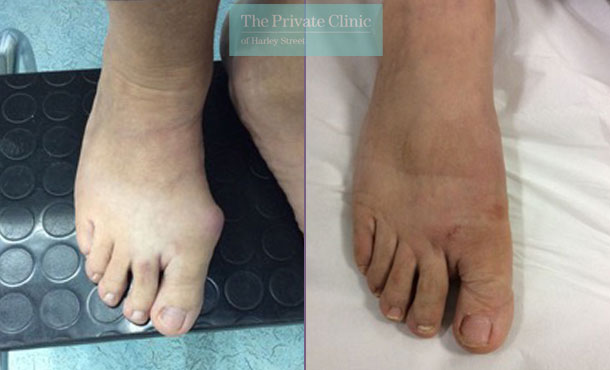 View more bunion surgery before and after results here.
Why choose The Private Clinic for Bunion Removal Surgery?
Exclusive to The Private Clinic in the UK, there is no other operation like this one.
Bunion Removal Surgery is performed under local anaesthesia using keyhole techniques.
This is the only natural operation with no metal fixtures such as wires or screws being used.
There is a 98% success rate following the bunion operation.
Mr Bianchi, an expert in his field has been carrying out bunion operations for 15 years.
Dr Bianchi carries out on average 1,200 bunion operations a year.
You will be able to bear weight on your foot quickly after surgery.
No need for an overnight stay
Minimal post-operative pain and aftercare.
Treatment carried out in our state-of-the-art London Fitzroy hospital
24-hour patient helpline direct to your nursing team and surgeon, which means should you have any concern we are here to help.
Dedicated post-operative care and appointments with your surgeon and nursing team. We are here to give you the best experience.
Our excellent reputation for patient safety and satisfaction, honest advice and outstanding care means your journey with The Private Clinic will be an exciting experience to a newfound confidence.
View our bunion before and after photos.
Watch our bunion treatment and testimonial videos.
Read our extensive bunion FAQs
For more information or to book a consultation with our expert orthopaedic surgeon at our bunion clinic in London Harley Street and Manchester please call us on 0333 920 2471 or use our online bunion contact form to request a call back.