It's estimated that 30% of the UK suffers from painful bunions. Apart from causing discomfort, many patients feel embarrassed by their appearance and find that it can interfere with wearing certain shoe options. With two different kinds of treatment methods available, how are they different and why should you choose treatment with us here at The Private Clinic?
Cost of traditional bunion surgery UK
In the UK, the cost of traditional bunion surgery is £4,218 with consultation fees usually included.
While free treatment is possible on the NHS, many hospitals will only operate for extreme cases which often requires being added to a waiting list. When combining this with the time to attain a GP referral to being deemed suitable and in-need of the surgical procedure, it can be quite a considerably long process which is not ideal if wanting to treat bunions during a specific time period (such as when time can be taken off, before a vacation or the Summer season).
NHS bunion surgery is also very invasive and often uses fixative devices such as screws, plates or wires which results in an increased amount of downtime with patients needed to expect anywhere from 2-6 weeks off their feet; meaning a large amount of time off work or social activities.
How much does private bunion surgery cost:?
At The Private Clinic, an initial consultation with our expert Orthopaedic surgeon Dr. Bianchi is £200 (includes a free foot X-ray). The price for the no screw, no scar treatment of one bunion is £4,600 with a reduced price for the second bunion.

We also offer free consultations to find out more about the procedure prior to meeting with Dr Bianchi with our patient advisers and finance options for our bunion treatment.
Consultations can be easily booked via phone with your procedure at the closest time convenient for you and Orthopaedic surgeon Dr. Bianchi. As treatment is private, no referral is needed and treatment can be carried out on bunions varying in different severity grades (not just on extreme cases). If you would like to undergo your treatment at a specific time this can also be possible; just contact us or your patient advisor (patient advisors are assigned to each patient post-consultation).
While private treatment is more costly than NHS or traditional methods, many patients find that it is worth the additional costs in order to receive faster care easily, without excessive downtime (you leave the hospital walking) or having to undergo invasive surgery (broken bones, screws, wires and scars).
Our bunion surgery costs include:
Consultation – Patients will meet with our expert Orthopaedic Consultant Surgeon, Dr Andrea Bianchi who will explain in detail how the keyhole bunion operation is performed as well as answer any questions.
X-Ray – A free X-ray of the foot (or feet) to be treated will be carried out in-house to help the surgeon assess your suitability for treatment.
Hospital fees – These are all included within our costs.
Orthopaedic bunion surgeon cost – This is included within our costs.
Shoes following surgery – Patients will be given specialised orthopaedic footwear to wear during recovery for 3 weeks.
Aftercare – We have a 24-hour patient helpline so you are always in the best of hands.
Follow-Up Appointments – A post operative check up with Dr Bianchi and an X ray are required following treatment. This is charged at £200.
Traditional Bunion Surgery Compared to Minimally-Invasive Bunion Treatment at The Private Clinic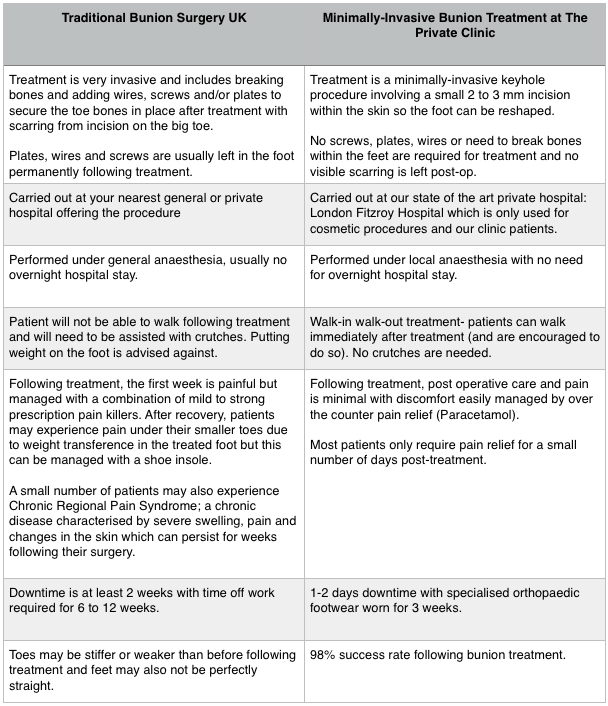 *Tabled traditional bunion surgery information has been taken from the NHS website and their available materials.
Patient bunion surgery before and afters results   
To learn more including access to our patient transformations, patient stories and FAQs see our page here: Minimally-Invasive Bunion Removal.
Our minimally-invasive bunion removal treatment has been recognised in this years Tatler 2020 Plastic and Cosmetic Surgery Guide and is exclusively available only at our London Harley Street location.
If you would like to find out more about our treatment or book a consultation with Dr Bianchi, please contact us on 0333 920 2471 or use our online contact form for bunion treatment.
Consultations are also available with our patient advisers in Birmingham, Bristol, Buckinghamshire, Leeds, Manchester and Northampton.