The nose is the most central part of our face and as the most defining feature, it is no surprise that the popularity of nose job surgeries are rising to help people achieve their desired appearance.
A rhinoplasty is more commonly referred to as a nose job. It is a surgical reshaping of the nose that is performed under general anaesthetic. Rhinoplasties are usually carried out with the aim of enhancing the aesthetic appearance of the nose but it can also be used to correct a deviated septum and restore nasal functions.
Types of Rhinoplasty The Private Clinic Harley Street Specialise In
Narrow the bridge of the nose.
Reshape the tip of the nose (irregular nasal tip, nasal tip projection, large nose tip)
Widen or narrow the nostrils (wide nose)
Reshape the bridge of the nose (nasal hump)
Reshape the whole profile of the nose (crooked nose)
Remove bone and cartridge off the nose to reduce the size (big nose, long nose)
Help with breathing difficulties.
Correct a nose previously broken (commonly called a nasal fracture) from a sporting incident.
Correct a deviated septum (a deviated septum can be caused by a nose fracture)
Correct a cartilage and bone fracture due to an accident from sport
Ethnic Rhinoplasty
Correction of previous rhinoplasty surgery (Correctional Rhinoplasty, Rhinoplasty Revision)
The Private Clinic Harley Street Nose Clinic
Our Harley Street nose clinic is located in central London close to Regents Park tube station making it easily commutable from surrounding areas such as Bayswater, Hyde Park, Green Park, Soho, Notting hill, Kings Road, Kensington, South Kensington, Chelsea, Fulham, Battersea, Regents Park, St Johns Wood, Primrose Hill, Victoria, West End, Marylebone, Knightsbridge, Belgravia, Mayfair, Holland Park, Earls court and Fitzrovia.
We are proud to have some of the UK's best and most experienced Consultant Plastic and Reconstructive Surgeons performing our Rhinoplasty (Nose Reshaping) procedures consulting from our London Harley Street clinic including Mr Davood Fallahdar, Mr Dario Rochira, Mr Navid Jallali and Paul Tulley
Mr Davood Fallahdar has been able to gain recognition as the best rhinoplasty surgeon London has to offer, and his nose reshaping expertise regularly undergoes rigorous development as he perfects his techniques.
Mr Dario Rochira is a highly experienced and respected UK cosmetic surgeon who specialises in facial surgery including rhinoplasties. He is offers a unique Preservation Rinoplasty technique that is a more conservative approach to surgery preserving the ligaments, nerves and vessels in the area. The recovery time is reduced and usually doesn't require a pack to be used post-surgery leaving the patient feeling more comfortable. Swelling and bruising is also reduced using this method which is great for patients who wish to avoid a huge amount of downtime post procedure.
Mr Navid Jallali is one of UK's leading Plastic surgeons and his special interests include rhinoplasties. Dedicated to his profession, he has treated hundreds of patients with the utmost of care and has even appeared on and advised for television productions.
Mr Paul Tulley is a renowned Consultant Plastic, Reconstructive and Cosmetic Surgeon who specialises in facial rejuvenation including rhinoplasty surgery. He prides himself on being able to achieve excellent results with a high level of patient satisfaction.
Nose Job Patient Story
Luca came to see us at our Harley Street Nose Clinic seeking a rhinoplasty procedure after always felt self-conscious of his nose. Luca had been experiencing breathing issues with his nose so knew he was going to need surgery at some point so decided to try and combine the procedure. He knew he needed to find a surgeon who was specialised in the procedure and came across The Private Clinic's surgeon Dr Fallahdar during his work in medical industry and knew this was the surgeon and clinic he wanted his procedure to take place with. Luca went ahead with a rhinoplasty and alar base reduction surgery and was overjoyed when he got to see the final results after 2 weeks of wearing a nasal splint.
"As well as my breathing problem being sorted, I really love my new nose – I feel really confident and when I look in the mirror I am happy with what I see."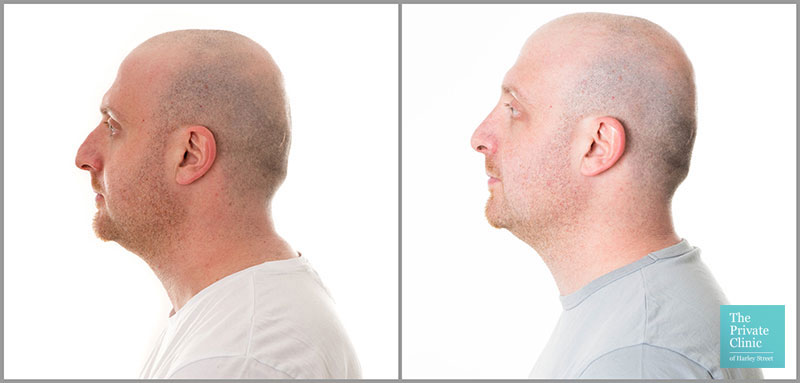 Why choose The Private Clinic of Harley Street for Rhinoplasty surgery?
We only use experienced and trusted surgeons with the highest professional qualifications and pride ourselves on being able to offer dedicated post-operative care and appointments with your surgeon and nursing team, including a 24 hour help line should you need to contact us at any point during your recovery. Your procedure will be carried out at our state of the art hospital facilities in Fitzroy Square with no hidden costs. You will have a Patient Coordinator who will provide you with a comprehensive rhinoplasty patient guide and you will be able to call them with any questions as much as you need, throughout your Private Clinic journey. We believe that we are competitively priced for the expertise and professionalism that we are able to provide for every patient.
A rhinoplasty is one of the oldest Cosmetic Surgery procedures, which means that the techniques and skills of our surgeons have been sharpened to perfection. Depending on your expectations and requirements, our Cosmetic Surgeons will recommend the most suitable procedure for the results you wish to achieve.
To find out more about cosmetic nose reshaping procedures offered at The Private Clinic call 0333 920 2471 or use our rhinoplasty online contact form.