Recovery after Breast Augmentation: The aftercare guide
BREAST AUGMENTATION AND ENLARGEMENT
Home » Recovery after Breast Augmentation: The aftercare guide
While interest in certain plastic surgery procedures has waned, Breast Enlargement has consistently held sway with women for over a decade.
Smaller breast implants may be in fashion now, but big or small, the same measures have to be adhered to post-operatively to promote as quick and comfortable a recovery as possible.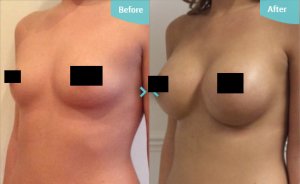 What to expect once your Breast Implants are in place
We recommend that you arrange for a friend or family member to chaperone you home and stay with you for 24 to 48 hours following your procedure  – but before you head off, your surgeon will take you through some instructions to help ease your recovery process.
Here, we list some of the most important points of those guidelines:
Anaesthetic will have been used during your procedure, so be aware that as it wears off you may start experiencing a little bit of tightness and swelling.
Drinking plenty of fluids is an essential part of your recovery, although carbonated and caffeinated drinks should be avoided at first. No alcohol either.
It is absolutely crucial that you refrain from smoking for at least a week following your surgery. However, you really shouldn't smoke for the next three months.
You can start swimming and exercising your upper body after six weeks, but remember to wear a supportive sports bra when you do so.
Seatbelts can cause irritation so you shouldn't drive for at least a week.
You may want to arrange for help around the house and/or childcare.
Try wearing loose-fitting, comfortable clothes, which don't need to be pulled over your head.
You'll have to wear a surgical bra day and night for six weeks.
Avoid putting pressure on your breasts by sleeping on your back in a more elevated postion.
Depending on how you feel, you can start trying to handle your breasts once four weeks have passed.
Keep your dressings dry in the week after your surgery and only shower your lower body in lukewarm water to stop any steam from affecting them.
Your dressings will be changed and your wound lightly cleaned after a week during your first check up with a nurse. After this appointment, you may shower with them on and dab the wound dry.
Your stitches are internal and will take a couple of weeks to dissolve. However, if one pokes out, don't pull on it, call us and we'll have a nurse remove it.
If a light crust appears on the incision line, don't remove it as this could cause scarring.
After 6 weeks your surgeon may recommend some silicone based scar creams that can help with healing.
Always take your antibiotics as prescribed and don't stop until you have completed the full course..
Healing with Breast Implants
Once you return home after your Breast Augmentation, you should rest as much as possible and take at least 7-10 days off work. You can take on very light duties and walk around gently, but any stretching or heavy lifting is not advised in the first 10 days post-surgery.
You might experience some bruising and swelling after the procedure, but it should subside in two to three weeks. Any pain that you experience should be managed with painkillers and don't panic if only one breast hurts. This is no cause for concern – it's simply that your breasts may be healing at a different pace.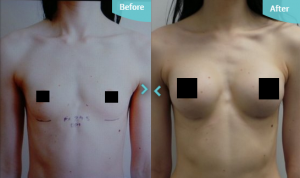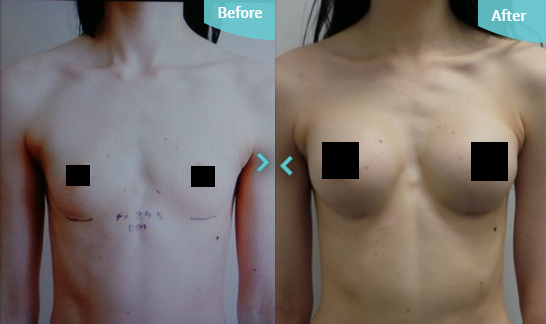 You also shouldn't worry if you hear a crackling or sloshing sort of sensation around your breasts or beneath your skin. This is simply some air that would have become trapped within the breast pocket during surgery. It should take about 10 days to dissolve – which it always does.
Finally, your breasts will seem to be placed pretty high up, but they will gradually lower in the months to come. Be aware that they might do so at different speeds and will eventually both settle into a natural position. This is called dropping and fluffing.
Most patients are fine to return to their usual daily activities 6 weeks post surgery although it can take anywhere from 6 months to a year for you to be fully healed and the final results visible.
The Private Clinic
Our team of Consultant Plastic and Reconstructive Surgeons is formed of elite members who have a proven record of being discreet, trustworthy and of course, highly skilled. They include:
Mr Adrian Richards, MBBS, MSc, FRCS (Plast.) GMC: 3286812 in London and Northampton
Mr Davood Fallahdar,FRCS (Plast) Fellow of the Royal College of Surgeons (Plastic) GMC: 4686602 in London
Mr Navid Jallali

, BSc MB ChB (Hons) MD FRCS (Plast) GMC: 4404969

in London
Mr Maisam Fazel,

 MA(Cantab) MB BChir MSEd FRCS  GMC: 4767420 

in Birmingham and Northampton
Mr Dario Rochira,

BS, MD GMC: 6130664

in London
Mr Olubowale

, 

MB ChB, MSc (Sheffield), FRCSI, FRCSI (Gen Surg) GMC Number 6044974

in Leeds
Mr Kenneth Kok,

MBChB MRCS MSc(Hons) FRCS(plast) GMC: 4701147

in Birmingham
Mr Mobinulla Syed,

MBBS, MSc, PhD, FRCS (Plast) GMC: 6035480

in London
Mr Adel Fattah

,

FRCS (Plast.) GMC: 4764599

in Manchester
Mr Philip Lim,

BSc (Hons), MB ChB, AFRCS (Ed), MRCS (Eng), FRCS (Plast) GMC: 4219068

in Leeds
To find out more please call 0333 920 2471 or use our online breast augmentation contact form to request a consultation with one of our expert breast surgeons.