While adverts might have us believe that a single, bargain-priced lotion is all we need to transform our face from someone whose years are catching up with them to Hollywood starlet, it's unfortunately very rarely the case.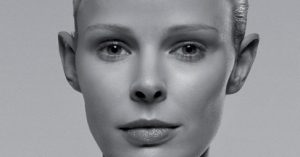 Wrinkles and sagging skin appear for different reasons on all of us and treating different areas requires varying approaches and specialist techniques. Non-invasive and surgical solutions should always be used for different means, but which is the best way to target specific problem areas on the face? We explore.
Forehead
Non-invasive: Wrinkle-reducing injectables are a common method to address lines on the forehead – particularly those in between the brow (frown lines). The method literally blocks impulses from nerves to facial muscles, thus preventing wrinkle-causing contractions, leading many cosmetic doctors to recommend the treatment (occasionally combined with fillers) as the best way forward to address the problem.
Surgical: For those with more serious signs of ageing on their forehead, a Browlift (or forehead lift) may be suggested. This is normally reserved for those who have very deep wrinkles across the forehead because of drooping eyebrows, meaning injections alone isn't always suitable. Surgery involves raising the forehead and brows meaning the forehead no longer needs to be lifted to see comfortably and wrinkles are no longer formed.
Eyes
Non-invasive: Fine lines around the eyes can make us look tired and aged, even if we're feeling our best. Crow's Feet in particular are a curse for many of us, often developing in our mid-twenties and worsening as time goes on. For these types of lines, wrinkle-relaxing injections (like Botox etc.) are actually normally the best way forward.  This is because it targets the orbital muscle tension that causes the wrinkles in the area by paralysing it preventing the creases of skin.
Surgical: While non-invasive injectables can often be the best way forward for fine lines and wrinkles, they can never battle sagging or under eye bags. In this circumstance the only real way forward is a procedure called Blepharoplasty – in which fatty deposits and excess skin are removed from around the eye to create a more youthful appearance. The treatment, which normally takes as little as 30 minutes, is often cited as one of the easiest and most straightforward plastic surgeries by a lot of practitioners, despite giving extremely noticeable results.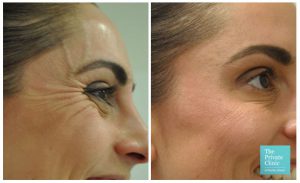 Cheeks, Chin and lower face:
Non-invasive: Advances in treatment mean there are now a multitude of non-surgical face lifting treatments available. Silhouette Soft® is an extremely popular choice to help raise sagging facial features, without the use of any incisions or sedation. It involves the insertion of anchoring sutures under the skin using a fine needle and takes as little as 30 minutes under local anaesthetic, with no hospital stay afterwards. Likewise Fat Transfer to the Face is an innovative way to increase volume in thinning areas. The treatment uses fat extracted from other areas of the body (for example the thighs or stomach) through minimally-invasive liposuction to naturally rejuvenate the face, meaning no synthetic materials and significantly less downtime than some other treatments.
Surgical: Non-surgical face lifts are not the same as a surgical Facelift and won't produce the same results. If your signs of sagging are more serious and you're looking for a more permanent solution, a Rhytidoplasty (the medical term for a Facelift) may be recommended by an experienced plastic surgeon. The surgery is certainly not 'one-size-fits-all' and has varying forms to target different areas to different extents – this means the clinic you choose to work with is vital in getting the best results.
Summary
If a non-invasive option is the best way forward for you, it's important to remember that the vast majority are temporary and will need to be either done again or combined with another treatment to give you a permanent result. The only way to know which way is best to tackle your signs of ageing is to work with someone who views you as an individual and uses incredibly well-developed medical knowledge to formulate your own treatment plan.
We only work with the most well-trained and dedicated staff; from our doctors and surgeons, to nurses and therapists – our team are there to work with you and help you achieve the results you desire through the best means for you. Whatever the end result, your starting point should always be the best team with your best interests at heart.
Aesthetic Doctors
Aesthetic Nurses
We have skin rejuvenation and injectable clinics across the UK including, London Harley Street, Birmingham, Bristol, Buckinghamshire,  Leeds, Manchester and Northampton.
To book a consultation to find out more about the treatments we offer, please call 0333 920 2471 or use our online contact form to get booked in at a clinic local to you.